Our geography games will help you teach your children about the world they live in and the people and communities, past and present, that have shaped it.
The Early Years activities focus on the similarities and differences between the way our children live and the lives of children from other places and times.
Our resources for Key Stage 1 and 2 include a huge range of geography games, including fun activities asking them to label countries, continents and oceans that will test their locational knowledge. Topics in physical geography — such as volcanoes, earthquakes and climate zones — are also covered.
All topics covered have been mapped to the Early Years and Primary curriculum, plus, if your schools subscribes, you'll also get access to hundreds of other curriculum-linked games and activities, including English, phonics, history, science, music and art, coding and maths games.
Teachers and pupils access Busy Things for schools on a computer, laptop or tablet.
Geography Games for Early Years
Our geography games for early years encourage children aged 3–5 to talk about themselves and the world around them. Busy Things will help children learn to appreciate the similarities and differences between the way they live and the lives of children in other families, communities, and traditions from around the world.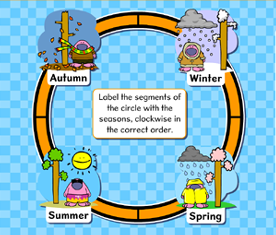 Place the seasons in order.
Geography Games for Key Stage 1
We have a range of fun geography games for children between the ages of 5 and 7. Labelling activities will help your child build up their locational knowledge, teaching them how to name and locate oceans, continents and countries, and identify the major cities within the UK. Templates help them write on a range of topics in physical geography including climate zones, global habitats, the Polar Regions and the world's rainforests.
They can also begin to understand weather systems by creating regional and global weather maps.
Geography Games for Key Stage 2
Busy Things' geography resources will help children in Key Stage 2 extend their locational knowledge to include the countries and major cities of continental Europe, North and South America and Australasia.
In physical geography, templates support writing on new topics such as tectonic plates, earthquakes, tsunamis, volcanoes, global warming, melting ice-caps and deforestation.
Can I try it first?
Want to get a feel for Busy Things for Schools? You can try it for FREE for 28 days. Simply fill out the form to start exploring our history games for Primary schools. There's no obligation to buy, and you won't need to provide your payment details.
For more bite-size learning on-the-go, check out our assortment of educational apps.
Start your free trial now!
No payment details.
No obligation to buy.