Can I try it first?
Trying Busy Things for Families couldn't be easier with our FREE trial. There's no obligation to buy, and you won't need to provide your payment details unless you decide to subscribe. Just fill out the form to start discovering the exciting world of Busy Things today!
If you like the sound of this, you might also want to check out our selection of educational apps, all of which have been expertly designed to make learning at home fun.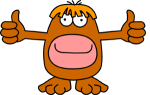 Start your free trial now!
No payment details.
No obligation to buy.