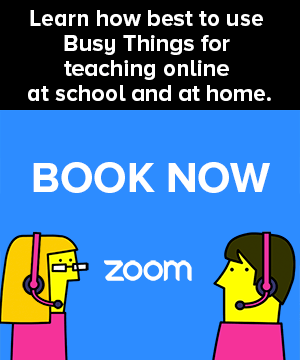 Live Zoom overviews
3 times a day - 4 days a week
Got a question?
Call:
+44 (0)1332 364963
Monday-Friday 8.30 - 4.30
Email: enquiries@busythings.co.uk
Busy Things for Schools is an online educational resource with over 900 expertly designed, award-winning games and activities that EYFS and primary children will love. But don't just take our word for it — with a Busy Things free trial for schools, you can try many of our resources for 28 days at absolutely no cost!
We have all sorts of engaging activities and teaching resources that will help you bring tricky or dull subjects to life, including maths, English, phonics, geography, history, and more — in fact, there's a game to suit every subject in the National Curriculum. You can monitor your pupils' activities, progress and projects, and there are all sorts of teacher features that will make planning, teaching and assessment as easy as ABC!
There's no obligation to subscribe or provide any payment details, and it's quick to register. Just fill out the form to start discovering Busy Things for Schools games for free today.
Start your free trial now!
No payment details.
No obligation to buy.


You've read about it, now see it in action!
With a Busy Things free trial, you'll get access to all sorts of resources and games completely free for 28 days. Just fill out this form or give us a call!
If you're looking for more classroom resources that your pupils will love, you might also be interested in our educational apps, all of which are aligned to the curriculum.