Looking for a unique gift idea? Busy Things is the perfect present for ages 3-11!
Give the gift of learning!
A Busy Things gift subscription gives children access to a vast collection of FUN learning games and activities that they will LOVE to play!
Busy Things makes it easy for children to engage with maths, literacy, phonics, art, geography, music, coding and much MUCH more! All subs include personalised content for up to 5 children! Ages 3-11!
How does it work?
It's very quick and easy to buy and customise a Busy Things gift certificate. Easy as 1, 2 3...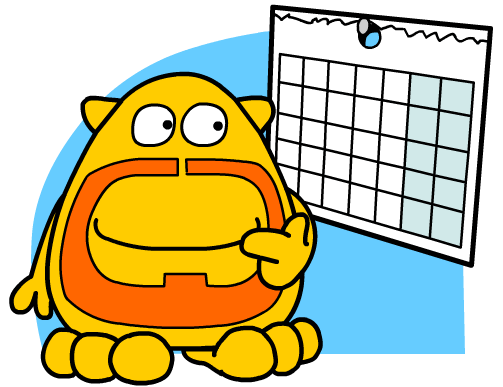 1. Choose your gift subscription length
You can now choose 1, 3, 6 month or 1 year gift subscriptions!
Simply add to your basket and make your purchase.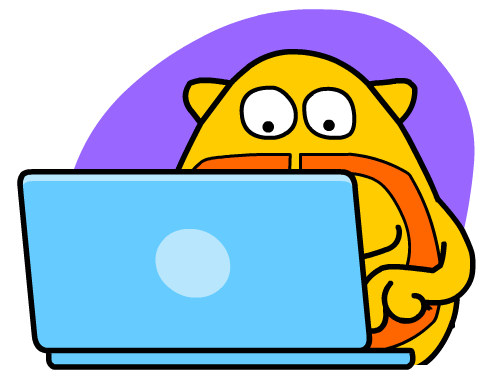 2. Personalise your gift certificate
When you've bought a gift code you can choose one of the lovely gift certificate designs.
Add a message to personalise your gift!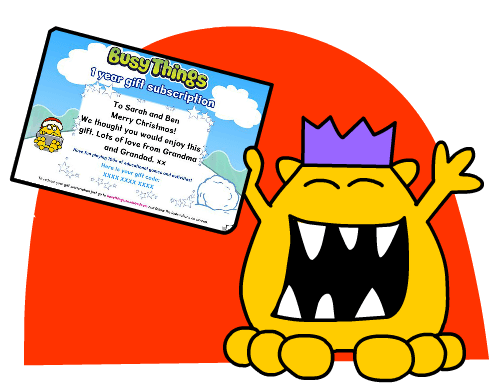 3. Give the gift of learning!
Your certificate will be available to print instantly! Or you can download a PDF to send via email.
There are instructions on the certificate for the lucky recipient to redeem their gift.
Lots of lovely gift certificate designs to choose!
Here are a few example designs! All can be personalised with your own message...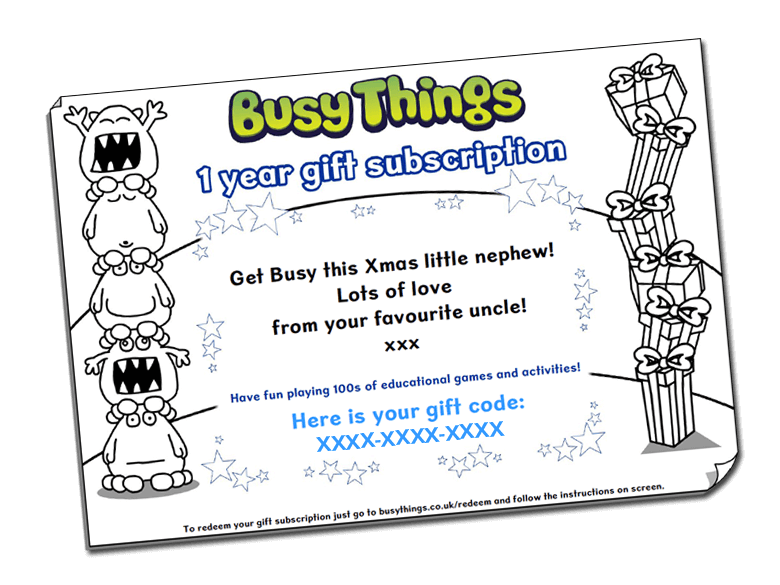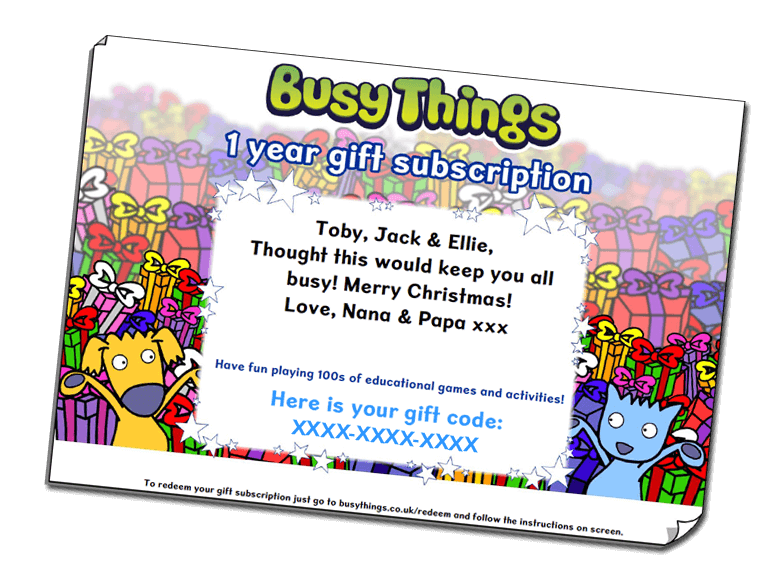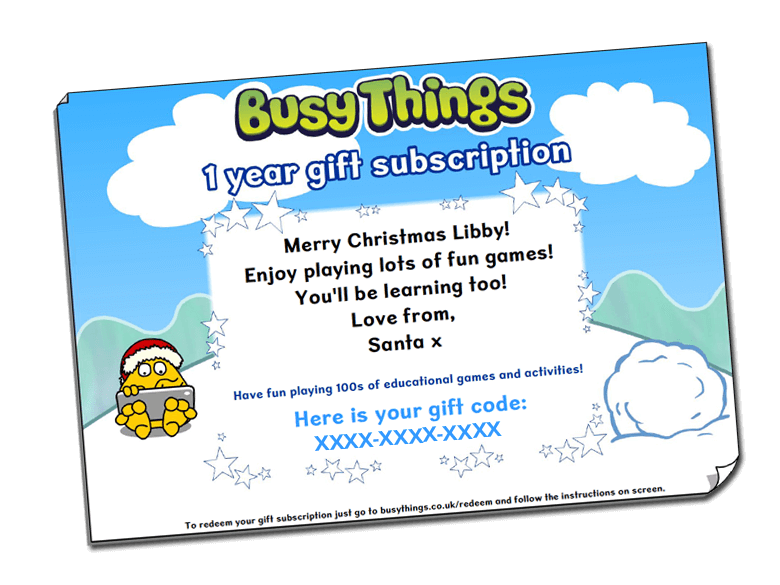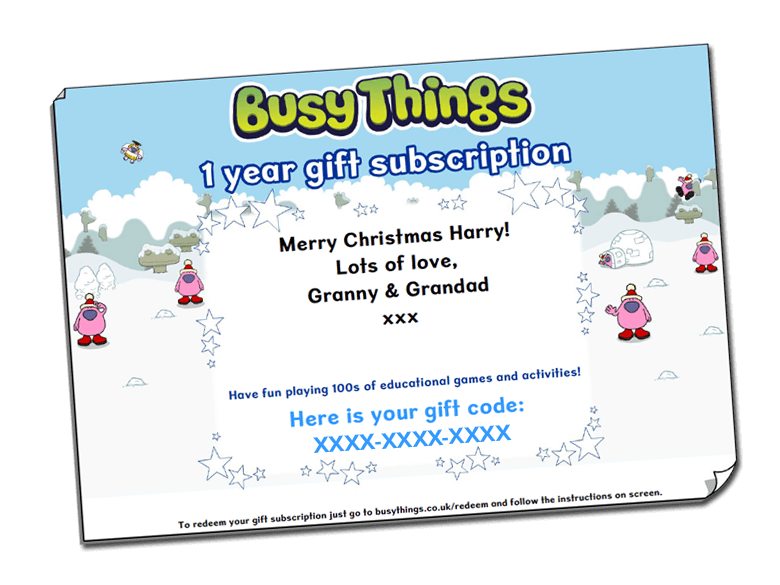 Don't forget your Yellow Monster!
A cuddly Yellow Monster is a must-have for any Busy Things fan!
The perfect pairing with a gift certificate.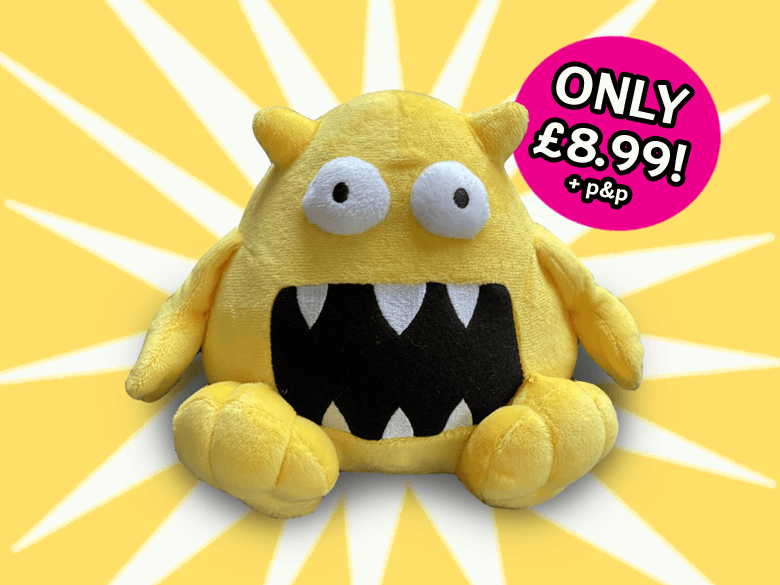 10 reasons why Busy Things is an amazing Christmas gift for children aged 3 - 11!
1. KIDS LOVE IT! It's full of funny characters, silly noises and interactive games.

2. PARENTS LOVE IT TOO! It makes screen time count! Forget You Tube zombies, Busy Things encourages engaged and active minds.

3. Busy Things includes 100S OF ACTIVITIES AND GAMES covering ALL subjects in the curriculum - literacy, maths, coding, art, languages etc etc... They're learning but they're having far too much fun to realise it!

4. It's not all online activities - there are loads of PRINTABLE ACTIVITIES included too!

5. SUPPORTING LEARNING AT HOME has never been so important! Developed with the help of teachers and used in 1,000s of schools in the UK and around the world; parents can rest assured their kids are having fun but they're working to curriculum objectives too.

6. A family account includes UP TO 5 CHILD PROFILES - so it's a shareable gift! Each profile contains (customisable) content relevant to the child's age from 3-11.

7. Busy Things is a fun Xmas present AND, depending on your subscription length, keeps on being fun for up to A WHOLE YEAR!

8. No bulky boxes, NO PLASTIC MONSTROSITY to find a place for! Busy Things is ready to play on your computer or tablet (some games can be played on phones too but the best experience is on a larger screen).

9. We offer an INSTANT gift certificate to print at home - no deliveries to wait for and is the perfect last minute gift for a child!

10. It's INCREDIBLE VALUE FOR MONEY! Only £34.99 for a whole year of access (that's equivalent to £2.93 per month) AND for up to 5 children (equivalent to 58p per child per month for a family of 5!)
Already have a gift code?
Click below and follow the instructions to get your gift subscription started!
Improve confidence and reinforce what they're learning at school, through play!
Busy Things includes 100s of FUN educational games and activities covering the full primary curriculum - English, maths, art, geography, coding and many MANY more!
Developed with teachers and trusted by 1,000s of schools; parents can be assured their children are having lots of fun AND working to curriculum objectives too.
For ages 3-11. Up to 5 children per family, each child has their own profile filled with customised content.
Encourage Pre-school & Early Years Learning
Ages 3-5
* Phonics games
* Maths games and number fun
* Build confidence
* Develop curiosity
* Creative games and much MUCH more!
Activities to support ALL early years subjects.
Making Learning Fun in Key Stage 1
Ages 5-7
* Maths games & quizzes
* Phonics, word games and writing challenges
* Science and coding activities
* Creative games & much MUCH more!
Activities to support ALL Primary curriculum subjects.
Support Key Stage 2 Learning at Home
Ages 7-11
* Maths games & quizzes
* English games and writing challenges
* Science and coding activities
* Art and design activities & much MUCH more!
Activities to support ALL Primary curriculum subjects.
Learn all you need to know about Busy Things for families in just 1 minute!
The family subscription helps support your children's learning by engaging them in fun and exciting activities and games. Busy Things targets core maths, literacy and phonics skills and encourages creative work with colours, shapes and sounds. Watch our 1 minute video or take out a free trial to learn more.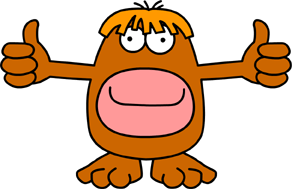 Can I try it first?
Be our guest! Simply fill in the form to get started. You can try Busy Things FREE for 7 days. No payment details are required and there is no obligation to purchase.
Start your free trial now!
No payment details.
No obligation to buy.