A Busy Things subscription makes a special gift for your child, grandchild, niece or nephew!
Busy Things is a collection of online learning resources for young children to enjoy at home. You can buy a subscription as a gift by purchasing a gift code and printing out a gift certificate! It's really quick and easy to do!
Buy a gift code for a year long subscription
All the recipient has to do is visit busythings.co.uk/redeem and enter their code to get their subscription up an running!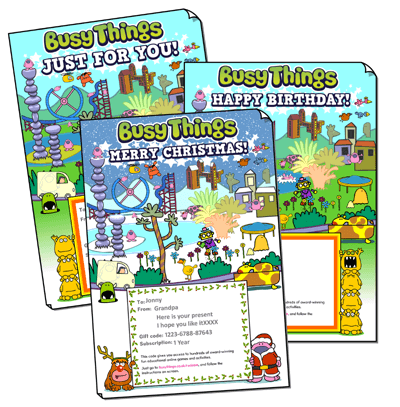 The family subscription helps support your children's learning by engaging them in fun and exciting activities and games. Busy Things targets core maths, literacy and phonics skills and encourages creative work with colours, shapes and sounds. Watch our 3 minute video or take out a free trial to learn more.
Already have a gift code?
Click below and follow the instructions to get your gift subscription started!
Can I try it first?
Be our guest! Simply fill in the form to get started. You can try Busy Things FREE for 7 days. No payment details are required and there is no obligation to purchase.
Start your free trial now!
No payment details.
No obligation to buy.