Busy Things hosts over 900 award-winning educational games and activities for children between the ages of 3 and 11. The language areas include over 60 French and Spanish vocabulary games for Key stages 1 and 2. Our flashcards are prefect for front of class teaching and our interactive worksheets are great for individual or group learning. Topics include animals, body parts, classroom objects, colours, food and drink, months of the year and numbers.
These aren't the only educational games for schools we have to offer, either. There's also a huge selection of activities to help your pupils develop their skills in other key areas, including geography, science, music and art, and maths games. All our games and activities are curriculum-linked.
Busy Things for Schools can be accessed at home on a computer, laptop or tablet.
French and Spanish games for Key Stage 1 and 2
Children will enjoy testing their knowledge with our extensive collection of vocabulary flash cards. Teachers can reveal and play the words out loud to see if the children have remembered correctly. Our flashcards are customisable so teachers can vary the theme, feedback and number of attempts the children can have.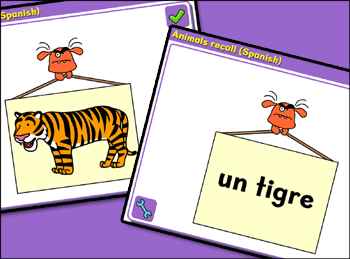 Vocabulary flashcards - excellent on a IWB at the front of class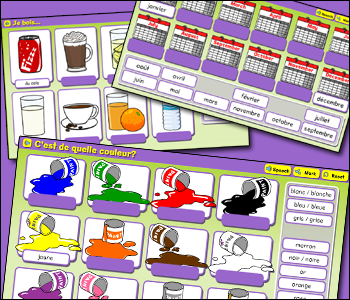 Interactive worksheets are great for reinforcing knowledge
Children can work alone or in small groups using our interactive labelling activities. Once all the labels are in the correct place children will receive a score they can try and beat the next time they play! Worksheets can also be printed out for use away from the screen.
Can I try it first?
Trying Busy Things for Schools couldn't be easier with our FREE trial. There's no obligation to buy, and you won't need to provide your payment details unless you decide to subscribe. Just fill out the form to start discovering the exciting world of Busy Things today!
If you like the sound of this, you might also want to check out our selection of educational apps, all of which have been expertly designed to make learning fun.
Start your free trial now!
No payment details.
No obligation to buy.