Fun Phonics Games to Help your Child Learn to Read
Busy Things hosts over 900 award-winning educational games and activities for children between the ages of 3 and 11. The phonics area is designed specifically to help parents teach their children to read. Our fabulous collection of over 60 phonics games are all designed around the UK government-endorsed Letters and Sounds programme.
These aren't the only educational games for kids we have to offer, either. There's also a huge selection of activities to help your children develop their skills in other key areas, including geography, science, music and art, and maths games.
If you're confused about phonics, our Help area outlines the stages of a typical phonics programme and gives short definitions of the terms used.
Busy Things for Families can be accessed at home on a computer, laptop or tablet.
Phonics games for Ages

3 to 5
Our early phonics games get children interested in listening carefully for differences in every day sounds. Children are asked to identify and separate different animal sounds, instrumental sounds and even sounds such as stamping and clapping.
Once their listening skills are finely tuned they can begin to listen carefully to the sounds within individual words.
Listen carefully and discriminate between different objects, animals and instruments.
Phonics games for Ages 5

to 7
Children progress from listening to every day sounds to listening to letter sounds - known as phonemes. As they learn their letter sounds they begin to recognise the letter that matches that sound.
Once they have learn't some letters and their sounds they can move onto to Busy Things phonics games that help them to build simple words.
Begin to build words from simple letters and their sounds.
Phonics games for Ages 7

to 5
Older children playing our phonics games will soon learn that there is more than one way to spell the same sound! Our games will help them identify words that contain different spellings of the same sound, for example 'chain' and 'plane'.
As they progress children can have fun playing with reading captions, building simple sentences and recognising homophones and compound words!
Play with different spellings of the same sound. Have fun with compound words and homophones.
Use our phonics resource maker to print your own literacy and phonics games
A Busy Things family subscription gives you access to a powerful tool to make your own paper-based literacy and phonics games you can use to help develop key skills.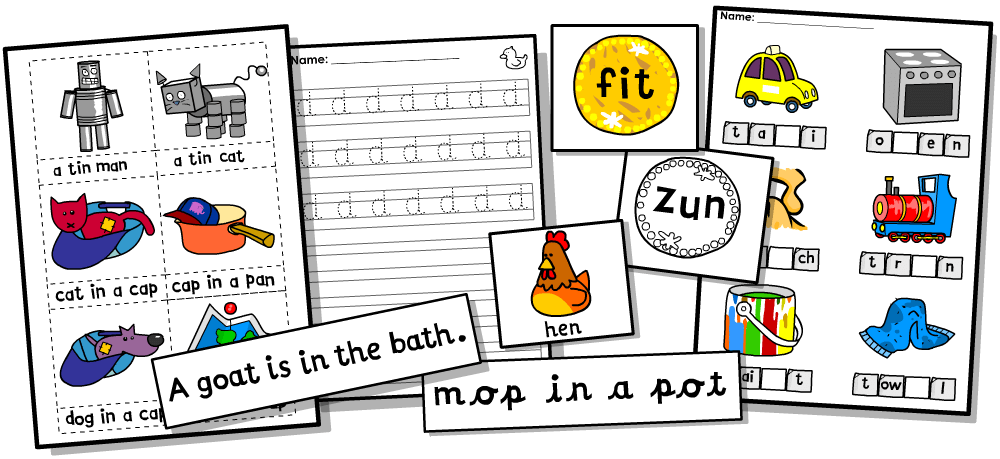 Practise forming letters

Sort real words from nonsense words

Fill in the missing letter
Match pictures to words

Attach captions to pictures

Create your own games with our bank of images, both with and without words
Can I try it first?
Trying Busy Things for Families couldn't be easier with our FREE trial. There's no obligation to buy, and you won't need to provide your payment details unless you decide to subscribe. Just fill out the form to start discovering the exciting world of Busy Things today!
If you like the sound of this, you might also want to check out our selection of educational apps, all of which have been expertly designed to make learning at home fun.
Start your free trial now!
No payment details.
No obligation to buy.