Busy Things for Families is packed full of educational reading, literacy and English games that will engage children aged 3 to 11 and bring writing, spelling and grammar to life!
Our early years programme begins with activities to help develop pre-phonics listening skills in younger children and moves on to exploring more complex spelling structures. You can even use our resource maker to create paper-based English games that support writing, word recognition and spelling skills. If you're looking for something to help your kids learn to read, then our fun phonics games will be ideal for your family.
Older children will love using our Busy Publisher tool to write and illustrate their school subject work. With over 100 ready-made templates and an extensive clipart library, our writing projects cover a broad range of subjects mapped on to the school curriculum — many of them suggested to us by teaching professionals. There's also a brilliant selection of printable resources you can use to help your kids with English.
These aren't the only educational games for kids we have to offer, either. There's also a huge selection of activities to help your children develop their skills in other key areas, including geography, history, science, music and art, coding, and maths games.
Busy Things for Families can be accessed at home on a computer, laptop or tablet.
Use our phonics resource maker to print your own literacy and phonics games
A Busy Things subscription gives you access to a powerful tool to make your own paper-based literacy and reading games you can use to help develop key skills.
Practise forming letters

Make your own flashcards

Sort real words from nonsense words

Fill in the missing letter
Match pictures to words

Attach captions to pictures

Create your own games with our bank of images, both with and without words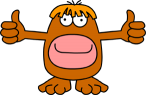 Can I try it first?
Trying Busy Things for Families couldn't be easier with our FREE trial. There's no obligation to buy, and you won't need to provide your payment details unless you decide to subscribe. Just fill out the form to start discovering the exciting world of Busy Things today!
If you like the sound of this, you might also want to check out our selection of educational apps, all of which have been expertly designed to make learning at home fun.
Start your free trial now!
No payment details.
No obligation to buy.