Free Pirate Costume Props for World Book Day!
Free Pirate Costume Props for World Book Day!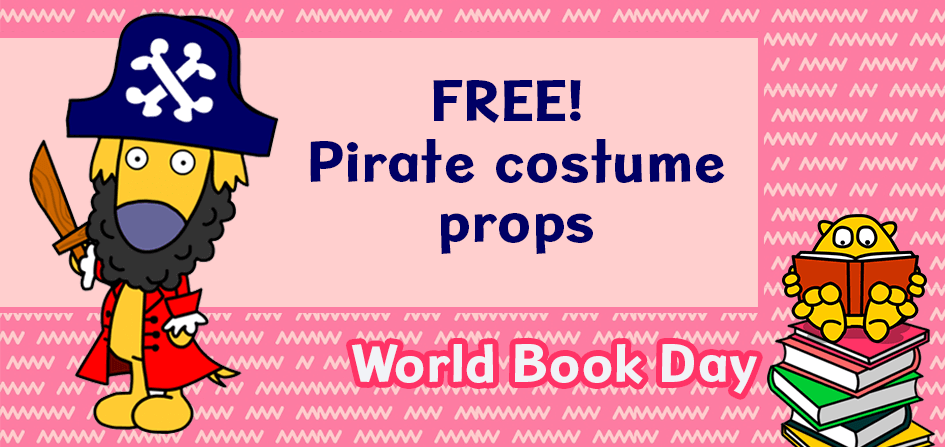 There's no need to walk the plank this World Book Day! We have a treasure-trove of free pirate costume props to turn your children into swashbuckling seadogs in an instant.
But, shiver me timbers! A pirate costume is not JUST for World Book Day! Our easy pirate costume props can be used in a bounty of ways – an ideal costume for a pirate themed kids birthday party, an easy DIY Halloween costume and who can forget about Talk Like a Pirate Day!
If you are searching for more World Book Day costume ideas take a peek at our other Free World Book Day costumes!
FREE pirate costume props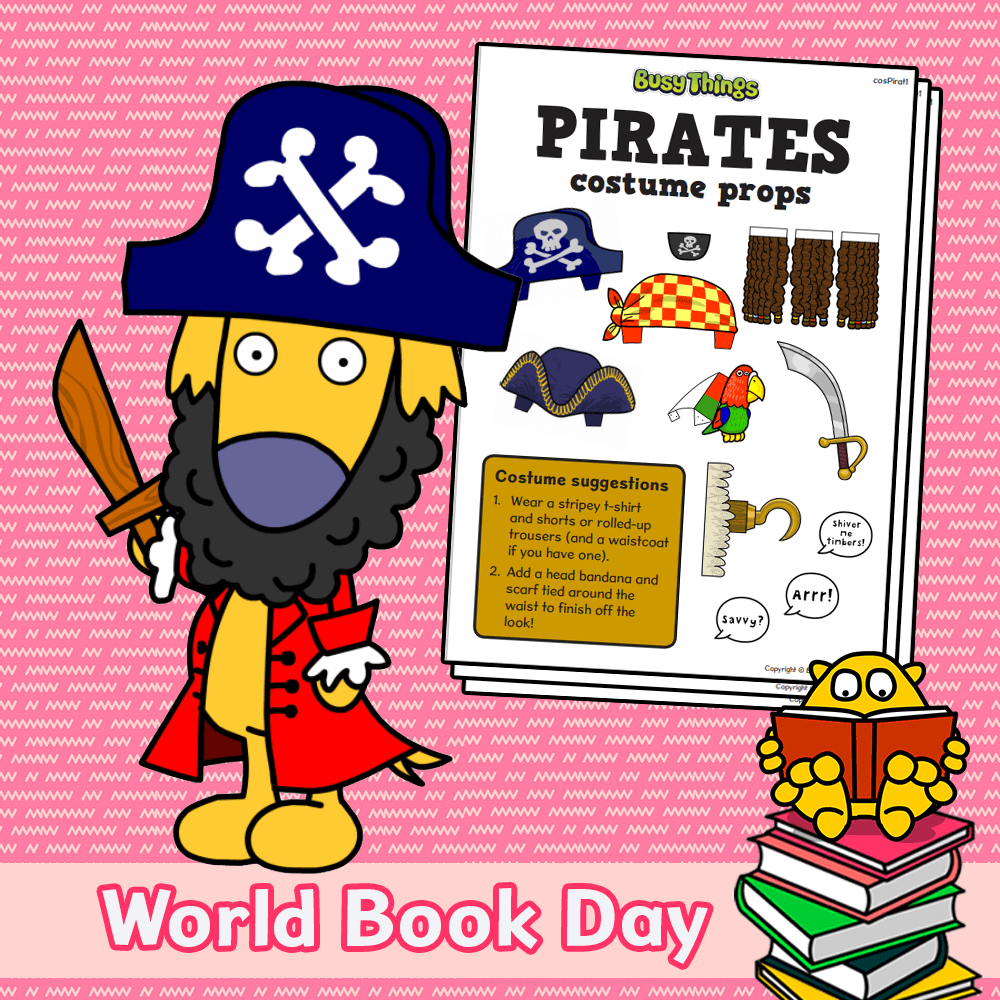 In our FREE pirate costume props for World Book Day pack you will find…
A selection of pirate hats
A captains hook
A parrot for shoulder perching
An eye patch
A pirate sword
Handy pirate phrase signs: Arrr! Shiver me timbers! Savvy?
Pirate Costume suggestions:
We suggest you pair our costume props with a stripy t-shirt and shorts or rolled up trousers (and a waistcoat if you have one). A head bandana and a scarf tied around the waist would finish off the look.
You might want to research a few pirate phrases to get help with getting into character!
10 children's books with pirates in…
There are many wonderful children's books with a pirate character in them! Here are just a few…
Can you talk like a pirate? Using silly voices is a great way of making reading fun! If children hear different tones and voices when being read to, they'll also start using intonations when reading in their head too which makes reading all the more enjoyable.
For more tips to encourage children to love reading, check out How to enjoy reading: 10 ways to encourage children to love reading blog.
Pirate fun on Busy Things!
Busy Things includes lots of pirate related activities! Children can play a buried treasure phonics game, create a wanted poster for a salty seadog and label the parts of pirate ship. They can also put their compass skills to the test along with their knowledge of the world's continents and oceans.
Log in to Busy Things now to explore all our pirate themed activities!
Not a Busy Things subscriber? You can trial all our fun learning games FREE!
Improve confidence and reinforce what they're learning at school, through play!
Discover 100s of FUN educational games and activities covering the full primary curriculum – writing, phonics, maths, art, climate change, coding and many, MANY more! For ages 3-11. Each child has their own profile filled with customised content (includes up to 5 children per family).
Busy Things is developed with teachers and trusted by 1,000s of schools, parents can be assured their children are having lots of fun AND learning too!
Take your free Busy Things trial now and you'll be able to access all of our learning activities!
We hope our free pirate costume props are helpful to you this World Book Day and beyond! We'd love to know if you use them, please do let us know in the comments. Do tag us in your photos on social too!