Free Rabbit Costume Props for World Book Day!
Free Rabbit Costume Props for World Book Day!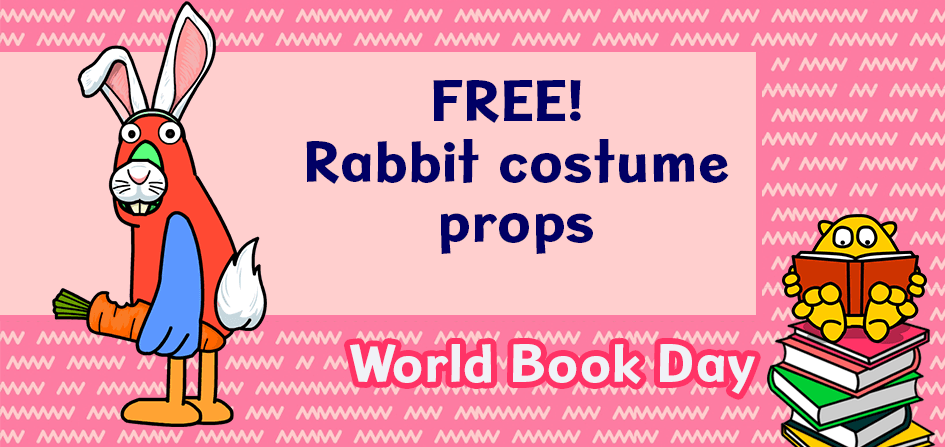 Easy World Book Day Rabbit Costume
Avoid the rabbit caught in the headlights feeling this World Book Day! We have a very easy bunny costume for you to pull out of the hat. So hop to it, turn your children in to cute bunnies with our free rabbit costume props!
Of course this easy kids rabbit costume isn't just for World Book Day! Let's go down the rabbit hole… It's an easy kids Easter costume, an ideal costume for kids birthday parties or even as an easy DIY Halloween costume!
Still not sure? We have lots more World Book Day costume ideas!
FREE rabbit costume props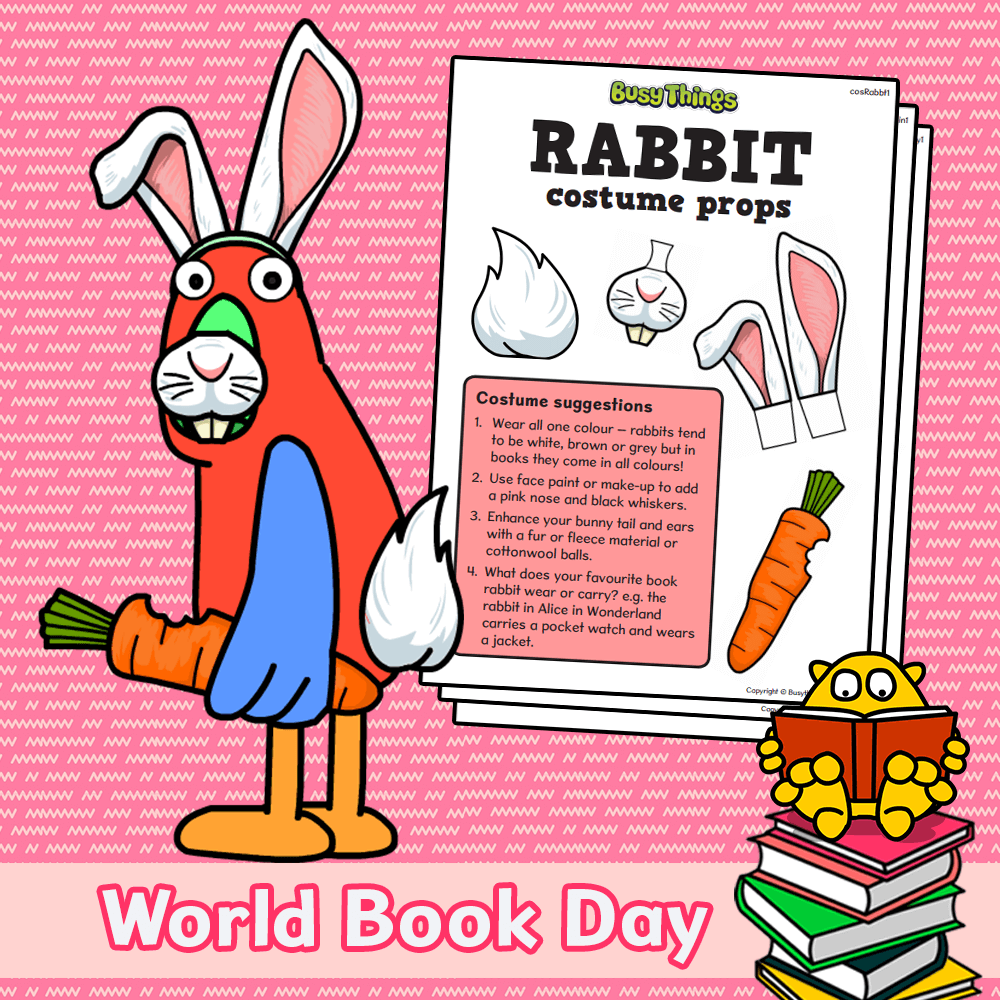 In our FREE rabbit costume for world book day PDF you will find…
Rabbit ears
A cute bunny tail
Carrot prop
Download your FREE rabbit costume props further down the blog…
Rabbit costume suggestions:
We suggest you wear all one colour with our free rabbit costume props – rabbits tend to be white, brown or grey but in books they come in all colours!
Use face paint or make-up to add a pink nose and black whiskers
Enhance your bunny tail and ears with a fur or fleece material or cottonwool balls.
What does your favourite book rabbit wear or carry? E.g. The rabbit in Alice in Wonderland carries a pocket watch and wears a jacket.
10 children's books with a rabbit in…
World Book Day is all about helping children develop a love of reading! One of the suggestions we have in our blog 10 ways to encourage children to love reading, is to pick books about their favourite things so if your child's a big rabbit fan that's a great way in!
Here's a selection of children's books with a rabbit character in…
Rabbit activities on Busy Things!
Toys in space by Mini Grey features a rabbit character. Did you know? Busy Things includes an interactive extract from this book along with a range of supporting reading comprehension and grammar activities. Log in now to explore them!
Not a Busy Things subscriber? You can trial all our fun learning games FREE!
Improve confidence and reinforce what they're learning at school, through play!
Discover 100s of FUN educational games and activities covering the full primary curriculum – writing, phonics, maths, art, climate change, coding and many, MANY more! For ages 3-11. Each child has their own profile filled with customised content (includes up to 5 children per family).
Busy Things is developed with teachers and trusted by 1,000s of schools, parents can be assured their children are having lots of fun AND learning too!
Take your free Busy Things trial now and you'll be able to access all of our learning activities!
We hope our free rabbit costume props are helpful to you this World Book Day and beyond! We'd love to know if you use them, please do let us know in the comments. Do tag us in your photos on social too!