Christmas Countdown: Sing Jolly Jingles!
Christmas Countdown: Sing Jolly Jingles!

Sing some Jolly Jingles!
The monsters want you to tune up those singing voices today! Test out your Christmas carol knowledge in our Jolly Jingles activity, FREE to download below AND our Christmas game, Jolly Jingles is FREE TO PLAY on Busy Things this week too! Read on for details…
Join in the Christmas Countdown!
Are you joining in with #MerryMonsterMayhem? The cheeky Busy Things Yellow Monsters are setting Merry Monster Missions for each day of the Christmas countdown, giving you FREE access to festive games and FREE printable Christmas activities!! This way to lots more free Christmas activities: Merry Monster Mayhem! FREE festive fun!
Christmas Song activity
Fill in the Christmas song blanks – write in the missing lyrics if you can, or cut and stick in the missing words. Then get those singing voices tuned up!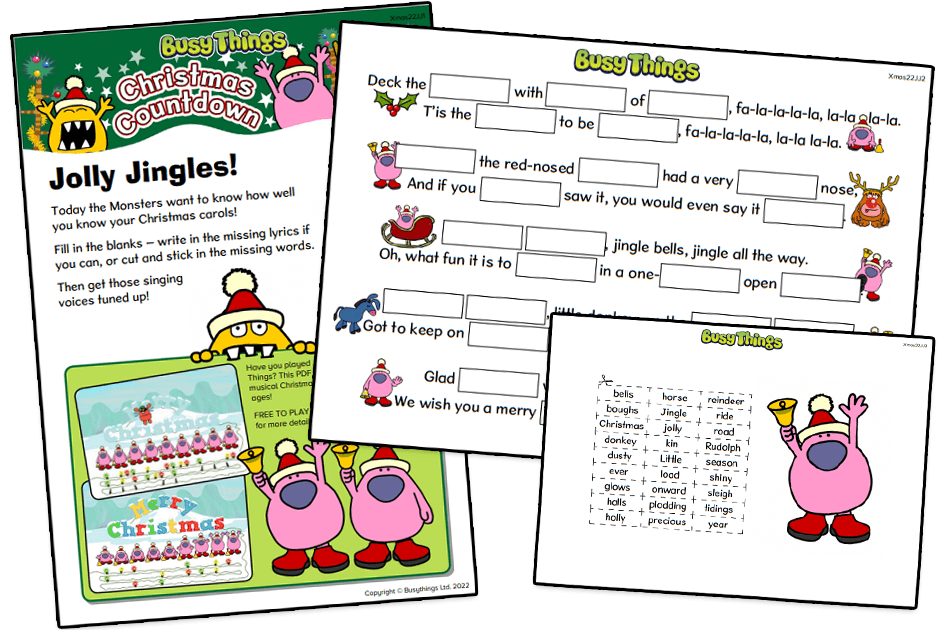 Jingle bell bonus activity! What do you think makes a song Christmassy? Can you create your own Christmas song?
This Jolly Jingles activity was inspired by the Jolly Jingles game on Busy Things, a fun musical game for children of all ages!
Jolly Jingles will be FREE TO PLAY this week too! Keep reading for details…

This week (from 14th December) you can play Jolly Jingles FREE!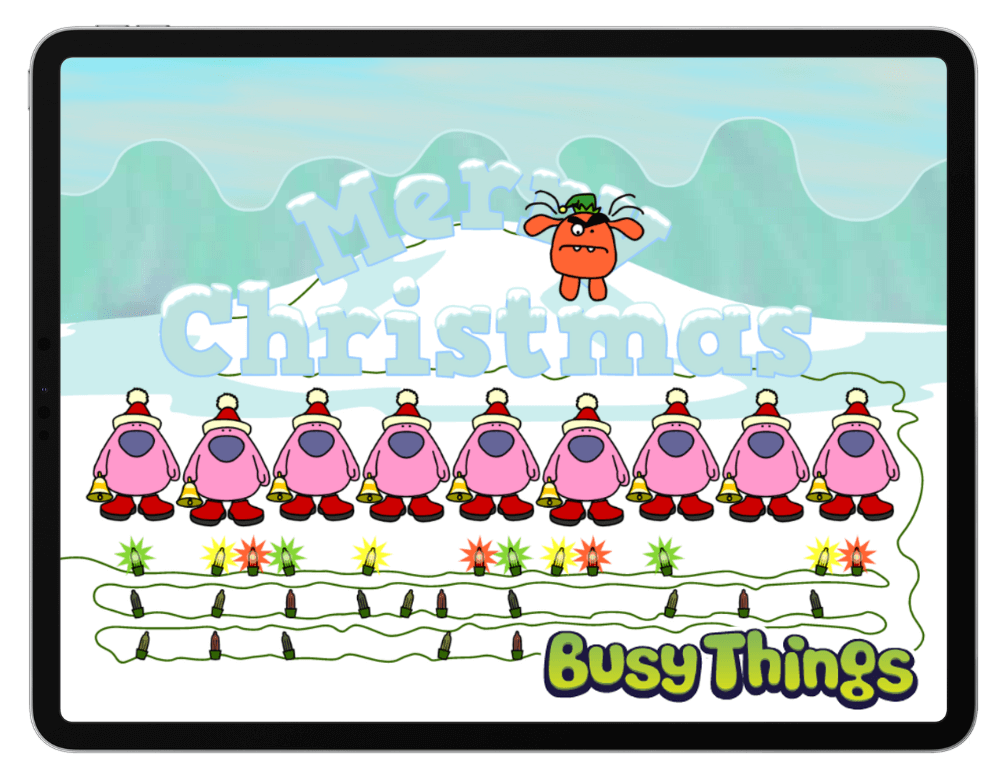 Jolly Jingles is a fun musical Christmas
game for children of all ages!
Help the grumpy monster conduct the pink men bell-ringers. Can you recognise the Christmas jingle they are playing? They do a great celebration when they get it right!

Head to busythings.co.uk/play and hit 'Try a free game' to play now!
It's FREE TO PLAY for a limited time only so, go go go!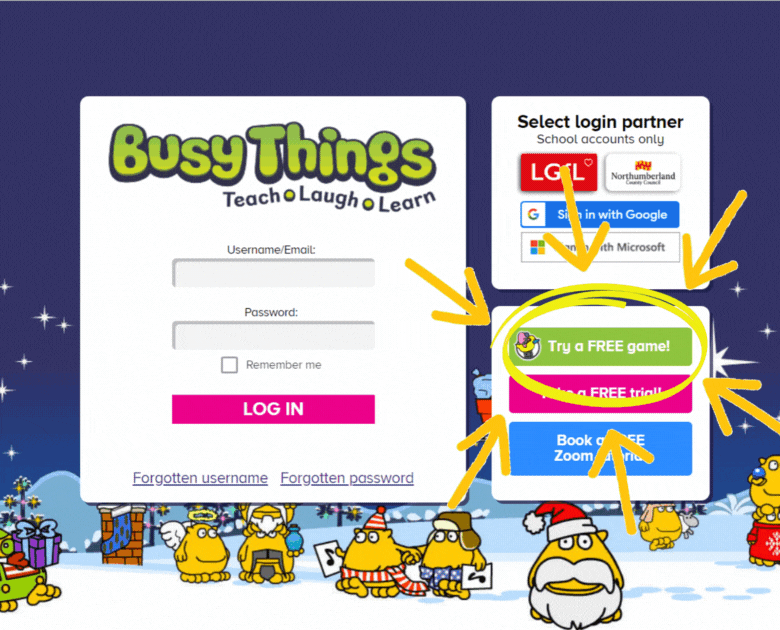 Improve confidence and reinforce what they're learning at school, through play!
Not a Busy Things subscriber? You can trial all our fun learning games FREE!
Discover 100s of FUN educational games and activities covering the full primary curriculum – writing, phonics, maths, art, climate change, coding and many, MANY more! For ages 3-11. Up to 5 children per family, each child has their own profile filled with customised content.
Developed with teachers and trusted by 1,000s of schools, parents can be assured their
children are having lots of fun AND learning too!
Take your free Busy Things trial now and you'll be able to access all of our Christmas activities!
Let us know what you think!
We hope you enjoy playing Jolly Jingles! We'd love to know if you are joining in with #merrymonstermayhem, please do let us know in the comments. We LOVE to see photos of Busy Things being enjoyed too, please do tag us on social!
More Merry Monster Mayhem…
Merry Monster Mayhem! FREE festive fun!
Christmas Countdown: Play Candy Cane Races!
Christmas Countdown: It's penguin day!
Christmas Countdown: Make a Christmas card!
Christmas Countdown: Play Santa's Sleigh Dash!
Christmas Countdown: Snowball Shootout!