Christmas Countdown: Play Candy Cane Races!
Christmas Countdown: Play Candy Cane Races!

Play Miner Birds: Candy Cane Races!
Today the Monster's want you to have fun with some Christmas maths games! Our FREE Christmas printable; Candy Cane Races is free to download below AND Miner Birds: Christmas edition will be FREE TO PLAY on Busy Things this week too! Read on for details…
Join in the Christmas Countdown!
Are you joining in with #MerryMonsterMayhem? The cheeky Busy Things Yellow Monsters are setting Merry Monster Missions for each day of the Christmas countdown, giving you FREE access to festive games and FREE printable Christmas activities!! This way to lots more free Christmas activities: Merry Monster Mayhem! FREE festive fun!
Candy Cane Races, a Christmas maths game!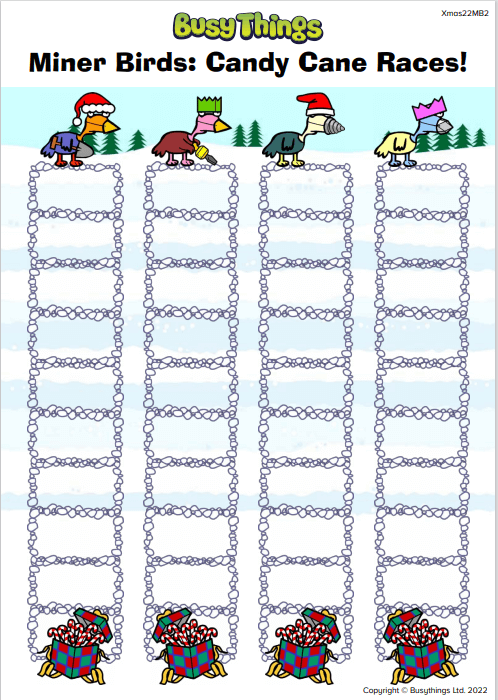 The aim of the game is to be the first to reach the candy cane treasure! To get there, you need to do a little bit of Christmas maths. Pick a question – opt for an easy one and you can dig down one space, choose a trickier one and you can dig more spaces!
We've included a range of questions in the pack so you can choose which are suitable for your child's ability.
Candy cane races is based on our popular Miner Birds series; they are all great maths games to encourage children to enjoy maths! With levels to suit all ages from 3 up to 11, children can practise specific math skills: addition and subtraction, times tables, fractions, or a combination of them all in our classic Miner Birds and special Christmas edition games.
The Christmas edition of Miner Birds will be FREE TO PLAY on this week too! Keep reading for details.

This week (from 2nd December) you can play Miner Birds: Christmas Edition FREE!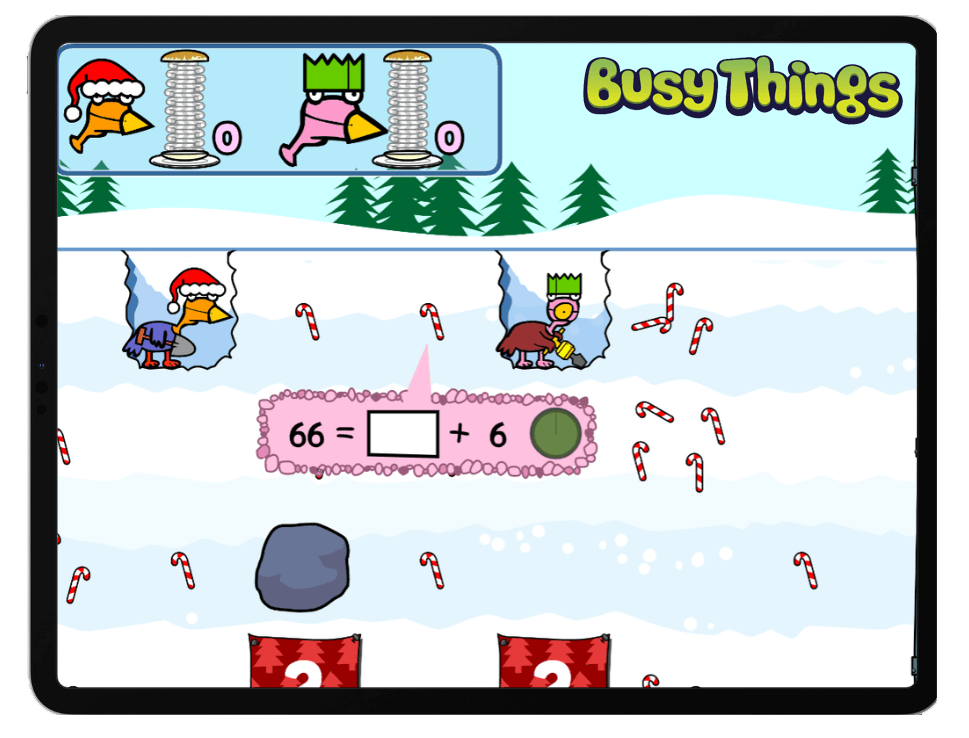 Be the first to collect 20 candy canes by answering mixed math questions. Choose your path carefully; the more candy canes on offer, the harder the question! Look out for bonuses and surprises along the way too!
Play against the computer or against friends. You can choose the maths level for each player
to make it a fair contest between siblings or parent vs child!
Or head to busythings.co.uk/play and hit 'Try a free game' to play now!
It's FREE TO PLAY for a limited time only so, go go go!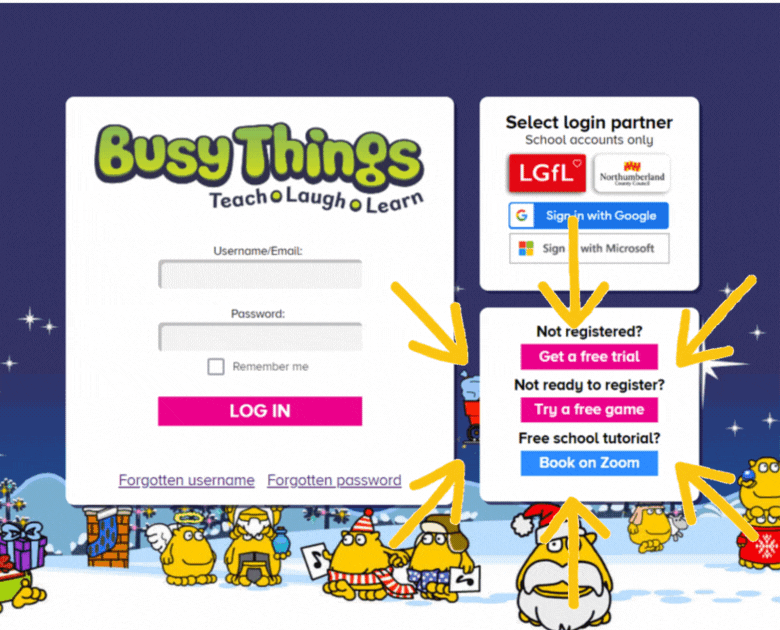 Improve confidence and reinforce what they're learning at school, through play!
Not a Busy Things subscriber? You can trial all our fun learning games FREE!
Discover 100s of FUN educational games and activities covering the full primary curriculum – writing, phonics, maths, art, climate change, coding and many, MANY more! For ages 3-11. Up to 5 children per family, each child has their own profile filled with customised content.
Developed with teachers and trusted by 1,000s of schools, parents can be assured their
children are having lots of fun AND learning too!
Take your free Busy Things trial now and you'll be able to access ALL of our Christmas activities!
Let us know what you think!
We hope you enjoy playing candy cane races and miner birds Christmas edition! We'd love to know if you are joining in with #merrymonstermayhem, please do let us know in the comments. We LOVE to see photos of Busy Things being enjoyed too, please do tag us on social!
More Merry Monster Mayhem…
Merry Monster Mayhem! FREE Christmas Countdown fun!
Christmas Countdown: It's penguin day!
Christmas Countdown: Make a Christmas card!