Christmas Countdown: Crack the elf code!
Christmas Countdown: Crack the elf code!

Crack the elf code!
The Monster's have a cracking monster mission for you today! They have some brain teasers for you to solve using their elf code AND you could WIN some lovely goodies by solving clues to find the baubles in Busy Things! Read on for details…
Join in the Christmas Countdown!
Are you joining in with #MerryMonsterMayhem? The cheeky Busy Things Yellow Monsters are setting Merry Monster Missions for each day of the Christmas countdown, giving you FREE access to festive games and FREE printable Christmas activities!! This way to lots more free Christmas activities in the Merry Monster Mayhem Free Christmas Countdown for kids!
You free Christmas activity…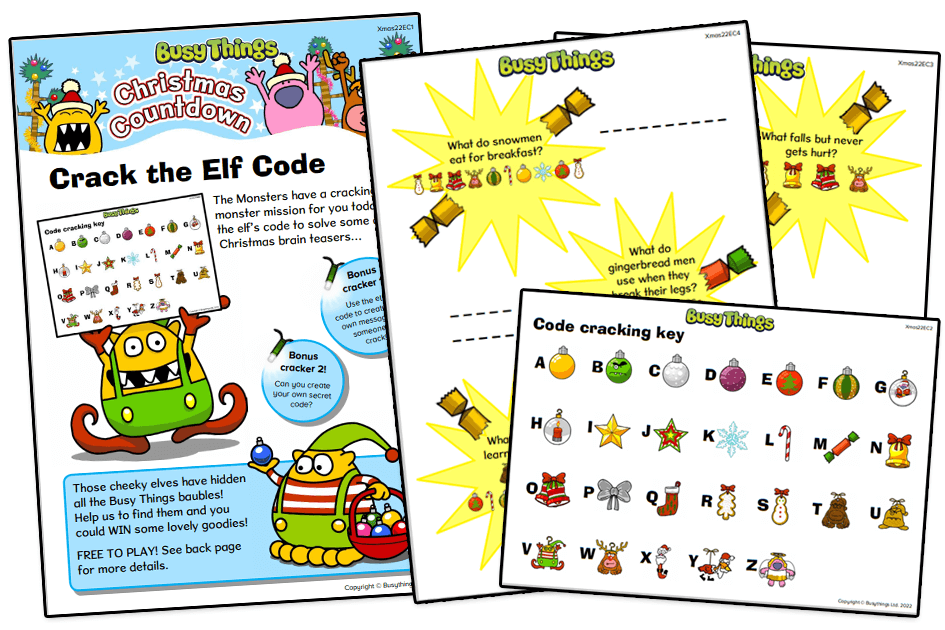 The monster elves have chosen their favourite Christmas cracker jokes – use the elf code to find the punchlines!
Once you've cracked the monster's Christmas crackers, can you create your own using the elf code? Or can you create your own secret code?
Busy Things includes lots of activities to encourage children to use their imagination, curiosity and problem solving skills!
Take a FREE TRIAL today and join in the Grand Xmas bauble hunt! Keep reading for details.

This week (from 13th December) you can go on a bauble hunt in Busy Things FREE!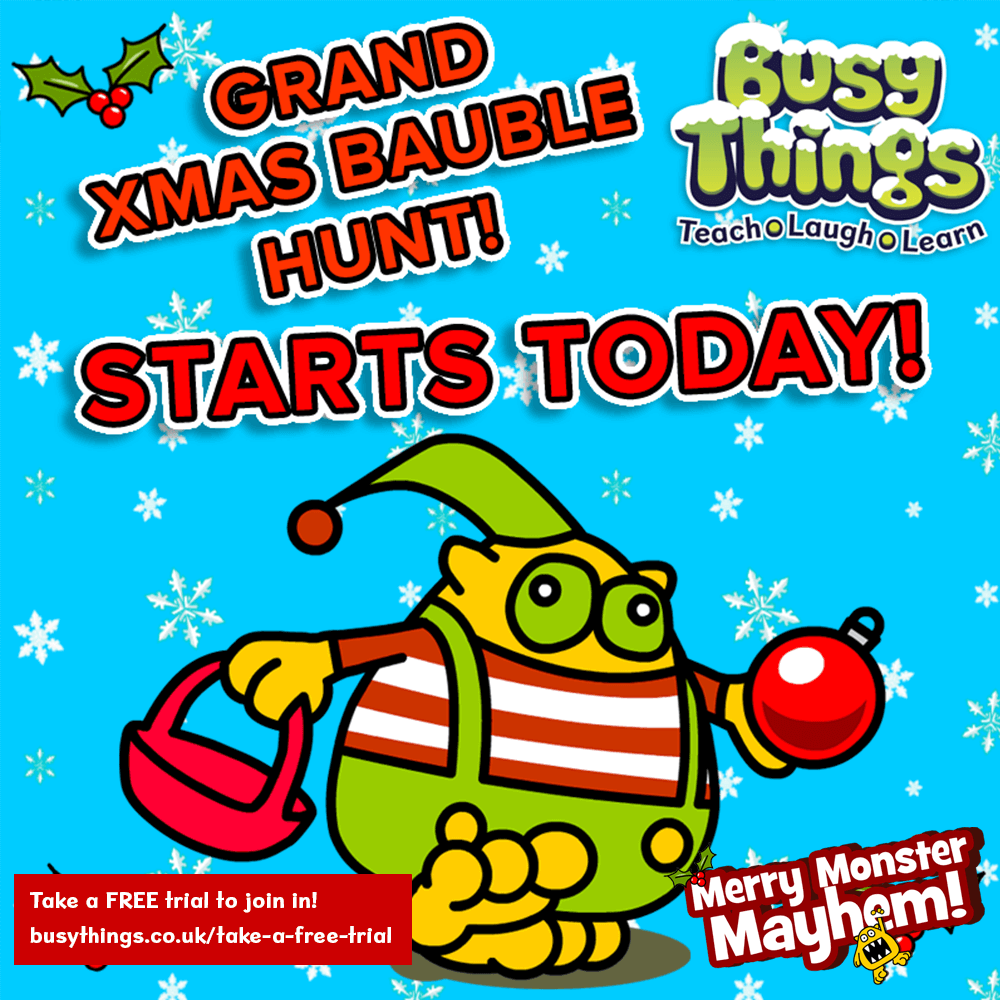 The cheeky monster elves have hidden our
Christmas baubles! Will you help us to find
them so that we can decorate the tree?
Find them all and you could WIN some
fabulous Busy Things goodies! The elves
have left some clues waiting for you…
Head to busythings.co.uk/take-a-free-trial to play now!
Hurry though, you only have until the 22nd!
Improve confidence and reinforce what they're learning at school, through play!
Not a Busy Things subscriber? You can trial all our fun learning games FREE!
Discover 100s of FUN educational games and activities covering the full primary curriculum – writing, phonics, maths, art, climate change, coding and many, MANY more! For ages 3-11. Up to 5 children per family, each child has their own profile filled with customised content.
Developed with teachers and trusted by 1,000s of schools, parents can be assured their
children are having lots of fun AND learning too!
Take your free Busy Things trial now and you'll be able to access all of our Christmas activities!
Let us know what you think!
We hope you enjoy cracking the elf code! We'd love to know if you are joining in #merrymonstermayhem, please do let us know in the comments. We LOVE to see photos of Busy Things being enjoyed too, please do tag us on social!
More Merry Monster Mayhem…
Merry Monster Mayhem! FREE festive fun!
Christmas Countdown: Play Candy Cane Races!
Christmas Countdown: It's penguin day!