Top 10 Fun Easter Activity Ideas!
Top 10 Fun Easter Activity Ideas!
As the Easter holidays are nearly upon us again, we've rounded up some fun Easter activity ideas from across the web to inspire you with fun things to make, play, craft and do…
1. Hairy Egg-Heads!
Kids will love making these, really easy to do and so funny! Simply sow cress seeds on some damp cotton wool within the washed out eggs and decorate with silly faces. Wait a few days and they'll have a full on barnet to style and eat – Easter egg sandwich anyone?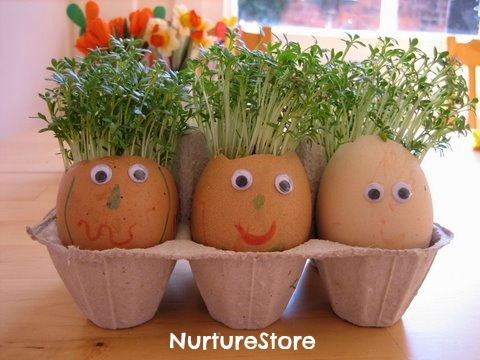 2. Fun Easter Game – Bunny Carrot Toss!
This looks like such a fun Easter game and again, really easy set up. Cut out bunny shapes and stick to the side of a cardboard box – or you could draw it straight on. Add holes and allocate points to each, then let the games begin!
You could have so many carrots each or see how many points you can win within a certain time.
3. Plant Easter Presents!
Spread a little happiness this Easter with these cute colourful gifts and get your little ones gardening too! You could paint the little plant pots to add in a bit of art fun.
4. Surprise Easter Egg Drawings
This is one of my favourite fun Easter activity ideas as it's so simple but egg-tremely fun – what or who will be inside your egg?! All you need for this is paper, pens and a bit of imagination. Fold the paper, draw your egg and extend the lines inside the fold – decorate the egg on the outside and get creative with what's inside!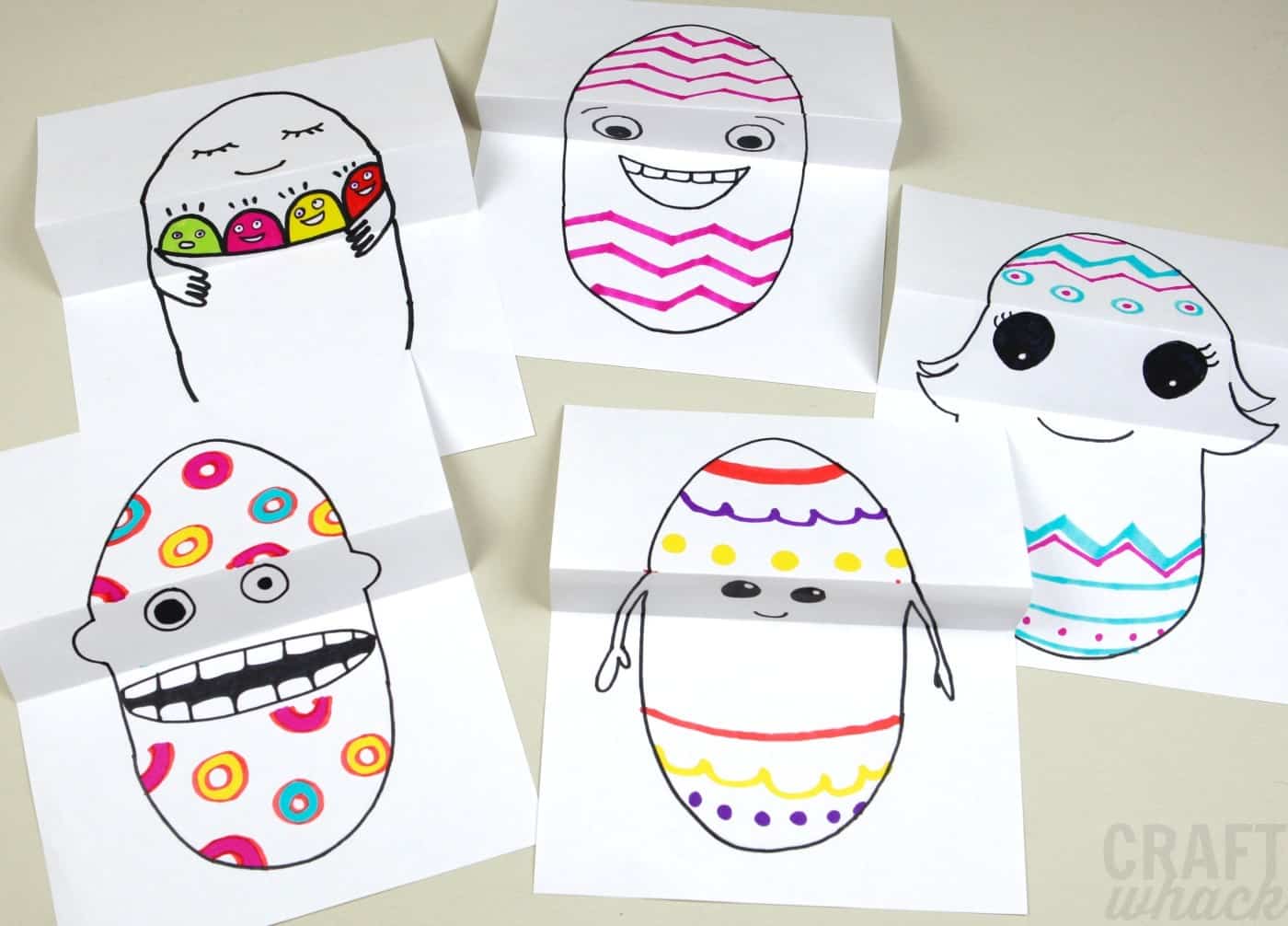 5. FREE Easter Activity Pack!
Well we couldn't miss out on the Easter fun could we! Make sure to get our FREE Easter activity pack full of fun Easter activities to make and do… Easter puzzles, colouring and Easter crafts, there's something for kids of all ages!
6. Easter Bunny Pancakes
The perfect Easter weekend breakfast – bunny pancakes! Quite simple to make – 3 circles of pancakes and a selection of toppings – children will love creating their bunnies and it's a great way to make fruit appealing to boot!
7. Easter Egg Rockets!
Now how is THIS for a fun Easter activity idea?! With just two ingredients – water and alka-seltzer – you have a really fun activity AND you combine Easter with some fun learning about science! It's also great to have another use for all those plastic eggs!
8. Energy Burning Easter Egg Hunt
I love this idea – a great way to burn off the sugar rush from all the Easter chocolate and the kids will love it! Hide you eggs in the garden, or around the house, with a fun exercise mini challenge in each – do 10 bunny hops, dance like a chicken, do a roly-poly etc.
9. Easter Egg Carton Flower Wreath
A great upcycling idea this one! Cut up an egg carton and get creative cutting different petal shapes, painting bright colours and adding different middle sections e.g. buttons, sequins or circles of patterned paper. Glue them on to a paper plate and and some leaves.
10. Surprise Easter Egg Art
Another simple but effective fun Easter activity idea! Use a candle or wax crayons to draw on to a paper egg shape then paint over with watercolour paint to reveal your design! Experiment with patterns, do surprise designs for each other or write secret messages.
Even more Easter inspiration on Busy Things!
Did you know that along with the Easter Activity Pack mentioned above, Busy Things includes lots of Easter online activities. If you're a Busy Things subscriber – Log in now for egg-stra Easter fun!
Not a Busy Things subscriber? You can access all our children's learning games free! Busy Thing is trusted by thousands of schools and families to make learning fun! Take a free trial to access all of our Easter activities plus 100s more games and activities across the curriculum! Take your free Busy Things trial
We hope our fun Easter activity ideas have inspired you! Which is your favourite? We'd love to know if you have a go at any of them – please do let us know in the comments.