Easter Activities for Children – FREE Printable Easter Activity Pack
Easter Activities for Children – FREE Printable Easter Activity Pack
12 fun-packed pages of Easter activities for children – colouring, drawing, pattern creating, puzzles and craft activities
Happy Easter from Busy Things!
We've had great fun creating a lovely set of Easter activities for children to enjoy over the Easter holidays! From Easter colouring sheets to code-cracking to Easter crafts, there's something for kids of all ages!
What's in the Free Easter Activity Pack?
Looking for some Easter activities for children this holiday? Look no further than our FREE pack full of Easter things to make and do that children will love!….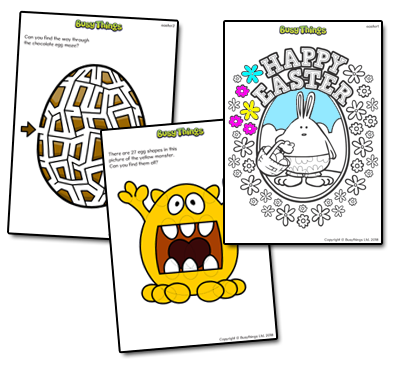 Easter Colouring Page – Our bunny is surrounded by Spring flowers, just waiting to be brought to life with some colour! Why not use it for the front of an Easter card?

Egg-mazing egg maze – Can find your way through our chocolate egg maze?

Monster Egg-finder – It turns out our Yellow Monster is basically a mass of eggs shapes! But how many?
Become the Easter Bunny – make an Easter Bunny mask and get hopping around

Easter Bonnet decorations – A selection of chicks, eggs and flowers for you to print, cut out and colour in and help you in decorating a beautiful Easter bonnet

Pattern making – explore symmetry and patterns by finishing our egg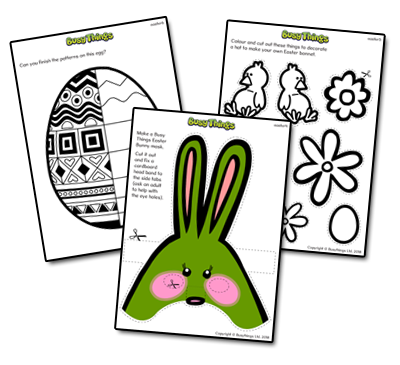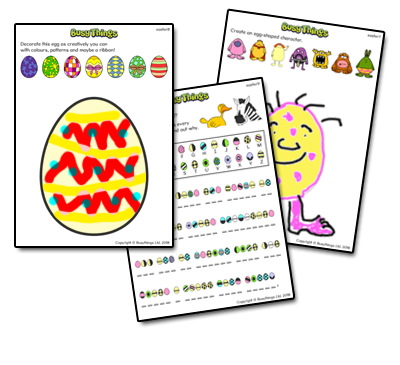 Create your own egg-stra special character – an egg shape it a great start to any character design, many of the Busy Things characters began as a simple egg! We invite you to get creative and see who emerges from your egg!

Decorate an egg– eggs-periment with patterns and colours!

Crack the egg-code! – Older children will enjoy cracking our egg-based code to reveal a secret message – it may be a a little odd but we've used every letter in the alphabet to create it!
Classic Easter Egg hunt

– how many eggs are hidden in our Busy Things scene?

Easter egg matching game – print out the page twice, (stick to some card for a sturdier game), cut out the egg squares, jumble up, place egg side down and start matching! Or why not print out and hide them for your Easter egg hunt

Eggs-ellent wordsearch! Our Easter twist on a wordsearch will keep older children hunting for a while! How many 'eggs' can they find?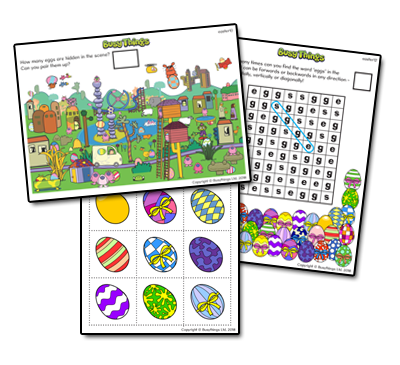 How to access your FREE Easter Activities for Children?
Can't wait to get cracking? Simply click on the button below, download and print out your PDF (remember you'll need to print page 11 twice)…
Log in to Busy Things for even more Easter Fun…
You can access this Easter Activity Pack within Busy Things along with our Easter Egg Colouring activity and lots of worksheets on the Easter Story.
If you're a Busy Things subscriber – Log in now
Not a Busy Things subscriber? Did you know you can trial Busy Things completely free? Simply click here to take your free trial
We hope you will enjoy our Easter activities! We'd love to hear your feedback, please leave a comment below…