The Queen's Platinum Jubilee
The Queen's Platinum Jubilee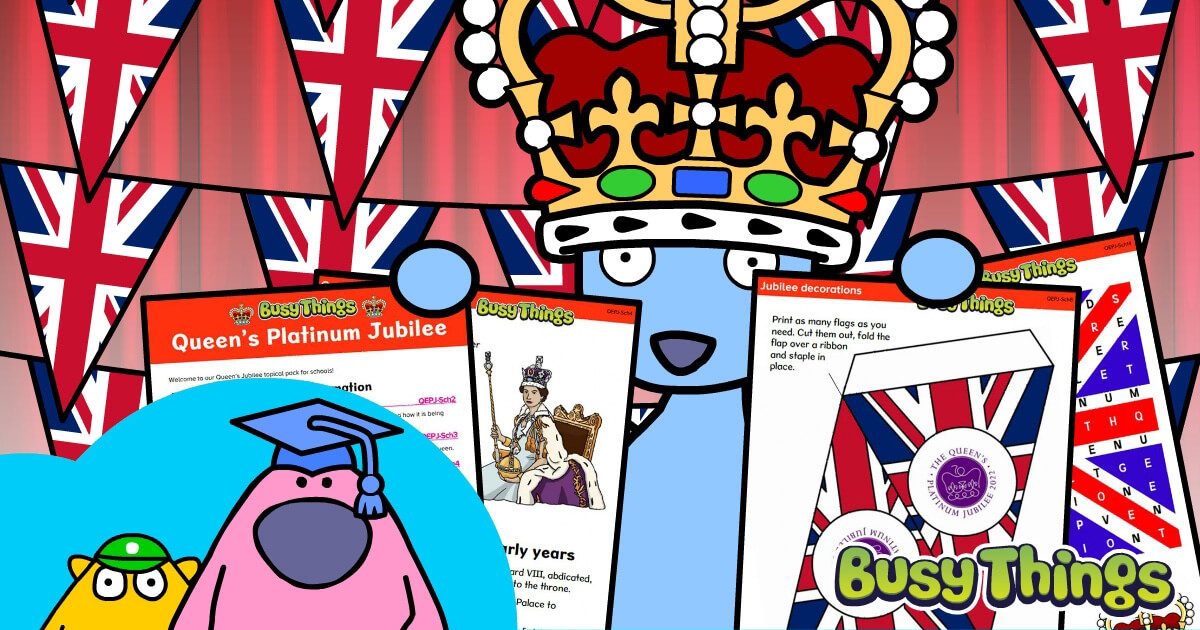 With the Queen's Platinum Jubilee fast approaching in early June, we're sure you're thinking about how to celebrate the momentous milestone with your pupils.
Following on from the coronation activity, we launched in February, we've been busy preparing more Jubilee-themed activities for you, as well as a special Queen's Platinum Jubilee topical pack.
Read on to find out more!
Online Platinum Jubilee activities
Log in to Busy Things from today and you'll find some more Jubilee-themed activities. Some will help you teach your pupils about the Queen and her life. Others will help you prepare for the all-important platinum jubilee party.
The activities include the following:
Timeline of Queen Elizabeth II's life
Label the timeline with key events in the Queen's life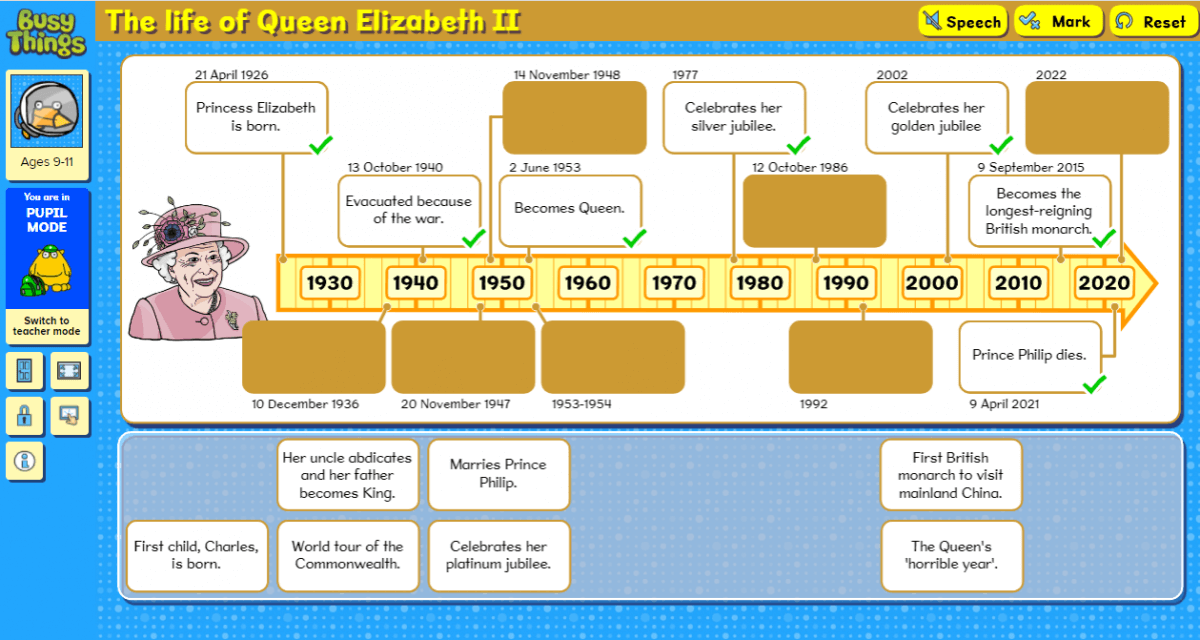 The family of Queen Elizabeth II
Can you work out who goes where within the Queen's family tree?
Commonwealth countries of Africa and Europe
Commonwealth countries of Asia and the Pacific
Commonwealth countries of North and South America
Name the countries that belong to the Commonwealth
A portrait of Queen Elizabeth II
Create an image of the Queen in the style of Van Gogh using our templates
Platinum Jubilee bunting to colour
Print and finish off your own celebration bunting
Platinum Jubilee placemats to colour
Make your own tea party placemats
Platinum Jubilee bunting
Print your own celebration bunting
Platinum Jubilee placemats
Make your own ready-to-laminate tea party placemats
Colouring sheets
Colour in pictures of the Queen
If you're already a subscriber or trialist, simply type in 'Jubilee' to find the activities when you log in.
If you've not got a login, why not take a 28-day free trial and see what there is? Just click here and we can set it up.
FREE Queen's Platinum Jubilee topical pack for schools
In addition to new activities, we have our Queen's Platinum Jubilee topical pack for schools. This includes:
Fact sheets about the Platinum Jubilee celebrations, and the Queen's life and achievements
Activities focusing on 1) the events that led to the Queen being crowned, 2) the longest-reigning monarch and 3) the Queen's family
Bunting and placemats to colour and/or print and laminate ready for a Platinum Jubilee party
Pictures of the Queen to colour in
A Jubilee-themed word search

The topical pack is free to download, whether you're a subscriber, currently trialing Busy Things or completely new to us. You just need to provide your details below.
We'd love to know what you think of our Jubilee activities! It will help us understand what to create in the future. Let us know in the comments area below – thank you!
Wishing you all a wonderful Jubilee celebration from everyone here at Busy Things!