Make a summer bucket list to get the most out of the holidays!
Make a summer bucket list to get the most out of the holidays!
A great way to kick off the summer holiday is to have a family brainstorming session and make your summer bucket list! We have some ideas and free activity templates to get your started…
The key to a fun-filled, memory making summer is to get everyone involved in planning it – cue the summer bucket list!
The thought of a long summer holiday, whilst exciting for the kids, may feel a little overwhelming from a parents point of view! Just think how great it would be to have a stockpile of activity ideas at the ready for when the inevitable drone of "I'm bored" crops up!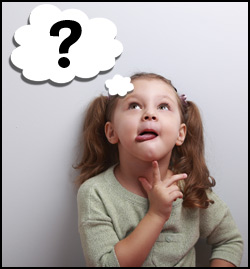 To get your family's summer adventures heading in the right direction start with a good brainstorm and compile your summer bucket list together.
Involving the kids in this will get their imaginations flowing and invest their interest in your summer plans.
The activities can be very simple, cheap or even free things to do at home, they don't have to be holidays or expensive day trips.
Having a plan of action will also help you to think about any activities that you can add an educational aspect to – there is evidence to suggest that children experience learning loss during prolonged absences from school so it's a good idea to keep brains active!
Here are a few summer bucket list ideas that can be injected with some fun brain-building exercises too…
1. Build sand castles
A firm favourite with young and old! Building sand castles provides hours of fun and provides lots of educational opportunities!
Children won't even realise that they are…
Learning about science – understanding that wet sand moulds better than dry sand.
Thinking about maths – by building castles in different shapes and sizes.
Showing creative expression – by making different designs and having some fun with role play!
2. Go on picnics
Plan and make your picnic together! Baking involves weights, measures and timings and you could talk about the ingredients – where are they from? how are they made? etc.
The location of your picnic will also provide lots of learning opportunities – discuss nature and the environment around you, enjoy exercise and play games. You could even plan an activity such as our next idea…
3. Create a scavenger hunt with our free template
Such good fun and the educational opportunities are endless! You could set a list of items to find in nature or make and hide different letters, numbers, objects or shapes.
4. Play dress up
Role play is a great way to encourage imagination and creativity! Any theme can lend itself to all sorts of other subjects too, for instance if you played at pirates you could…
Look at maps or create your own treasure map
Count gold coins
Go digging in a sandpit to find buried treasure! Hide letters in the sandpit for children to recognise or build up words with depending on their ability.
Paint pirate related pictures
5. Make a bird feeder
There are lots of tutorials on the internet such as this one from the rspb, then you can then learn about and watch your new feathered friends!
6. Make an obstacle course
Make it as simple or elaborate as you like! Children will love getting involved in planning/designing it and making it, not to mention doing it!
Use lots of directional language – forwards, clockwise, turn 90° etc and you'll be sneaking in a bit of maths and computational thinking too. In fact, why not take turns trying the obstacle course with your eyes closed and have to direct the other person!
7. Make a

Summer Scrapbook
An all-round activity to get your child thinking, writing and drawing!
Visit our Summer Scrapbook blog to download a free template.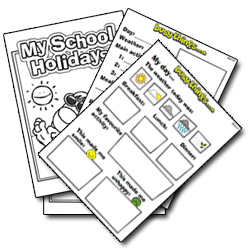 8. Build a den
Get creative with things in the house or garden to make a den. Children will practise their problem solving skills and learn about gravity!
Once the den is built, if it's sturdy enough, you can utilise your den for lots more fun!…
Bring down the duvets and have a sleepover in it
String up some fairy lights and add a few cushions to make it into a cosy reading nook.
Move the TV over and grab the popcorn, you now have a pop-up cinema!
Role play at being knights, defending your castle/fort
9. Play Busy Things!
Sometimes we all need some quiet down-time and to let children enjoy a bit of screen time. Busy Things makes that completely guilt-free! Children love to play our games and activities covering maths, music, art, English, coding and all the other subjects in the primary curriculum and you can be happy in the knowledge they are all educational and teacher approved!
You can try our educational games for kids completely FREE! Make sure to take advantage of our summer sale – 2 months for only £4.49! Inlcuding access for up to 5 children aged 3-11.
10. Do a junk model challenge
Before you throw away the recycling, see what you can make out of it! Who can create the best robot, car or animal?
What will be on your summer bucket list?
Whilst the holidays may seem like an eternity stretched out before you now, September will soon come around and the kids will be going back to school before you know it!
Make a summer bucket list and you'll look back on this time as a very special summer holiday indeed! Enjoy!
For some more ideas, please see our blog;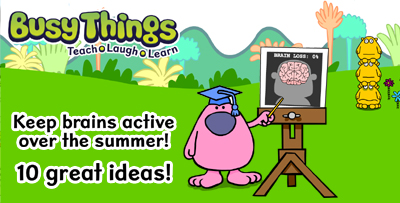 What activities do you have on your summer bucket list? Please let us know in the comments below…