Spring Crafts for Kids – FREE Printables
Spring Crafts for Kids – FREE Printables
Spring into action with our FREE printable spring crafts for kids pack – full of spring themed things for you to make and do!
Spring into action! Free Spring Crafts for Kids…
Looking for some spring themed craft activities? We've had great fun creating a lovely set of spring crafting activities for children to enjoy! The crafts do involve scissors so adult supervision and assistance is required but we're sure you'll have lots of fun making these too…
 What's in our spring crafts for kids pack?
Our FREE printables pack of spring crafts for kids includes some lovely activities that will encourage your children to think creatively!
All you'll need is a pair of scissors, crayons/pens/paints and a child's young creative brain!….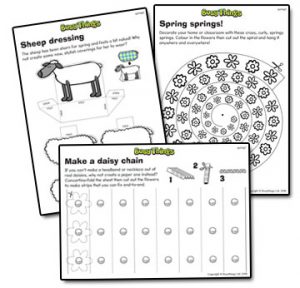 Make a Daisy Chain – Just like the real thing but this daisy chain will be longer lasting, can be more colourful and as long as you want! It also doesn't involve trudging around outdoors if the weather isn't so good!


Sheep Dressing – Our sheep has been shorn and is feeling the chill! Budding fashionistas can clad our sheep in a fabulous array of designs, be imaginative.


Spring Springs! – Colour our the pretty spring blooms, cut out and fill the house (or just the kids bedroom) with these beautiful decorative springs! Stick to card or paper plates first to make them more rigid
How to access your FREE Spring Crafts for Kids Printables?
Can't wait to spring into action? Simply click on the button below, download and print out your PDF…
Try our other spring printable activities:
Like our spring craft printables? You'll love our other spring activity printables! Access them free here: Spring Into Action: Free Spring Printables for Kids
Log in to Busy Things for even more Spring Fun…
You can access both the spring crafting and activity packs within Busy Things, along with tons of other fun activities to put a spring into learning!
If you're a Busy Things subscriber – Log in to Busy Things now
Not a Busy Things subscriber? Did you know you can trial Busy Things completely free? Simply click here to take a free trial of Busy Things
We hope you will enjoy all our spring activities for kids! We'd love to hear your feedback and to see your creations, please leave a comment below…