Spring Into Action: Free Spring Printables for Kids
Spring Into Action: Free Spring Printables for Kids
Make learning fun this spring with our FREE spring printables – full of spring activities for kids!
Spring Into Action: Free Spring Printable Activities for Kids
Need some spring activities to keep young minds active and entertained? We've got just the thing! There's something for kids of all ages in our free spring printables pack.
What's in the spring activity pack?
A selection of activities to encourage children to be creative, problem solve and to think and talk about this beautiful season!
Kids will love going on a hunt for the signs of spring, get creative with spring colouring and tax their brains with some blooming wonderful anagrams!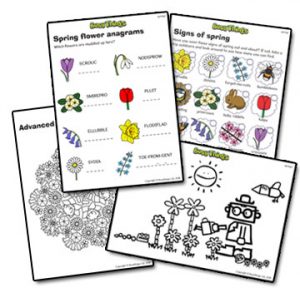 Signs of spring hunt – How many signs of spring can you find? From butterflies to bluebells to bumble bees, we've identified 16 signs of spring to tick off  (don't worry they're not all B-related)


Spring flower anagrams – Anagrams are a blooming wonderful way to tax young minds! Older children can un-muddle these flower names to develop their language and problem solving skills 


Spring Colouring sheets – A simple gardner scene for younger children and a more detailed flower design older children – great for concentration and creativity
How to access your FREE spring printables?
Can't wait to spring into action? Simply click on the button below, download and print out your PDF…
Try our spring crafts for kids – Free Printables
Like our spring activity printables? You'll love our spring craft printables! Access them free here: Spring Crafts for Kids – FREE Printables
Log in to Busy Things for even more spring fun…
You can access the spring activity and crafting packs within Busy Things, along with tons of other fun activities to put a spring into learning!
If you're a Busy Things subscriber – Log in to Busy Things now
Not a Busy Things subscriber? Did you know you can trial Busy Things completely free? Simply click here to take your free Busy Things trial
We hope you will enjoy all our spring activities for kids! We'd love to hear your feedback, please leave a comment below…