Shakespeare Week: 5 Great Activity Ideas
Shakespeare Week: 5 Great Activity Ideas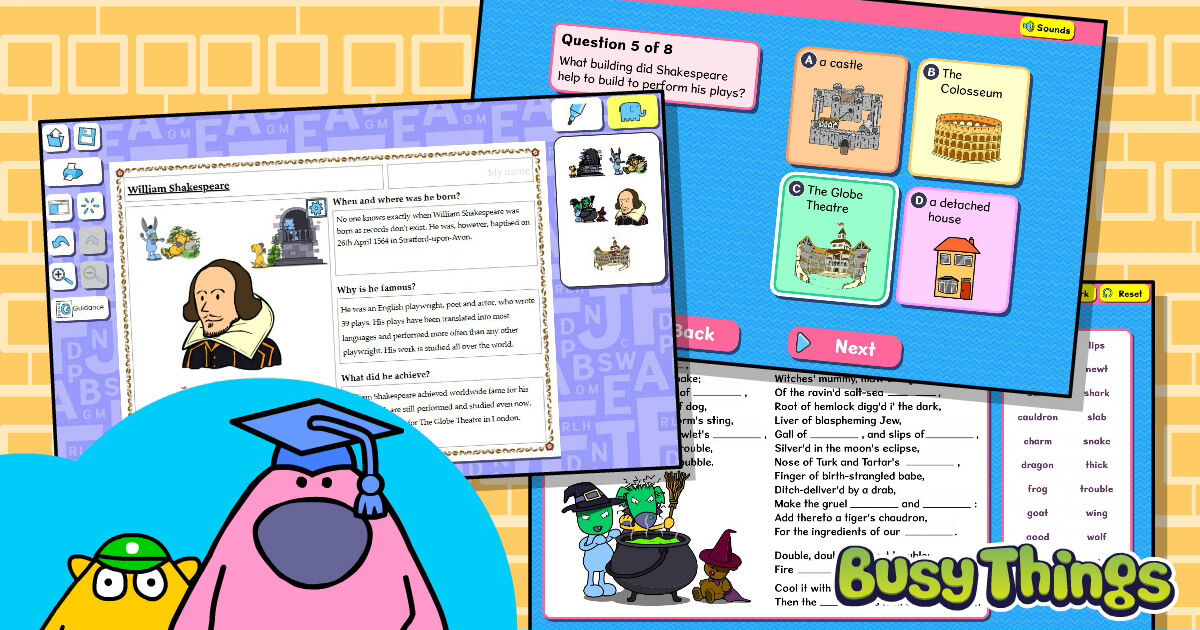 Shakespeare Week 2023 takes place between 20th and 26th March this year and is the annual celebration of the life and work of Shakespeare in primary schools. It's organised by the Shakespeare Birthplace Trust and, since it first launched in 2014, it's introduced over 8 million children to the Bard's work!
In this blog, we discuss some ideas for Shakespeare Week, which draw from the Literacy activities on Busy Things. These are:
1. Write about William Shakespeare
So who was Shakespeare, when and where did he live? And, what did he do to be so famous?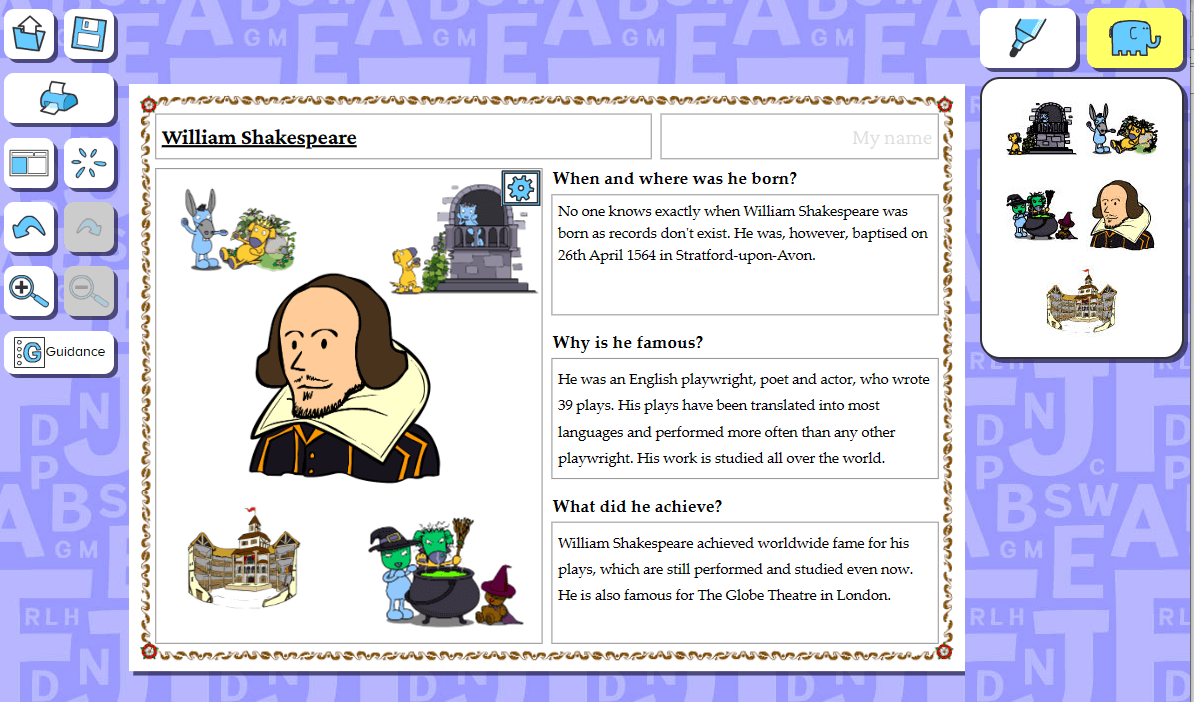 Have you enough facts to create a fact file already? If you're confident you have, head straight to our Write about William Shakespeare writing project.
Not so sure? Don't worry, more detail about his life and works can be found within our guidance section, which you'll find when you click into the templates!
You could also refer to our paper-based Shakespeare topical pack, which gives a summary of his life.
2. Macbeth's Three Witches
Macbeth has to be one of Shakespeare's most popular plays and the scene with the three witches is iconic.
Read it through with your class, enjoying all the gruesome detail, then see if your pupils can remember the words and 'fill in the spaces' of our 'Macbeth's Three Witches' interactive worksheet.
3. The Globe Theatre
As well as writing plays, Shakespeare is linked to The Globe Theatre in London. His theatre company commissioned its construction and his plays were performed there from 1599 onwards until a fire burnt it to the ground in 1613.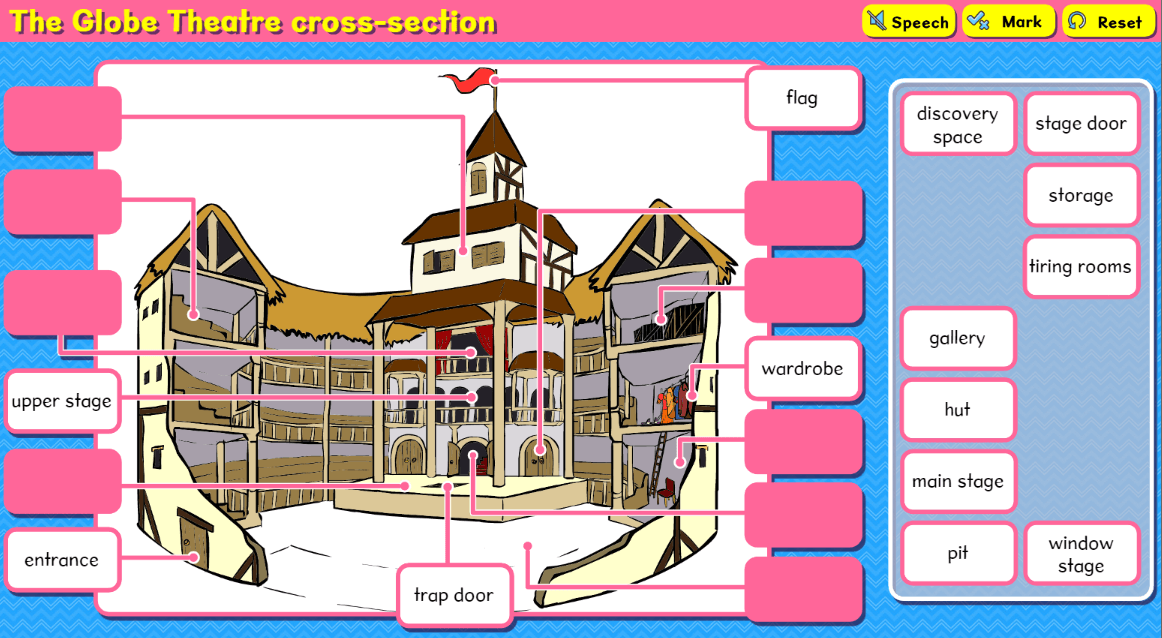 Pupils can explore the detail of the theatre (which is identical to the theatre that stands in its place today) in our 'The Globe Theatre' labelling activity.
4. Shakespeare quiz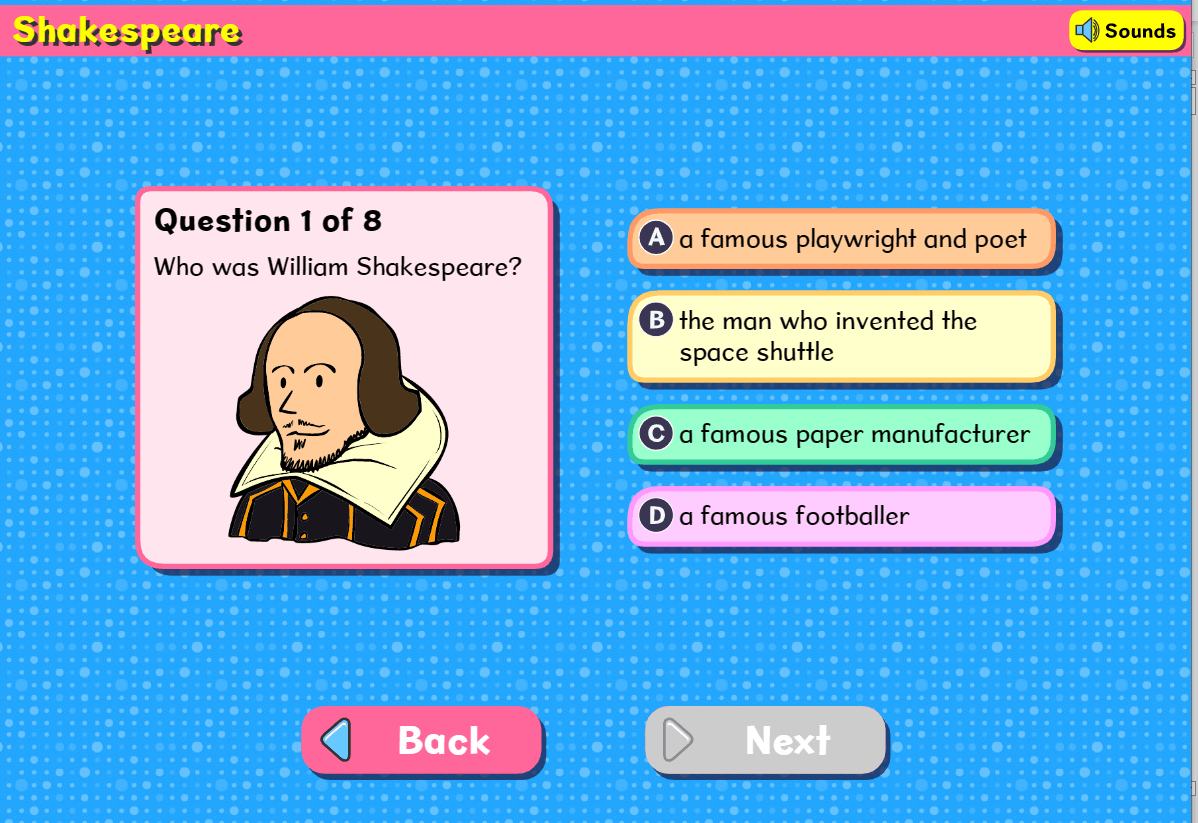 Test out your pupils' knowledge of Shakespeare towards the end of Shakespeare Week to assess what they've learned with this quiz.
You can focus on Shakespeare's life or on his plays – the choice is yours! Set a quiz as an assignment and each child that plays will be given the same questions to answer.
5. Write my own Shakespearean play
Having found out more about Shakespeare, have you inspired your pupils to write like him? Perhaps they could develop their own characters, their own scenes or even entire plays just like he did!
The different templates within our 'My own Shakespearean play' writing project will undoubtedly help them shape their thoughts, so take a look!
Summary
So, there you have it – some activity ideas for Shakespeare Week. We hope you have a great time, and inspire the children to read, watch and perform some more of Shakespeare's plays.
Want to see more of our Shakespeare activities (and others)?
If you'd like to see more of our activities, you can find them by searching 'Shakespeare' using the search tool on the Busy Things home page. Alternatively, go to March > Shakespeare Week within the Special events area where you will be able to pin or favourite all the activities in one go.
If you've not already got a login, that can be easily sorted. Simply take out a free 28-day trial with us, by clicking here. You're more than welcome to have a virtual tour via Zoom too. If you'd like one, contact us here and we'll get in touch!
More suggestions as to how to first introduce your pupils to Shakespeare are provided in our blog "Shakespeare Week: How to Introduce Children to Shakespeare".