Ideas for learning about the Queen's Platinum Jubilee + FREE Party Pack!
Ideas for learning about the Queen's Platinum Jubilee + FREE Party Pack!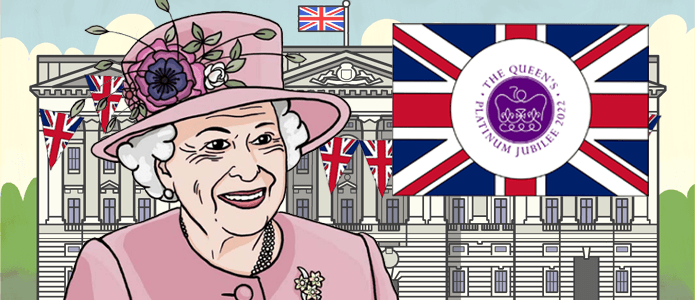 The festivities are upon us! Here are some ideas for learning about the Queen's Platinum Jubilee. We'll look at how to help children understand the role of the Queen and the monarchy. We'll also suggest ideas for thinking about how life has changed during the Queen's 70 years on the throne!
What is the monarchy? Give children context to who the Queen is
The Queen's life – What does she do?
70 Years of reign – How has life changed in her time on the throne?
Let's celebrate! – Ideas to commemorate the Platinum Jubilee
Platinum Jubilee learning resources
Claim your FREE Platinum Jubilee party pack!
You might also be interested in: Queen's Platinum Jubilee: Family Jubilee Party Ideas!
Find out about the monarchy
We have had a monarch in Britain and England since Saxon times – around 1200 years ago – but their role has changed significantly over time. Queen Elizabeth II has been the UK's head of state since 1952 (age 25) when her father King George VI died.
To help children understand who the Queen is, you could look back at past Kings and Queens. Find out who they were, how they lived and also what their roles were in society; discuss how this has all changed over time. Perhaps start with the Top 11 monarchs in British history.
Busy Things includes an interactive Queen's family tree activity, along with lots of new fun activities and ideas for learning about the Queen's Platinum Jubilee! You can trial all our Jubilee activities for children here for free!
There are many places to visit for children to experience the history of the monarchy. Windsor Castle, the Tower of London, Buckingham Palace, Sandringham and Balmoral, are a few examples. If you aren't able to visit in person, why not take a virtual trip on You Tube!
Learn about the Queen's role
The Queen's role as head of state is symbolic and ceremonial. She has many duties and carries out official engagements representing Great Britain and the Commonwealth. Have a look at the Queen's life in pictures to see examples of what her life involves.
Did you know? The Queen is Queen to 14 countries in addition to the UK – here is a full list of the Commonwealth Realms. You could learn about where each of these countries are and about their history and culture.
The Queen is also the patron of many charities. Children could research some of these charities and perhaps do some fundraising!
Another key part of the Queen's role is to give speeches; for instance at the opening of parliament and her annual Christmas address. Did you know? During the war, Elizabeth tried to lift the spirits of children across the nation by making radio broadcasts. Ask children to pretend that they are the monarch, ask them to write and give a speech of praise, reflection or encouragement of their people. Why not have some fun dressing up too!
Other activity ideas for learning about the Queen's role:
Write a diary or news report about a day in the life of the Queen.
Have a look back at the celebrations from the Queen's Coronation and her Golden and Diamond Jubilee celebrations.
Pretend you are Queen/King for the day – what would you do?
Make a memory collage – each child could draw something to represent the Queen, her achievements or an event in her life.
Create your own royal event! – Make invites. Plan a menu fit for the Queen. Who is on the guest list? What would you talk about? What is the royal protocol – what should you / shouldn't you do?
Take a quiz about the Queen or create her portrait on Busy Things – just one of our new range of activities to celebrate the jubilee.
The Queen's reign of 70 years:
Queen Elizabeth II is the only monarch to have been on the throne for 70 years and therefore the first to celebrate a Platinum Jubilee!
The passage of time is a difficult concept to grasp (see our blog Teaching Children How to Tell the Time: Hints and Tips). A school day seems a very long time for a child (adults too sometimes!), so they're going to need to some help beginning to imagine 7 decades!
A great way to help children understand the length of time that the Queen has been on the throne is to look at how things have changed and developed over the last 70 years. Make it an immersive and fun experience:
70 years on the throne activity ideas:
What is your child interested in? Cars/football/clothes – look at how these things have changed over the years via internet research or visit a local museum on the subject. You could challenge them to draw/craft or write about the changes.
Watch a film from the 1950s and compare it to a modern day film. You could even watch a film from each decade to see how things have evolved and the developments made.
Listen to some music from each decade – music always brings back memories that you can talk about with your children! Perhaps grandparents or great-grandparents will have memories to re-call from the earlier decades.
Explore how foods have changed over the years – have a look at recipe books from each decade. Plan to make a dinner from each decade.
Ask older relatives about their memories and what changes they have seen – compare what they did and played with as children. What can they remember of the Queen?
Look back at what has been invented in the last 70 years!
Watch

The Platinum Jubilee Pageant

on Sunday 5th June. It promises to be a spectacular event telling the story of The Queen's 70-year reign and our transforming society.
How to celebrate the Platinum jubilee with children
Follow a Queen's Platinum Jubilee Beacon Trail 5th May – 2nd June: A free augmented reality trail where families will learn about The Queen's part in modern history as well as engaging in a fun story. In locations taking part, you will be able to visit seven venues around a village, town or city centre, learning about a different decade in The Queen's reign at each one.
Get involved in the Platinum Jubilee Beacons on Thursday 2nd June: More than 2022 beacons will be lit around the commonwealth. You can go to a Beacon lighting event, or hold one of your own. Here is the Guide to taking part in the Jubilee beacons – there is even an official song to learn and a Jubilee beacon tart recipe!
Watch The Queen's Birthday Parade on Thursday 2nd June: Children will be able to see the epitome of pomp and ceremony with over 1,400 parading soldiers, 200 horses and 400 musicians coming together in the Queen's traditional birthday parade.
Get involved in the Queen's Green Canopy: Communities around the country are being encouraged to "Plant a tree for the jubilee". This 'Queen's Green Canopy' will see hundreds of trees planted to benefit the environment in addition to providing a fitting legacy to honor the occasion.
Enjoy a range of royal games and activities on Busy Things! Children can have great fun with a patriotic game of Royal Line Up! They'll be learning about the Queen's Platinum Jubilee AND improving their pattern knowledge and sequencing skills at the same time.
Attend a Street party on Sunday 5th June as part of the The Big Jubilee Lunch! Celebrate the big event with your local community. Download our free party decorations pack below (it includes some bonus royal activities!) and do have a look at our family jubilee party ideas blog for some ideas to make your party extra special!
Queen's Platinum Jubilee learning resources
To help children learn about Queen Elizabeth II and the Platinum Jubilee we have created a whole host of new activities on Busy Things including a fun sequencing game – Royal Line Up. Lots of art activities such as painting the Queen's portrait. Also interactive timelines, royal family tree activities and much more!
If you're a Busy Things subscriber – Log in now
Not a Busy Things subscriber? Busy Thing is trusted by thousands of schools and families to make learning fun! Take a free trial to access all of our Platinum Jubilee activities plus 100s more games and activities across the curriculum! Simply click here to take your free Busy Things trial
Teacher? Check out our Platinum Jubilee Topical Pack for schools.
Claim your FREE Platinum Jubilee Party Pack!
Now it's time to claim your FREE Platinum Jubilee Pack full of fun activities to make and do. Simply click on the button below, download and print out your PDF…
Finally, we hope our ideas for learning about the Queen's Platinum Jubilee blog has been useful! We'd love to hear your feedback and if you do any of the activities we have suggested. Please leave a comment below