9 Maths Games to Teach Your Pupils About Money
9 Maths Games to Teach Your Pupils About Money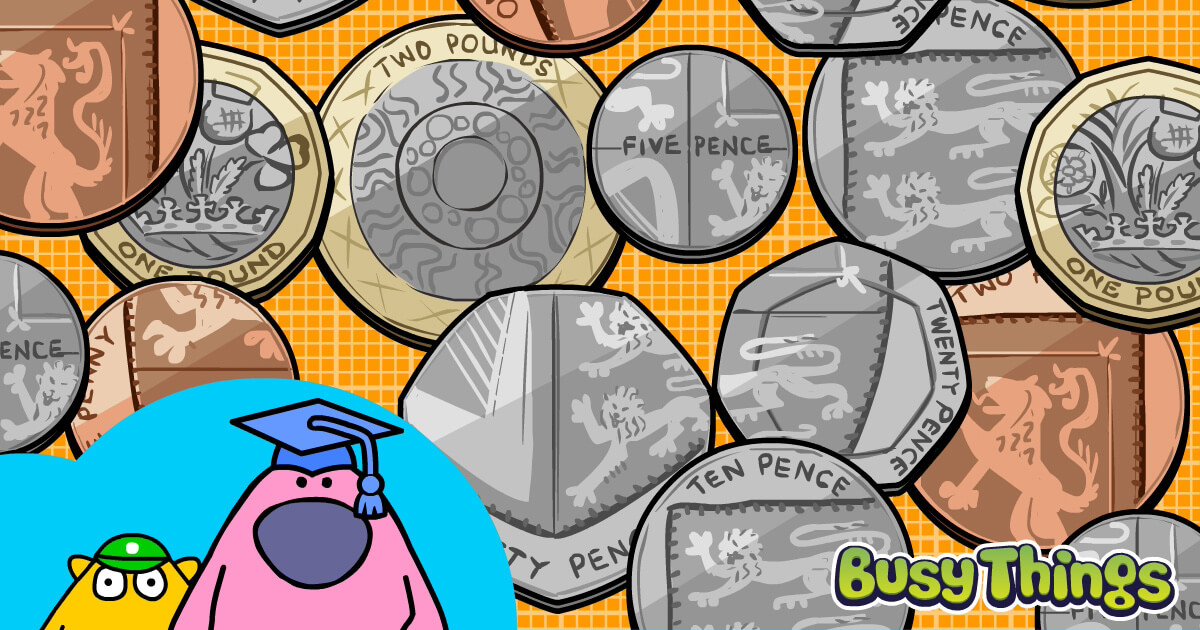 Teaching children about money is important as it's an essential part of everyday life. As such, it is included in the maths national curriculum at both Key stage 1 and Key stage 2. Luckily, it's a subject that most children enjoy as they know money helps them to purchase the things they want. However, because it involves the use of several skills simultaneously, i.e., coin identification, counting in multiples, addition, it can be tricky for some.
That's where Busy Things comes in! Our step-by-step guide, featuring our money-based maths games and activities, will have your children handling money effectively with ease.
Read on for more!
Key stage 1
Understanding coins and their value
First things first, your pupils need to be able to recognise each coin and understand the value that's associated with it. Tracing around the outside of each coin and colouring it in can often help with this. You can even do coin rubbings, so that the children can see the numeric values really clearly.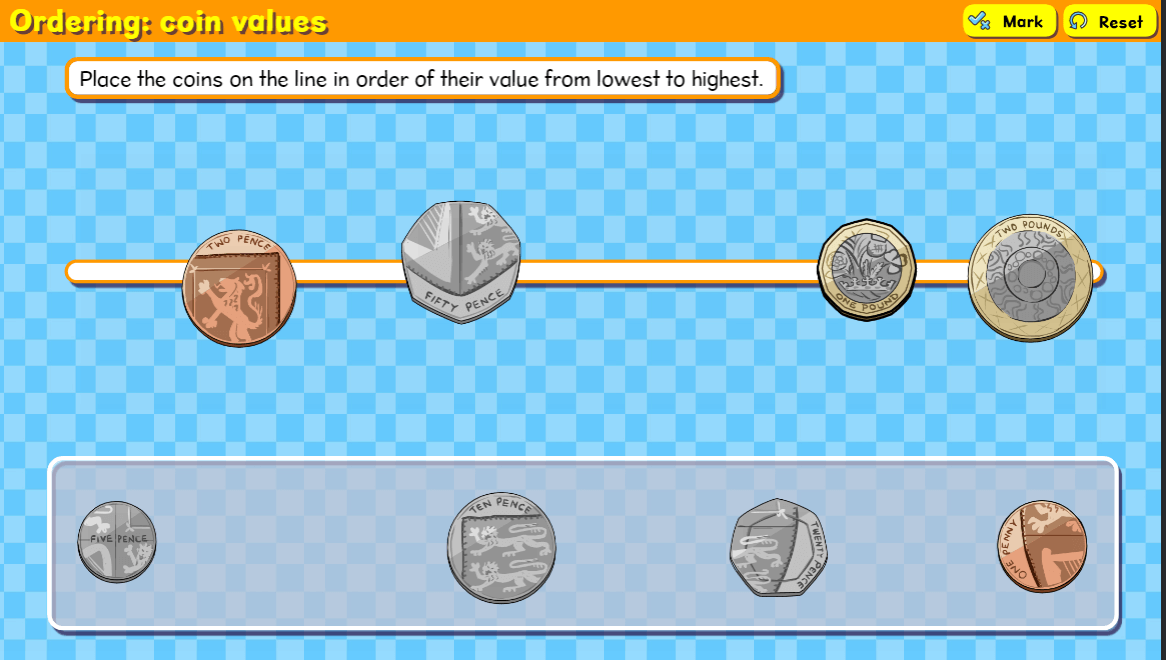 Our Ordering: coin values interactive worksheet activity is great to check your pupils have mastered this stage. All they need to do is place the coins on the timeline from lowest value to highest.
Adding coins
Once children understand the value of each coin, you can develop their skills in combining them to make a specific amount. It's best to look at using multiples of the same coin first before looking at mixing different denominations.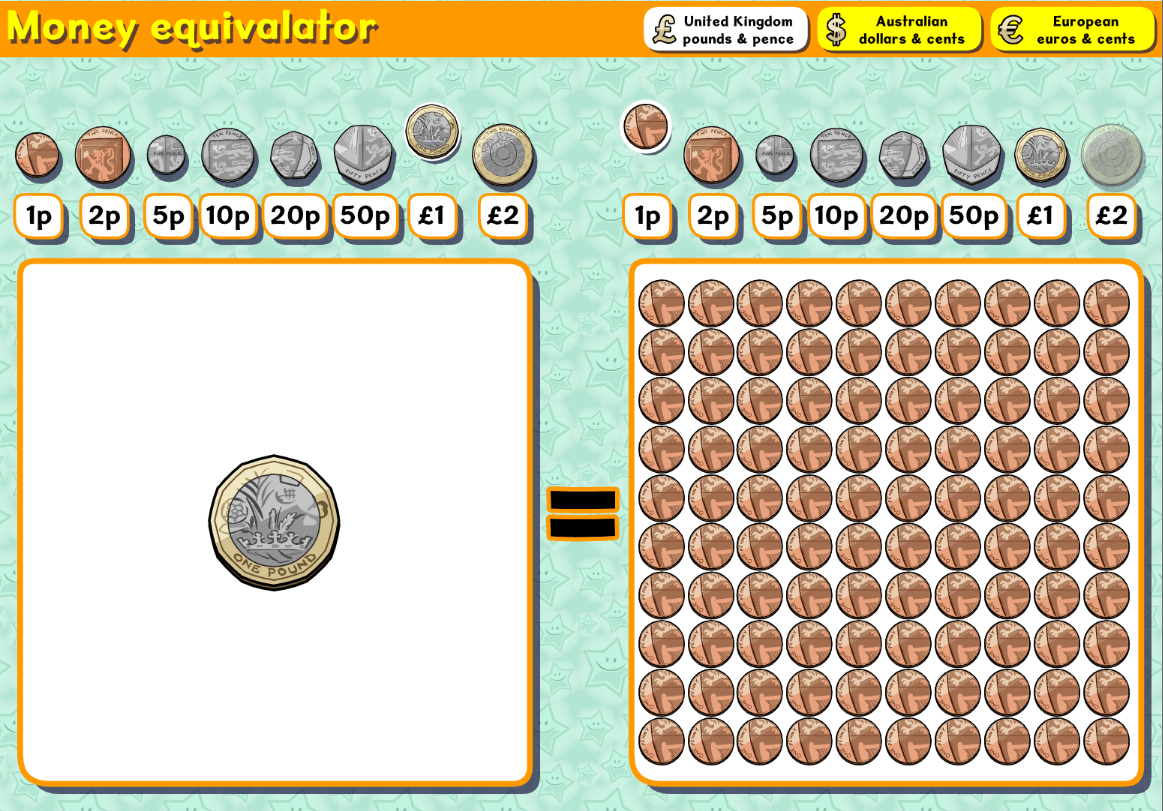 As a first step, we'd recommend using our 'Money equivalator' widget on the whiteboard as a whole-class activity. It really helps the children to visualise the relative value of the coins and, with you at the helm, they can go at the pace that best suits their needs.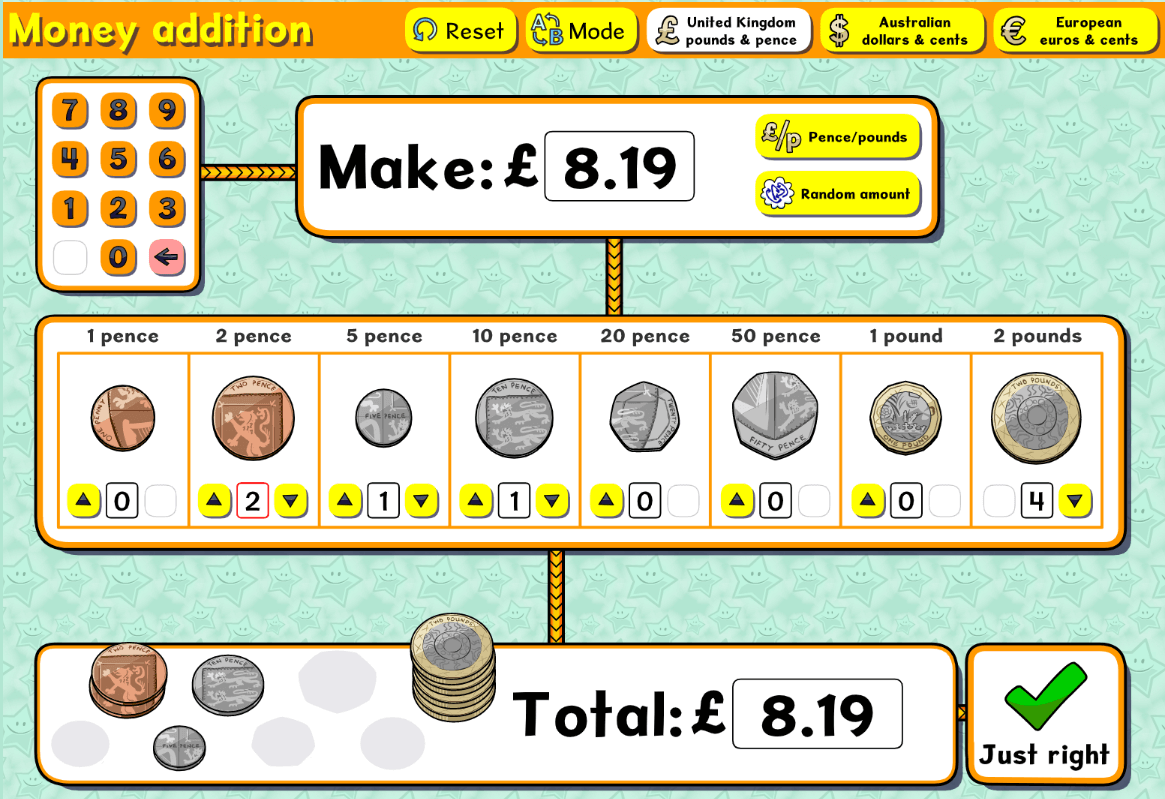 After this, we'd suggest the Money addition widget. This will take your pupils to the next level, allowing them to combine different denominations of coins. This flexible tool allows you to enter the target amount yourself and provides an optional running tally, so again you can match its difficulty to your pupils' ability level.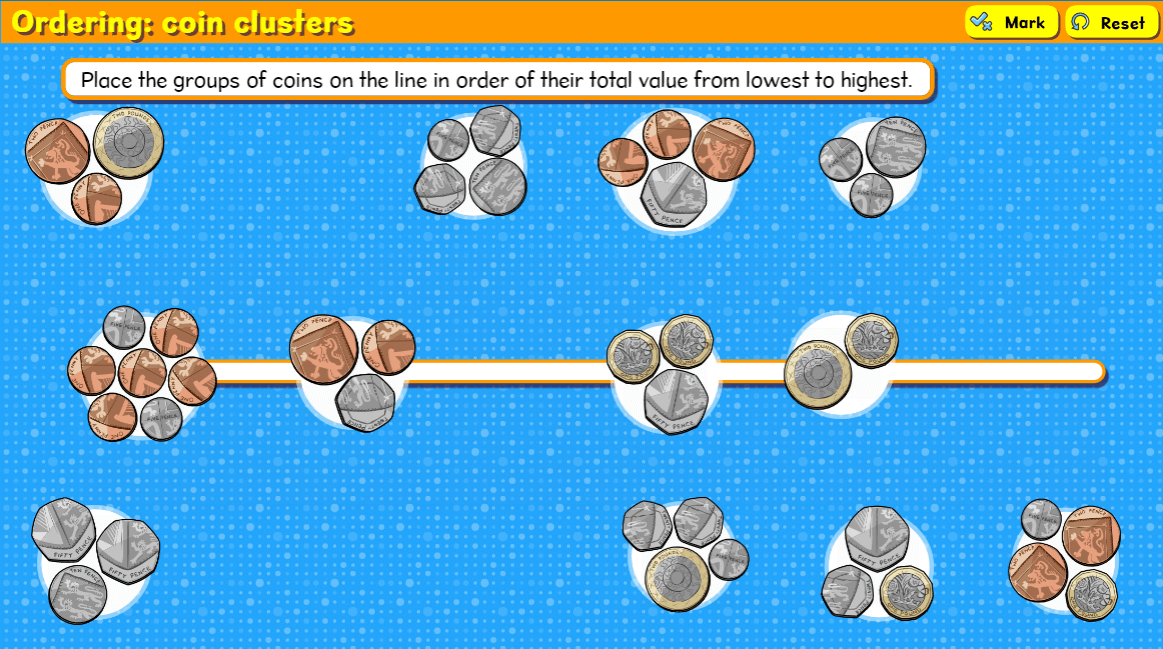 Moving up a stage further is our 'Ordering: coin clusters' interactive worksheet activity. This provides a selection of handfuls of change to place in order value.
Presented in a similar format to the Ordering: coin values activity mentioned earlier, pupils need to place the coins on the timeline from lowest value to highest.
Key stage 2
At Key stage 2 level, the focus is on 1) the children being able to add and subtract money to buy items and give change and 2) understand the link between pounds and pence.
Adding and subtracting money, and giving change
Our range of Money quizzes is ideal for testing out your pupils' addition and subtraction skills as they present the children with various real-life scenarios.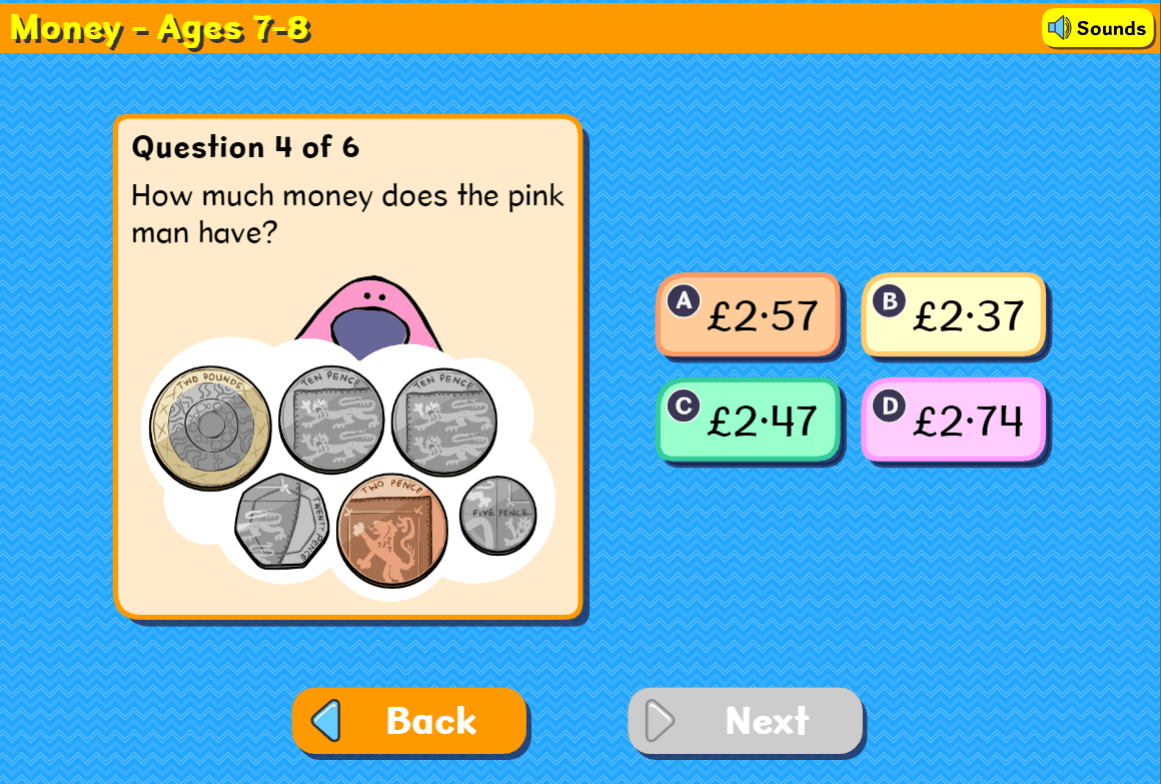 We have different questions for ages 7-8, 8-9, 9-10 and 10-11-year-olds. Topics covered include: currency symbols, larger/smaller sums, different combinations of coins, adding up purchases, calculating change and dividing money between people.
Pounds and pence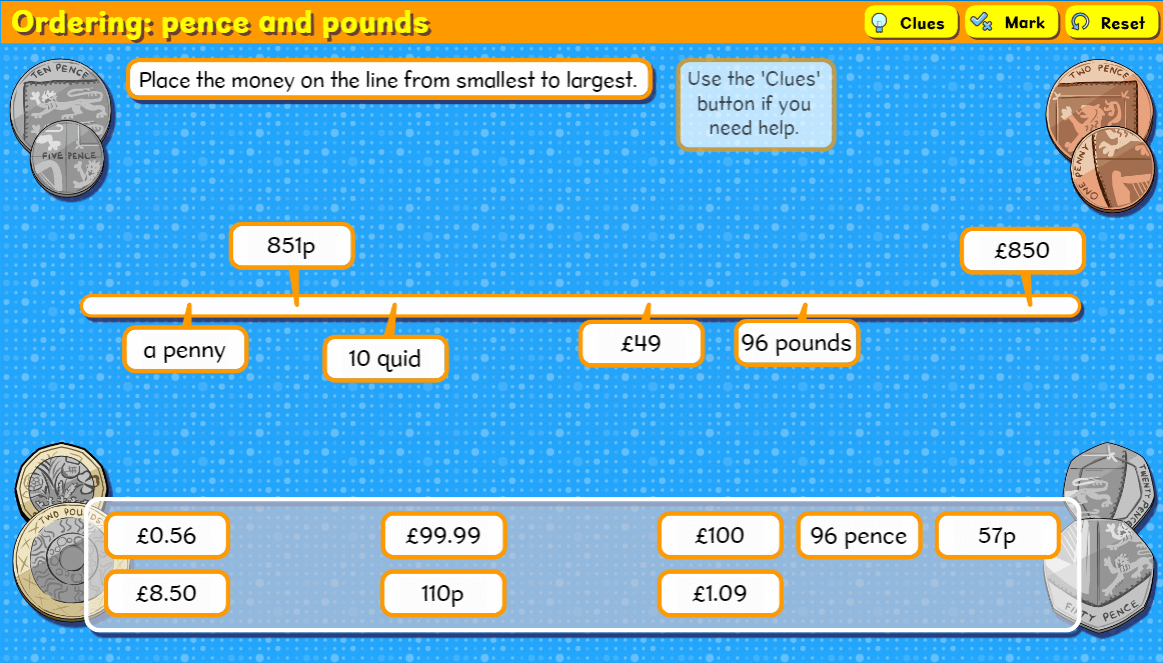 Our activity 'Ordering: pence and pounds' is another interactive worksheet. It asks the children to place sums of money, which are presented in varying formats, in order of value along the timeline. With some formats being atypical, this really tests the children's understanding!
Lesson plans
In addition to the stand-alone activities mentioned above, we've also six pre-prepared lesson plans that focus on money, with accompanying notes and discussion points. You can use these as they are or cherry pick elements from them to include in your own plan. They'll undoubtedly save you time, and can be accessed via the Lesson library area within the Teacher tools on Busy Things' main page.
Summary
We hope you've found our guide useful and understand how our money-based maths games fit together to build up your pupils' money knowledge from early coin identification through to competent cash handling. Take a look at the suggested activities yourself and see how your class respond.
If you're already a Busy Things subscriber, or trialing Busy Things, you'll be able to find each of the activities by searching 'coins' or typing in the activity title into the Search tool.
If you've not got a login, it's quick and easy to set up a free trial. Simply click here to get 28 days free access to try out these (and all our other) activities without any obligation to subscribe.