Halloween Activities for Children – FREE Printable Halloween Activity Pack
Halloween Activities for Children – FREE Printable Halloween Activity Pack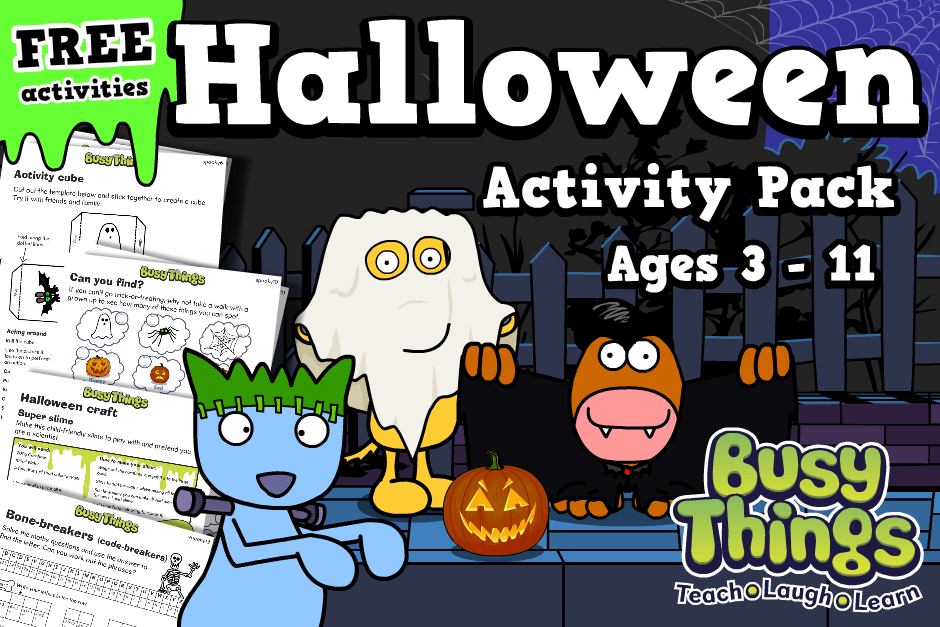 Free Halloween activities for children – ghoulish games, creepy crafts, petrifying puzzles and much more!
FREE Halloween Pack Full of Spooky Fun!
We've put together a spooktacular pack of Halloween activities for children to help make your Halloween even more fangtastic!
From Halloween puzzles to pumpkin decorations, colouring sheets, ghoulish games, creepy crafts and a spooky hunt there's something for kids of all ages!I
If you're planning a Halloween celebration, do look at our Halloween Family Party Ideas blog! AND head to Busy Things for lots of learning games and activities full of Halloween fun too!
Why do we celebrate Halloween?
Halloween or All Hallows Eve is celebrated on 31st October. Its origins are a combination of an ancient Celtic festival at the end of the Harvest season – when people would wear costumes and light bonfires to ward off ghosts – and a Roman Christian festival that celebrated the passing of the dead.
These days we celebrate with trick or treating, pumpkin carving, scary decorations and wearing creepy costumes! The Metro have an interesting article on where trick or treating came from and why we carve pumpkins.
We all know that kids (big and small) love Halloween and where there's a theme, there's a way of making learning fun! So, we hope our free Halloween activities for children will help to make your Halloween at home a haunting success!
What's in the Free Halloween Activity Pack?
Looking for some Halloween activities for children? Look no further than our FREE pack full of Halloween things to make and do that children will love!….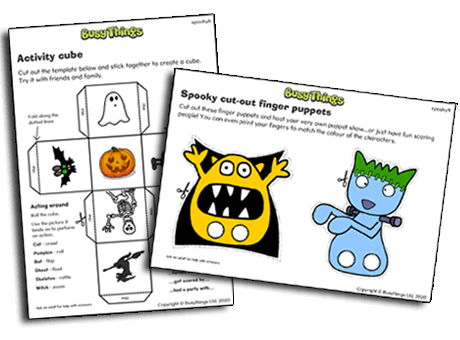 Ghoulish game cube – Can you crawl like a cat? Or rattle like a skeleton? Roll the dice and get moving!
Or use the creepy cube to make up a scary story! Take turns to roll the dice and add a new line to your treacherous tale…
Spooky puppets – Our Busy Things characters have dressed up for you to put on a scary puppet show!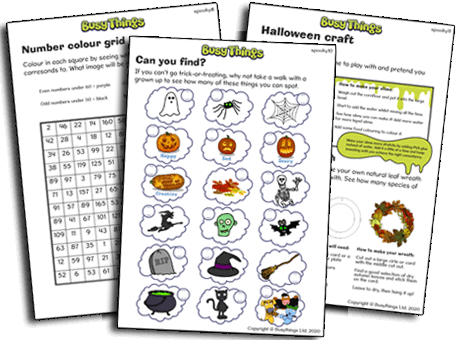 Halloween hunt – How many spooky sights can you find in your house or neighbourhood? You could even use it as a tick-list of Halloween things to make!
Creepy crafts! – a recipe for super slime and instructions to make a lovely wreath for your front door.
Colour by numbers – What is hidden in the grid? All will be revealed!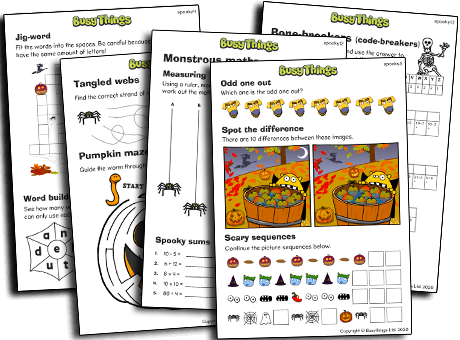 Petrifying puzzles – Lots of Halloween themed brain teasers for your little problem solvers to enjoy!
Bone-breakers – Can you crack the code to find a secret message?
Monstrous maths – Spiders and eyeballs make maths so much more fun!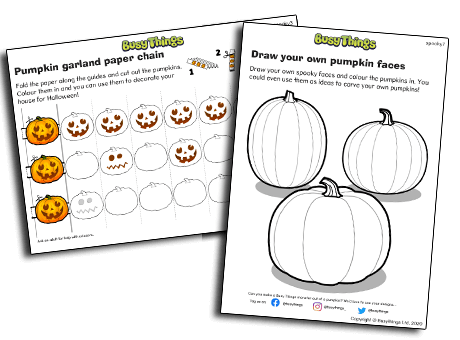 Pumpkin garlands – deck your haunted halls with perilous pumpkins this Halloween!
Pumpkin faces – design spooky pumpkin faces – you could use them to plan out what you're going to carve on your real pumpkins!
How to access your FREE Halloween Activities for Children…
Ready for some hauntingly good activities? Simply click on the button below, download and print out your PDF…
Log in to Busy Things for even more Halloween Fun…
You can access this Halloween Activity Pack within Busy Things along with activities to carve pumpkins, colour in wicked witches, design and write about your own monster and a recipe for yummy Monster banana cupcakes!
If you're a Busy Things subscriber – Log in now
Not a Busy Things subscriber? Did you know you can trial Busy Things completely free? You'll have access to all of Halloween activities and 100s more! Simply click here to take your free Busy Things trial
We hope you will enjoy our free Halloween activities for children! We'd love to hear your feedback, please leave a comment below…