20 Halloween Family Party Ideas!
20 Halloween Family Party Ideas!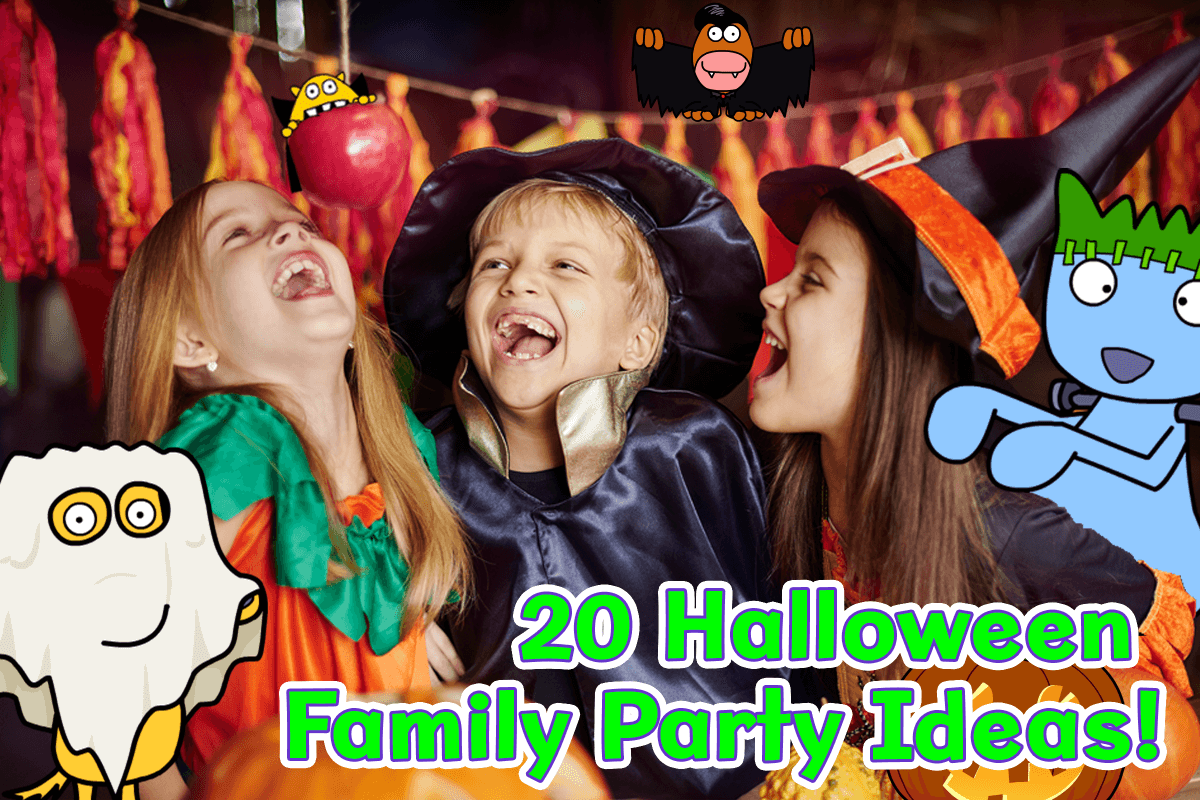 Planning a Halloween celebration over the half term? We have your Halloween party entertainment sorted! Here we have collated the best Halloween family party ideas just for you!
Do also look at our Halloween Activities for Children blog to claim your FREE activity pack! And head to Busy Things for lots of kids games and activities full of Halloween fun too!
Family Halloween party entertainment ideas
1. The Mummy game
Each team nominates their Mummy. 60 seconds on the clock. Who can wrap their Mummy up in toilet paper quickest / most skillfully?
2. Halloween scavenger hunt
Hide Halloween themed things / cardboard cut-outs around the house.
Either 1. Give everyone a check sheet to cross them off and note their locations for you to check. Or 2. Teams have to collect and bring you a set of pumpkins / body parts etc. First to find them all wins.
3. Creepy stories by torchlight
Are we all sitting uncomfortably? Gather round to read a child-friendly scary story by torch or candlelight. Perhaps get another adult to do some surprise spooky sound and lighting effects to enhance the creepy atmosphere!
4. Trick or treat! What's in the box?
This Halloween game is sure to be a lot of fun! What's scarier than putting your hand in a box when you don't know what's inside it?!
Cut a hole in a box and put some creepy things inside, you could put some nice things in too! Some ideas for the contents are; cauliflower for a brain, make a hand shaped ice cube with a rubber glove, dog bones for bones, baked beans for vomit, cooked spaghetti for cob webs with plastic spiders, hot dogs for fingers, lychees or skinned grapes for eyeballs – perhaps in jelly! The last box could be sweets as a treat at the end!
5. Hunt the eyeball
Make a vat of cooked spaghetti (you could dye it green for extra effect!), hide lots of 'eyeballs' in it -these could be sweets, grapes, lychees or tomatoes. Set the timer – how many can you collect using only your mouth in 30 seconds? Or using hands but blind folded. You could also do this in jelly!
6. Busy Things Halloween pause to play game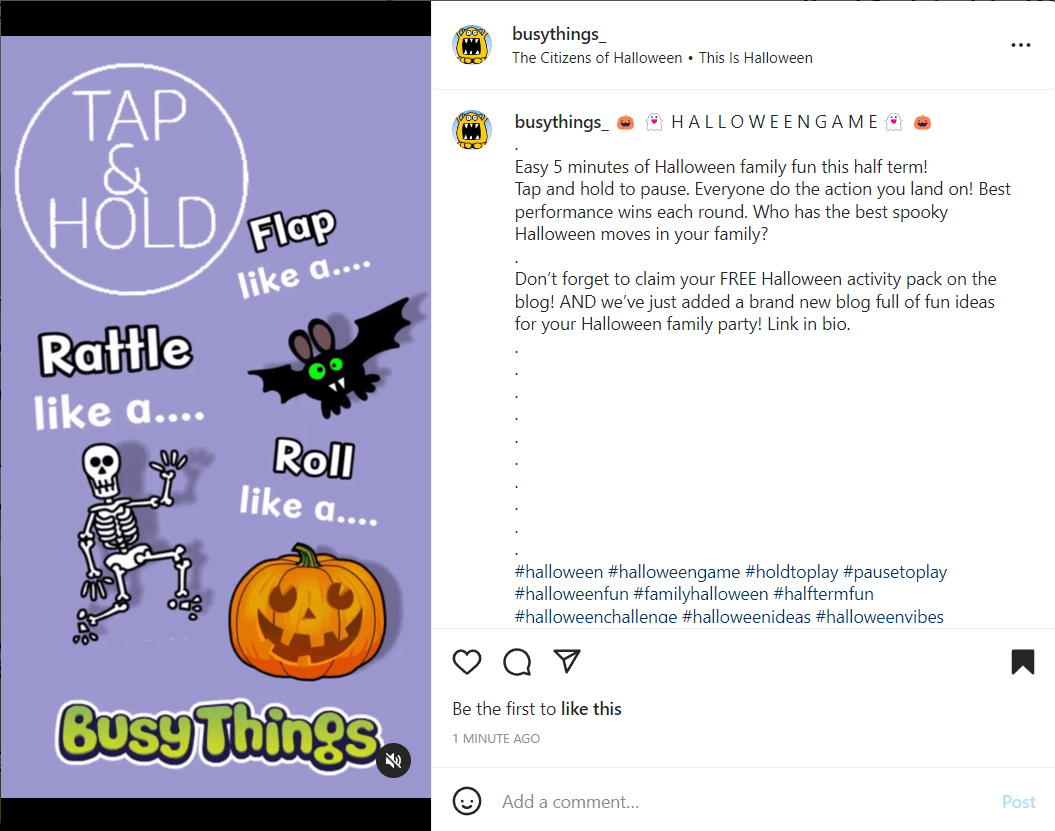 Pause the video (or use phone screenshot) to reveal what action to perform. Best performance wins each round! Play on Instagram or Facebook – whilst you're there, please do give us a post like and follow 🙂
7. Spooky Halloween Disco
Put on some Halloween themed tunes, turn the lights off and get the glow sticks out! Perhaps you could do some glow in the dark face painting too.
8. Apple bobbing
A Halloween game that always goes down well! Bucket of water and no hands, how many apples can you bob?
9. Potion making
This is just the perfect Halloween activity for kids! Put out a selection of messy things to make a potion – glitter, different coloured waters, baking soda, paints, PVA glue, soap – whatever you've got to hand, they'll love mixing it! Mixing potion recipes is great science too!
10. Zombie musical statues
The classic musical statues game but children must dance like zombies or strike a zombie statue pose when the music stops!
11. Balloon trick or treat
Before blowing up lots of orange (pumpkin) balloons fill some of them with sweets. Children can then go crazy popping the balloons to find their treats.
12. Pin the spider on the web
A spooky twist on the classic game of pin the tail on the donkey!
13. Hide and seek in the dark
A very spooky version of hide and seek, turn the lights off and give the seeker a torch
14. Pumpkin carving competition
Get creative with pumpkin carving! They don't have to be real ones either – you can use printouts to draw on, paint them from scratch or use Busy Things to carve digital pumpkins! You can print them from Busy Things too.
15. Musical pumpkins
Just like the classic musical chairs but instead of chairs, place pumpkin print outs / cut outs on the floor to sit on. Remove 1 each round until the winner is crowned.
16. Halloween bean bag toss
Create a target from a box with holes in it – could be pumpkin, ghost or monster mouths! Give each hole a points value. Throw bean bags to see who can get the most points.
17. Busy Things Halloween activity pack
Our FREE to download Halloween activity pack is full of ghoulish games, creepy crafts and petrifying puzzles!
18. Spooky films!
Make it a cinema party at home. Watch a family-friendly Halloween film in the dark with lots of Halloween themed snacks.
19. Race to put the body back together
This is my favourite Halloween family party idea! Create 2 sets of body parts / skeletons – with cardboard. Perhaps combine it with stuffed clothes e.g. gloves for hands – pop them in a bin bag of shredded paper. Teams relay race to make their body at the other end of the room, fastest wins!
20. Busy Things Halloween activities
Well we couldn't miss out on the Halloween fun could we! "Double double, toil and ?" See how well you know Macbeth's three witches spell! Carve digital pumpkins, decorate wicked witches, design and write about monsters and learn the recipe for our yummy monster cupcakes! If you're a Busy Things subscriber – Log in now for lots of Halloween fun!
Not a Busy Things subscriber? You can access all our children's learning games free! Busy Thing is trusted by thousands of schools and families to make learning fun! Take a free trial to access all of our Halloween activities plus 100s more games and activities across the curriculum! Take your free Busy Things trial
We hope our Halloween family party ideas have inspired you! Which is your favourite? We'd love to know if you use any of them – please do let us know in the comments.