Free Summer Fun: Monster Kids Activity Pack
Free Summer Fun: Monster Kids Activity Pack
Lots of fun activities to enjoy this summer holidays with our FREE Monster kids activity pack – to keep those brain cells active and entertained!
What's in the Monster kids activity pack?
In line with our big summer competition the pack is very much themed around our favourite Yellow Monsters! Included in the free monster kids activity pack is a selection of activities to encourage children of all ages to boost their thinking skills, be creative, problem solve and generally have lots of fun whilst flexing those brain cells!
Monster maze – 

find your way through the Monster line drawing – concentration needed on this one! And why not colour it in afterwards.

Crack the code – use problem solving skills to work out the monster secret message.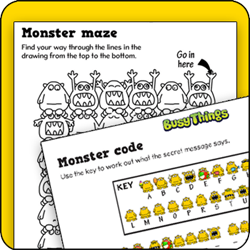 Guess Who Monster-stylee!

 – Set up a classic game of Guess Who with a Monstrous twist! The aim of the game is to guess which Monster the other player has picked – whittle them down by asking questions e.g. Is your Monster wearing a hat?

OR Monster Pairing / Snap? – Simply cut out 2 of each Monster tile (we suggest sticking to some card e.g. a cereal box first) and hey presto you're ready to play a memory testing pairing game or a fast paced game of snap!
Where did Monster go? – We've sent Yellow Monster on a couple of world tours, use the clues to work out his route and which country he ends up in.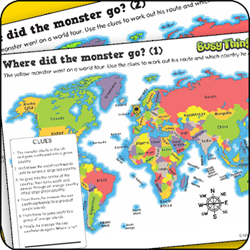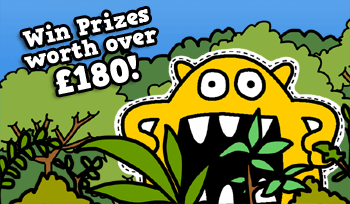 A chance to win up to £180 of goodies! – We've launched our biggest competition EVER, all you have to do to enter is take Monster on your summer adventures with you and provide some photo evidence! Learn more about Monster's Big Summer Adventure competition here

Colouring front sheet – Monster is at the ice cream palour, what colourful creations can you create.

Spot the difference - Who doesn't love a game of spot the difference? We've included 2 games - a beach scene and a Monster pile up - can you spot all the differences?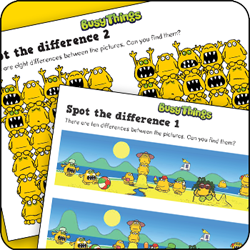 How to access your FREE Monster kids activity pack:
Ready, Set, Monster! Simply click on the button below, download and print out your PDF...
Log in to Busy Things for even more Monsterous Fun...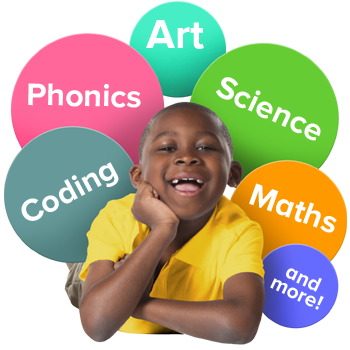 You can access the Monster kids activity pack within Busy Things, along with tons of other fun educational games and activities that involve Yellow Monster and many many more loveable characters!

If you're a Busy Things subscriber – Log in to Busy Things now

Not a Busy Things subscriber? Did you know you can trial Busy Things completely free? Simply click here to take your free Busy Things trial

Psst. If you try Busy Things and want to subscribe, you'll find a 1/2 price discount code at the back of the Monster pack!

We hope you will enjoy all our Monster Summer activities! We'd love to hear your feedback, please leave a comment below…