FREE Insect Week Topical Pack for Schools!
FREE Insect Week Topical Pack for Schools!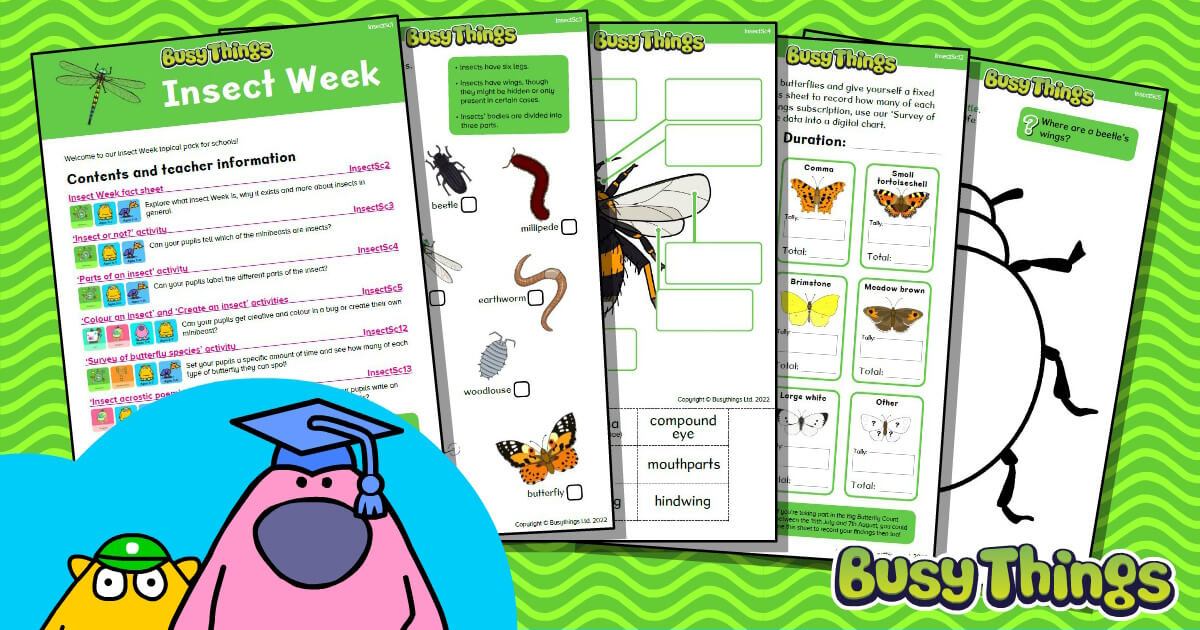 Insect Week takes place at the end of June each year and this year is celebrated between 19th and 25th June. Set up by the Royal Entomological Society, an organisation of people who study insect science, it aims to encourage everyone to learn more about insects and how wonderful they are.

To help you learn more about insects with your pupils, which falls under the Development Matters EYFS curriculum and the National Curriculum's Science learning objectives, we've created a free topical pack on the subject.
It includes:
• A fact sheet about Insect Week and insects themselves
• A worksheet to help your pupils sort out insects from other creepy crawlies
• A worksheet focusing on the parts of an insect
• A variety of colouring-in sheets
• Worksheets to help your pupils design and describe their own imaginary insect
• A butterfly survey sheet
• An insect-based acrostic poem template
Get your copy here!
Like the pack?
If you like the pack, you'll love Busy Things, which includes similar activities for online use. To give you a taster of what it offers, we've included 4 sample activities below, which we're more than happy for you to share with your colleagues and pupils. We've made them free to play, so all you need to do is click on the link , when you're on a tablet, desktop or whiteboard!
Identifying minibeasts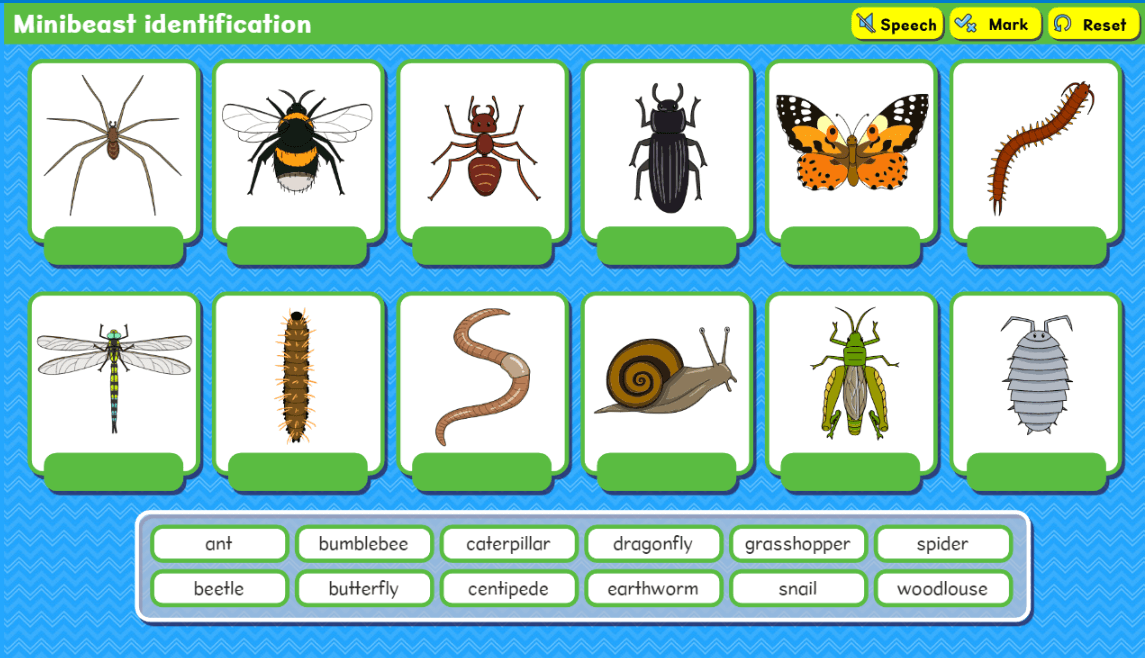 First up, is our Minibeast identification activity. It looks a bit wider than at just insects alone, but ensure everyone knows their centipedes from their earthworms!
Parts of an insect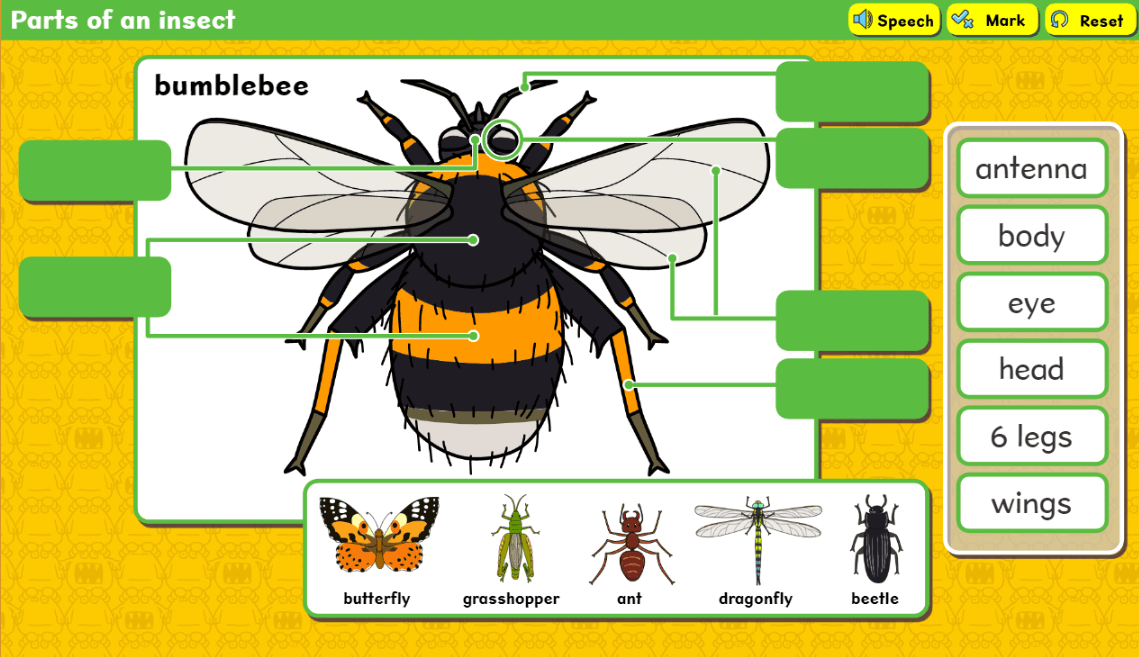 So what makes a minibeast an insect? An insect is defined as a small animal that has 6 legs and either one or two pairs of wings, so any minibeast with those things is an insect.
Play 'Parts of an insect' and you'll see these body parts on a butterfly, grasshopper, ant, dragonfly and beetle!
Please note: There is a more advanced version of this activity for Year 2 and above.
Insect or not?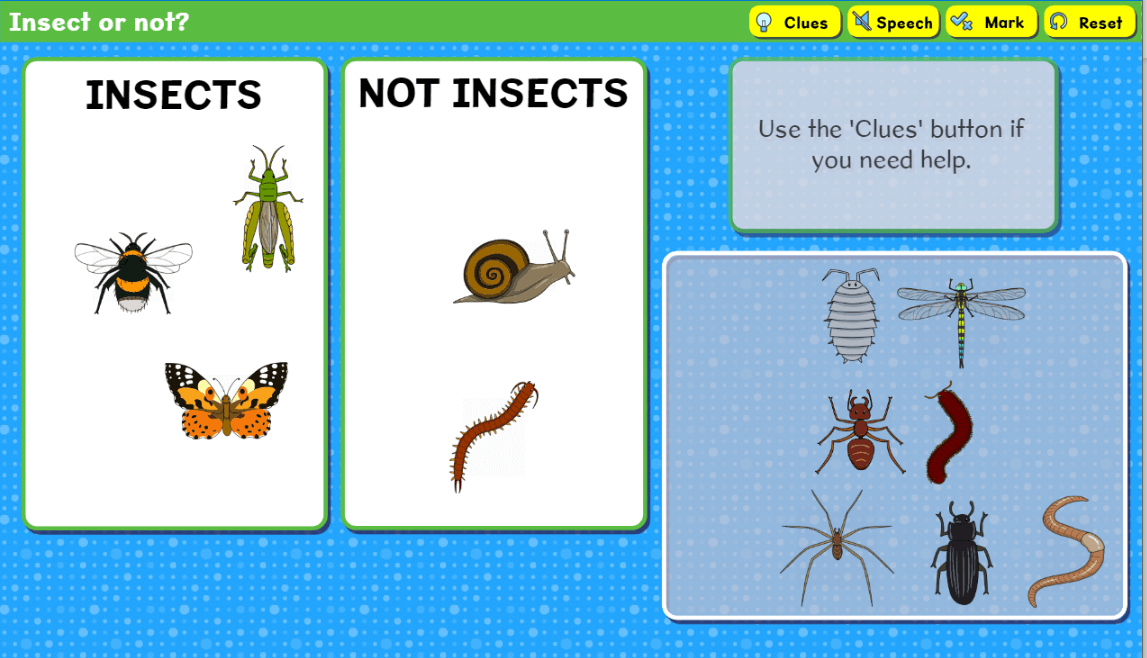 Knowing the definition of an insect compared to a minibeast, can your pupils now classify which of these minibeasts are insects?
Play 'Insect or not?' to find out!
Make/Create your own
Studying insects doesn't have to focus entirely on the science. Your pupils can also get creative and develop an imaginary insect all of their own.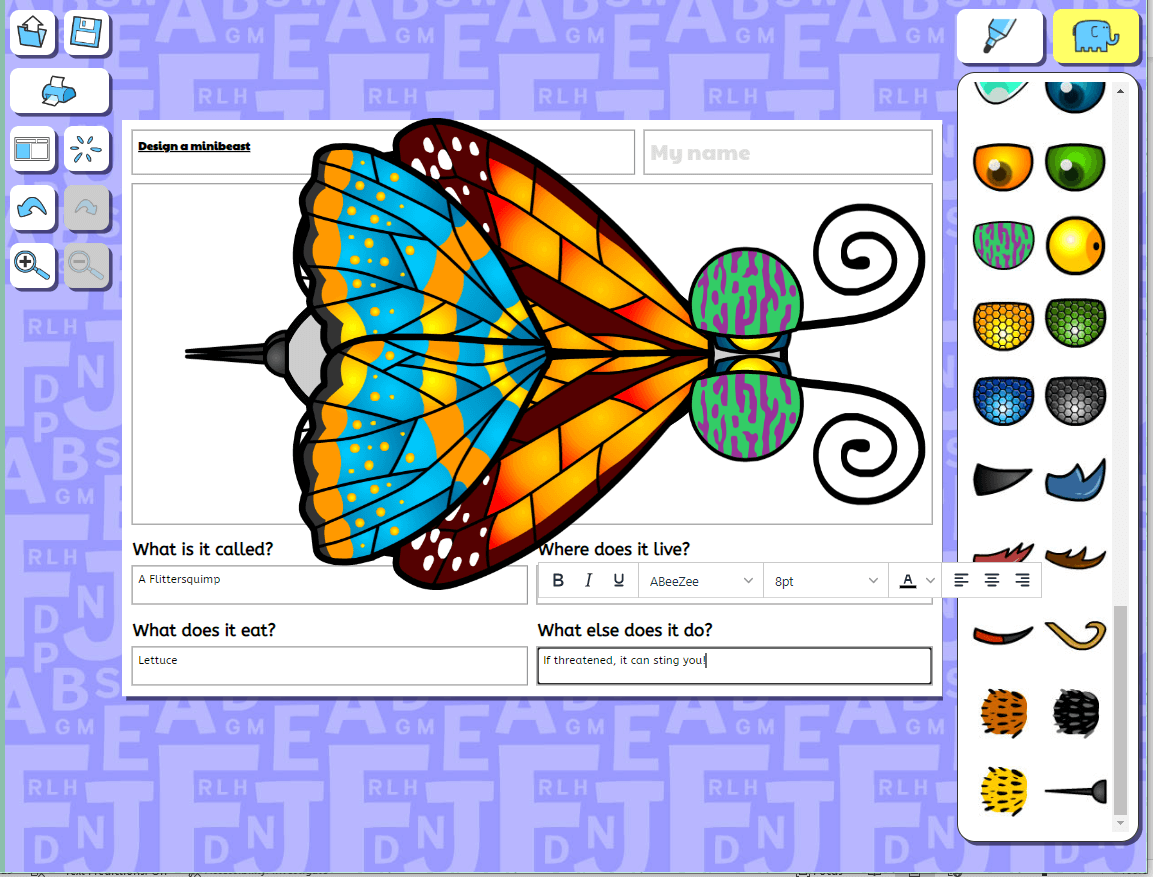 Feeling arty? They can build their own creature in Make a minibeast.
Feeling descriptive? How about Create a minibeast where they can design and write about a creature instead?
We'd love to see what your pupils come up with, so please remember to share them with us on our social channels. We're on Twitter, Facebook and Instagram!
Want to see more activities?
We hope this list of activities, and of course the pack, help you to explore insects with your pupils during Insect Week and beyond. If you'd like to see more of the activities that we offer, we'd be happy to give you a 28-day free trial. Simply click here and explore!