Everything you need to know about the Year 1 Phonics Screening Check
Everything you need to know about the Year 1 Phonics Screening Check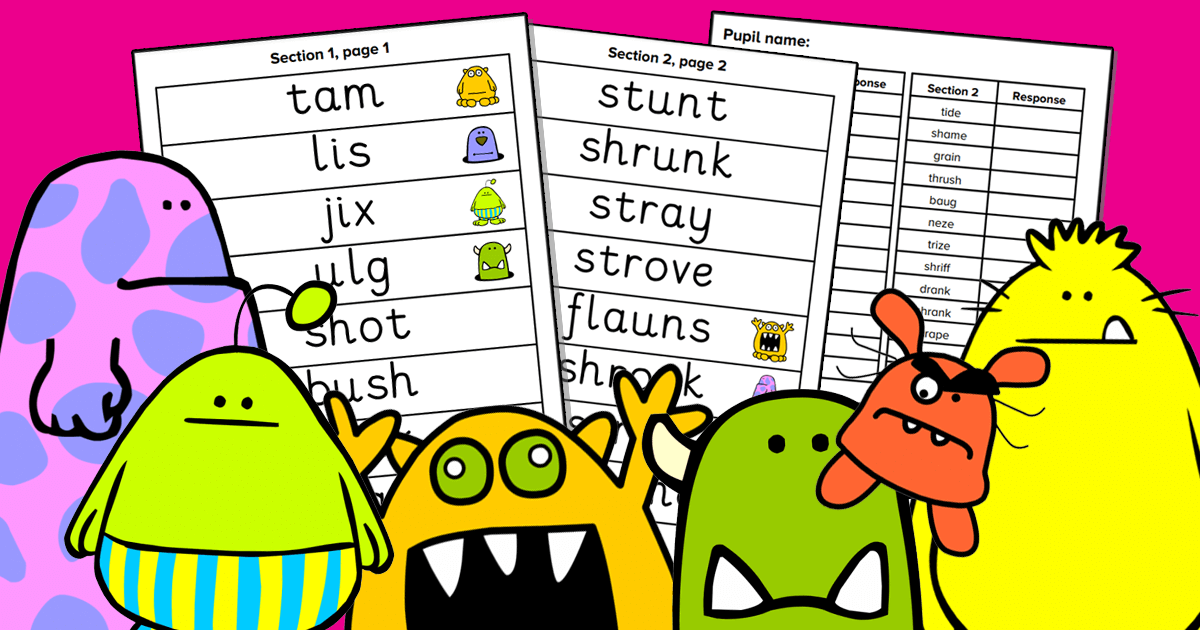 In June, all Year 1 pupils in England will take a Phonics Screening Check. The aim of the test is to assess your child's progress in phonics and reading. Here we'll explain everything you need to know about the assessment and how you can prepare children for it.
Recap: What is phonics?
Phonics is the current method for teaching reading in schools. The technique breaks down reading into a set of sounds such as 's' 'ay' 'th' 'air' etc. Children can then use this system to sound-out words, decode/read them and write them.
English is a complex language and so there are a great many exceptions to these rules but the phonics method gives a good grounding for children to build from.
Learn more about phonics and How Playing Phonics Games can Improve your Child's Reading
When is the Year 1 Phonics Screening Check?
The Phonics Screening Check takes place in June, this school year it will be happening the week beginning Monday 12 June 2023 for all pupils in Year 1.
What happens in the KS1 Phonics Screening Check?
The screening check is very informal so your child won't even know that they are being assessed.
It will be done as a one-to-one test with a teacher that your child knows well. The check should take less than 10 minutes. Before the test, the teacher will practise with a few words to ensure children understand the activity.
Children will be asked to read and pronounce a set of words made up of real words and nonsense words (also called pseudo words, alien words or non-words).
There are two sections in the 40-word test. The first section is made up of simpler words, from the earlier stages of phonics learning. The second section includes some of the trickier words from the later phases.
A lot of children will find the experience very enjoyable and funny as 1. Nonsense words are silly and funny by nature! And 2. the nonsense words are always shown with a picture of an alien/monster, the children are asked to 'read' what kind of alien they are.
To understand how your child is doing with phonics and help prepare them for the phonics screening test we have created our new Phonics Screener Resource Maker where you can create custom practice tests and resources.
What is the Year 1 Phonics Check checking for?
The aim of the Phonics Screening check is to give teachers and parents information on how children are progressing in their reading; to see if children can read different words using the phonics knowledge that they've been learning.
Reading has been shown to be an important indicator of a child's academic attainment and development in all areas of learning. It is therefore vital to recognise any struggles early and be able to offer extra help at this early stage.
The test helps to identify children that may need additional support with their phonics.
Why are nonsense words included in the phonics screening test?
A nonsense word has no meaning but can phonetically decoded. They are included in the test to see if children can use their phonics knowledge to read words that they haven't seen before. This ensures that they are not just relying on memory to read.
Some pseudo-words look very similar to real words so, to avoid confusion, they are shown alongside an alien/monster. This also makes the test a lot more fun!
What happens if my child fails the phonics screening test?
Don't worry, children cannot fail the phonics screening check – it is an informal progress check and a way to help identify if children need any extra support with their letters and sounds.
The 'pass' threshold for past phonics screening tests is typically 30-32 marks (out of 40), most children will meet this standard.
If your child scores lower than the threshold, don't worry, children are all different and learn at different speeds. The teacher will work with you to create a plan to give them extra support and help your child to catch up. Children can re-sit the phonics screening test the next summer term.
How can you help your child prepare for the Year 1 phonics check?
There is no need to put any pressure on your child, the screening check is there to ensure children's reading is on track and allow teachers to offer extra support if needed. However, with the limited time teachers have for one-on-one learning in the classroom, most children will really benefit from extra phonics support at home.
Here are some ideas to help your child get ready for the Year 1 phonics check:
Familiarise yourself with phonics and review what they have learnt so far.
Familiarise children with the format of the screening check by practising some old test papers: 2019 2018 2017. Use these to assess how well your child would do if they were to take the Phonics Screening Check right now and identify where they may need your help.
Create your own

phonics practice sheets

with our NEW phonics screener resource maker! You can customise the content to suit your needs.
Play practice phonics screener games! They are easy to make with our phonics screener resource maker and completely customisable to your needs.
Play lots of

phonics games

! Children tend to learn best through play at this age so make phonics practice fun! Busy Things includes a whole host of Fun Phonics Games to Help your Child Learn to Read.
Read, read and read some more! Keep reading with children and keep introducing new words that they have to sound out and decode.
Got a reluctant reader? Have a look at our blog: 10 ways to encourage a love of reading.
Supporting your children to master phonics and to love reading will not only help them with the Phonics Screening Check, you will be setting them up for future success in all areas of learning.
We hope our "Everything you need to know about the Year 1 Phonics Screening Check" blog has been useful! We'd love to hear your feedback and if you do any of the activities we have suggested. Please leave a comment below…