8 ways to learn about Chinese New Year incl. FREE activity pack!
8 ways to learn about Chinese New Year incl. FREE activity pack!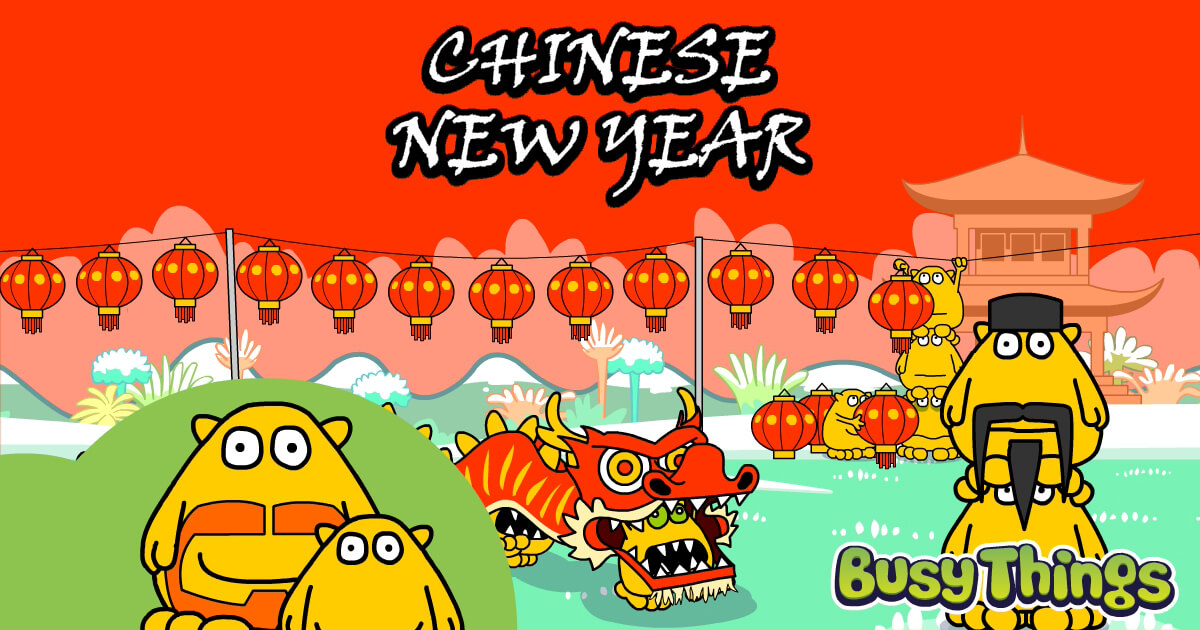 Chinese New Year celebrations start on 22nd January this year, marking the beginning of the Year of the Rabbit.
Here we give you 8 (a lucky Chinese number) ways to learn about Chinese New Year and celebrate the most important event in the Chinese calendar…
Dragon and lion dances – what are they? Watch them and create your own.
Chinese New Year food – what should you be eating?
Learn about Chinese New Year myths and legends – where do the traditions come from?
The Lantern Festival – what happens? Create your own lanterns.
Make traditional Chinese New Year decorations
What is in Chinese New Year red wallets? Get involved!
Start the new year with fireworks
FREE Chinese New Year Activity Pack printable
1 Watch a dragon or lion dance
Both dragon and lion dances are performed to bring prosperity and good luck for the upcoming year. They symbolise strength, ferocity, and dignity and are said to drive away bad spirits.
Lion dances usually involve two highly trained dancers in each ornate lion costume performing a choreographed routine that mimics a lion's movements. They move to the sound of drums and firecrackers and 'pluck the greens' to bring good fortune to local shops – they will root through green vegetables placed in front of businesses to find their reward of a red envelope with money inside.
Watch a lion dance example on You Tube
Dragon dances involve large teams of dancers who operate a large dragon puppet with a long body held aloft on poles. The dance team manoeuvres the dragon's body in time with the sound of horns, drums and cymbals. It is thought that the longer the dragon, the more luck that will be brought to the community.
Watch a dragon dance example on You Tube
Chinese New Year lion and dragon dance activity ideas:
It is well worth finding a lion or dragon dance performance in your local area or Chinatown. They are amazing to watch but be warned, they can be very loud!
Have a look on Pinterest for lion and dragon craft ideas.
Put on your own lion or dragon performance! Make costumes and instruments and choreograph a routine.
Colour a dragon or a lion in festival colours on Busy Things
2 Eat traditional Chinese food
Food tends to feature heavily in most cultural festivals and Chinese New Year is no exception! On New Year's Eve families come together for a Reunion Dinner, a feast of traditional and symbolic Chinese food. Following the feast, they will stay up late and welcome in the New Year by lighting firecrackers and opening the home's windows and doors.
Traditional Chinese New Year cuisine includes long, uncut noodles to symbolise long life, chicken to symbolise family unity and fish and oranges to bring good luck, fortune and abundance.
Chinese New Year is also known as the Spring Festival and as such Spring Rolls are traditionally eaten.
Making dumplings together is a common activity on New Year's Eve – they are thought to resemble gold ingots and symbolise prosperity. Sometimes a coin or other object is hidden in one of the dumplings for someone lucky to find!
Chinese New Year food activity ideas:
Host your own Reunion Dinner with loved ones NB: If someone is missing from the celebration, it is customary to still set a place for them at the table.
Go to a local restaurant or order a takeaway – order something new to try!
Practise eating with chopsticks!
Learn to make traditional Chinese New Year food. Here are some child-friendly Chinese dumpling recipe links:
Pork potsticker dumpling recipe
3 Learn about Chinese New Year Myths and Legends
Chinese New Year, also referred to as Lunar New Year, marks the end of Winter and the start of Spring, of new beginnings. It has been celebrated for thousands of years and there are many myths and traditions associated with the festival.
One legend is the story of Nian – a terrifying man-eating monster that would appear on the last day of the lunar year, until that is it was scared away by loud noises, fire and the colour red.
Learn more about the Story of Nian
The story of The Great Race tells of the origins of the Chinese Zodiac. You can find this story and related activities in our FREE activity pack – see point 8!
Chinese New Year Myth and Legends activity ideas:
What order did the zodiac animals finish The Great Race? What animal rules the year you were born? Find out in our free Chinese New Year activity pack – see point 8!
Research some of the many other Chinese New Year legends and traditions and write a news report about what you have learnt.
Make a comic strip of one of the stories either on paper or using the Busy Things create a comic activity
4 Create lanterns for the Chinese New Year Lantern festival
Chinese New Year celebrations close with a Lantern Festival, this happens on the first full moon, marking the return of Spring.
Chinese lanterns are traditionally made of paper or silk with a candle inside. They are quite often red to represent joy and good fortune. Many people write riddles onto their lanterns for children to solve.
During the Lantern Festival lanterns are lit, hung and paraded through the streets, sometimes there are large lanterns in the shape of zodiac animals and saints.
In some areas people celebrate by sending lanterns flying into the sky along with wishes for the New Year.
Have a look at some Lantern festival photos and watch the video below…
Lantern Festival activity ideas:
You will find a template to create your own lantern within our free Chinese New Year activity pack – see point 8.
Make plans to go to a local Lantern festival parade, they can be quite spectacular!
Decorate digital lanterns on Busy Things
Think of some riddles to write on your lanterns
5 Make Chinese New Year Decorations
Decorations are hung at Chinese New Year to ward off evil and welcome in health, wealth and luck for the year ahead.
Red is the colour of good luck in Chinese culture and is often used for New Year decorations. This is usually accented with gold to represent wealth, good fortune and prosperity.
Images of the Chinese zodiac animals will appear within the New Year decorations – for instance, 2023 is the Year of the Rabbit and so rabbits will be heavily featured.
New Year decoration activity ideas:
Before you even start to decorate, the tradition is to clean the house of negative energy and sweep away any evil spirits and bad luck – a great excuse to get the family in on a cleaning spree!
Create blossom branches to display – These are used as Chinese New Year decorations to represent growth and hope. Get creative by using pom poms or scrunched up pink tissue paper and sticking them to a bare branch. Or do finger paintings.
Make a Chinese lantern – hanging a red lantern in front of your door is believed to drive off bad luck. A template for a lantern is included in the activity pack, see point 8.
Make a Chinese paper cutting – paper cutting is the ancient art of cutting, often very intricate, designs out of paper. For Chinese New Year, animal or plants are often depicted, each representing a different wish for the new year e.g. a magpie perched on the branch of a plum tree signals that a lucky event will happen soon! Here is a Chinese New Year paper cutting template to try, and a paper cutting craft how-to.
And finally, decorate yourself for the occasion! Dress from head to foot in red and gold to ward off any bad luck!
6 Make and give red packet gifts for Chinese New Year
Another Chinese New Year tradition is the giving and receiving of ornate red envelopes filled with "lucky money" to symbolise the giving of good fortune and luck for the year ahead.
Legend has it that the custom originates in the story of Sui, a demon that terrified sleeping children on New Year's Eve. One year, to try to keep a child awake he was given 8 coins (the Eight Immortals in disguise) to play with. He wrapped the coins in red paper but eventually fell asleep with them on his pillow. When Sui appeared and tried to touch the child, the coins emitted a powerful light that scared the demon away. The red envelopes are now sometimes known as the yasui qian, or "suppressing Sui money".
The tradition centres on children but red envelopes are also given to friends, family and acquaintances with differing amounts of money, dependent on your relationship to the recipient.
NB: There is an etiquette to giving and receiving red envelopes…
Always give and receive a red envelope with both hands
Red envelopes should never be opened in the presence of the gift-giver
The number 4 is considered very unlucky as the pronunciation of 'four' in Chinese sounds like the word for death
Red envelope activity ideas:
Here are some examples of Chinese New Year Red envelopes – can you make your own from red paper and decorate them with gold pens and images?
Red envelopes are a gesture of goodwill that build relationships among family and friends – what else could you put in your envelopes, other than money? Perhaps write a poem or draw a picture? You could even do some research into Chinese proverbs to include – talk about their meanings and have a go at writing your own.
Red envelopes are often decorated with beautiful Chinese calligraphy – you could look up and practise copying some calligraphy yourself.
7 Create a Chinese New Year fireworks display
Fireworks and firecrackers feature heavily in the Chinese New Year festivities as the loud noises are thought to scare bad spirits away, preventing them from bringing bad luck in to the New Year.
Firecrackers are often set off as part of lion dances to ward off the monster Nian – see point 3 for more detail on this story.
Big fireworks displays are held at midnight on New Year's Eve to mark the start of the New Year, as you can see in this Chinese New Year fireworks video:
Fireworks activity ideas:
8 Claim your FREE Chinese New Year Activity Pack!
To help you learn about Chinese New Year we have created a FREE Chinese New Year Activity Pack full of fun activities for you to make and do. So, what's included?
Learn the Story of the Great Race and see if you can put the animals in the right order.
What is your zodiac animal? What are your familys? Do you think the characteristics of the zodiac animals match?
Colouring sheets for each of the zodiac animals
A Chinese lantern-making activity
Simply click on the button below, download and print out your PDF…
Even MORE activities to learn about Chinese New Year…
Log in to Busy Things for even more activities to learn about Chinese New Year!
Experiment with our paint tools to create digital firework displays and colourful lions, dragons, zodiac animals and lanterns.
If you're a Busy Things subscriber – Log in now
Not a Busy Things subscriber? Busy Thing is trusted by thousands of schools and families to make learning fun! Take a free trial to access all of these Chinese New Year activities plus 100s more games and activities across the curriculum! Simply click here to take your free Busy Things trial
Teacher? Check out our Chinese New Year Topical Pack
We hope our 8 ways to learn about Chinese New Year blog has been useful! We'd love to hear your feedback and if you do any of the activities we have suggested. Please leave a comment below…