Ideas for remembering and celebrating the life of The Queen with children
Ideas for remembering and celebrating the life of The Queen with children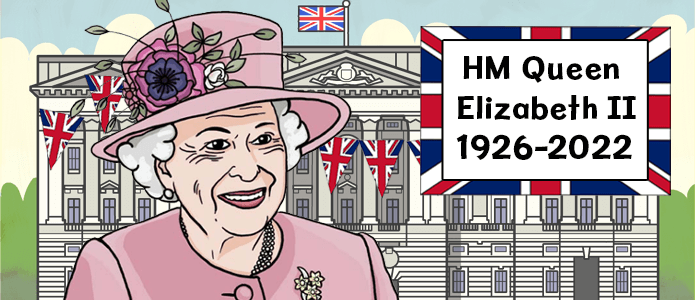 We know many of you will want to honour HM The Queen, who died at the age of 96 on 8th September, and to mark this moment in history with your children.
Here we have collated a few ideas to help tell the story of Britain's longest-reigning monarch. To help children remember and reflect on The Queen and Her life achievements, and to commemorate and mark this historical time.
We are making all Queen activities on Busy Things freely available throughout the period of mourning, we hope you will find them useful. Go to busythings.co.uk/play and choose 'Try a free game', we have added all the Queen activities into the 'Play free games' area for both families and schools.
This time may evoke a wide range of emotions and questions for children. Charities like Cruse and Child Bereavement UK offer a wealth of support with grief, and guidance in explaining death and funerals to children.
Celebrate the Queen's life by learning about it
HM Queen Elizabeth II was the longest-reigning British monarch and the longest-serving female head of state in world history.
Help children to celebrate her life by learning about what her life was like, her many achievements and her place in history.
We offer many ideas to help children understand the role of the Queen and the monarchy in our Ideas for learning about the Queen's Platinum Jubilee blog.
Many informative films have been added to most TV services covering all aspects of The Queen and monarchy. You may find this one to be helpful for children; Our Queen: A Newsround Special
There are also many reports celebrating Her personality and humour that may resonate well with children, for instance her legendary performance with Paddington Bear!
We recently added lots of activities to Busy Things to celebrate Queen Elizabeth II's Platinum Jubilee. We have made these all free to access throughout the period of mourning. You may find it useful to bring the Royal timeline and Queen Elizabeth II's life events to life with our interactive worksheets. See the extent of the Commonwealth on interactive maps and test your knowledge with a quiz. For a little light relief, do enjoy a patriotic game of Royal Line Up!
You can find all our free Queen Elizabeth II resources at busythings.co.uk/play > 'Try a free game' > 'Free games to play' in both the school and family version of Busy Things, we hope you will find them useful.
Pay your family's respects and share memories of The Queen
Many have visited London and laid flowers at Buckingham Palace or Green Park and The Queen will be lying in state at Westminster Hall until 6.30am on Monday 19 September.
This is not an easy trip to make with children in tow and the queues will be very long. Alternatively, there are many other Royal residences that your family could visit. You could even do a virtual visit via You Tube. Also look on your council website for local landmarks where you can lay flowers and pay your respects.
Children might like to share their thoughts and memories by writing a poem, creating artwork or making a card for the Royal Family. Perhaps you could make a flag and fly it at half mast in or outside your house.
An online book of condolence is also available for people to add personal messages.
A one-minute silence has also been announced for 8pm on Sunday 18 September, the night before the State Funeral, as a National Moment of Reflection to remember and reflect on The Queen's extraordinary life and achievements.
Make the funeral a family event
The vast majority of adults are seeing and learning about all the protocol, ceremony and events surrounding a monarch's death for the first time too. Embrace learning about it all as a family, here are some useful sites to learn about the ceremonial events:
Arrangements following the death of Her Majesty Queen Elizabeth II
Day-to-day guide to Her Majesty Queen Elizabeth's state funeral and burial
The State Funeral of HM The Queen will take place at Westminster Abbey on Monday 19 September at 11am. Whilst it will indeed be a sad and sombre occasion it is also an occasion to celebrate The Queen's life and a major historical event. Why not gather to watch the funeral together, dress for the occasion, get the flags out in appreciation and have an afternoon tea or selection of Queen/royal themed snacks (marmalade sandwiches?) in Her honour. Take part in history and make memories with your family.
Create a historical keepsake
The death of Queen Elizabeth II marks the end of another Elizabethan era. A lot of things will change with the reign of King Charles III.
To commemorate this historical time, it's a lovely idea to make a memento with your children that they can keep as a little piece of history.
Collect memorabilia and make a memory box
Collect a

set of coins

with the Queens head on
Collect Stamps with the Queens head on
Children could paint a portrait of HM The Queen, they can

create a portrait on Busy Things

too
Make a scrapbook about the Queen and her life
Our condolences
We are truly saddened at the loss of HM The Queen Elizabeth II and grateful for her long life of service to our nation, our thoughts are with the Royal family at this time. We do hope our resources will help parents and teachers to support children in learning about and honouring Her life.
We'd love to hear your memories of The Queen. And please do share any ideas you have celebrating the life of The Queen with children in the comments…