Free Coronation Treasure Hunt
Free Coronation Treasure Hunt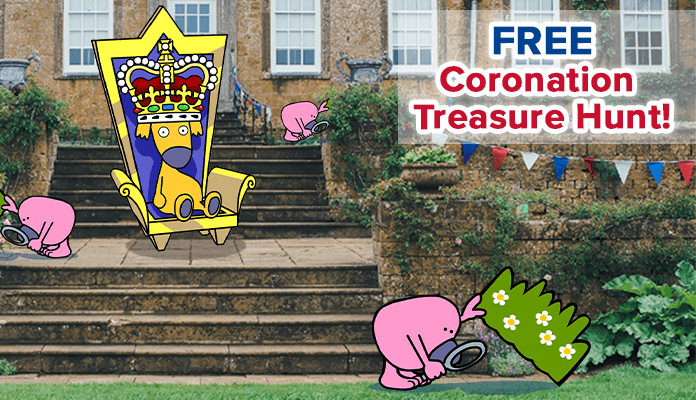 Celebrating the coronation of King Charles III is a great opportunity to teach children about history, tradition, and the monarchy while having fun and creating memories! Why not kick things off with a coronation treasure hunt!
This royal-themed treasure hunt can be used at any time but we think it would be an especially great way to build up to the Coronation on Saturday 6th May. You could use our ready-made clues to guide children to find their treats to watch the ceremony with!
We've created all the royal-themed clues for you so that all you will need to do is print them and hide them – download your ready-made coronation treasure hunt below!
NB: You will need a crown of some kind to hide your 'treasure' in – whether that be sweets, a toy or royal regalia! – if you don't have one lying around, you can easily make a paper crown.
You might also be interested in: Learning about King's Coronation and Coronation family party ideas.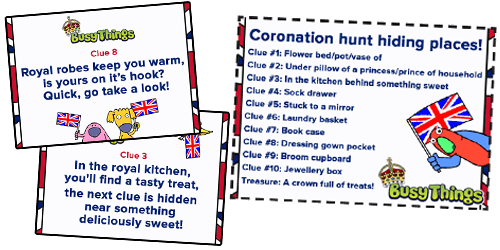 How to pomp up your coronation treasure hunt!
Royalty is known for it's long-standing tradition of pageantry and pomp! So why not pomp up your treasure hunt. Here are some ideas…
Provide royal dressing-up clothes for the children to put on with the first clue,
Put your clues into golden or fancy envelopes or stick them to the middle of A4 paper and roll them into scrolls.
You could be the King! Sit on your throne wearing a crown (your treasure could be hidden here all along!) and issue your subjects with their first clue. Children then have to bring the clues back to you for reading.
Add an extra royal challenge to your treasure hunt – add a letter to the back of each clue for children to arrange into a word to earn an extra treat.
What other ideas can you think of? Please do share them in the comments!
Looking for more Coronation activities?
To help children learn about King Charles III and the Coronation we have created a whole host of interactive resources on Busy Things!
Design transport fit for a King! Become the King's portrait artist, plot the royal family tree and explore the countries of the Commonwealth. Then play a patriotic game of Royal Line Up and build Westminster Abbey and Buckingham palace in jigsaw form! And more!
If you're a Busy Things subscriber – Log in now!
Not a Busy Things subscriber? Busy Things is trusted by thousands of schools and families to make learning fun! Take a free trial to access all of our Coronation activities plus 100s more games and activities across the curriculum! Claim your free Busy Things trial
Claim your FREE Coronation Treasure Hunt Clues!
Now it's time to claim your FREE Coronation treasure hunt! Simply click on the button below, download and print out your PDF…
For more Coronation activity ideas you may also like…
Ideas for learning about King Charles III and the Coronation
We hope you will enjoy our FREE Coronation treasure hunt!! We'd love to hear your feedback and see photos and videos of your hunts – please do tag us on social! Please do also leave a comment below…