Phonics Activities Tailored to Your Needs
Phonics Activities Tailored to Your Needs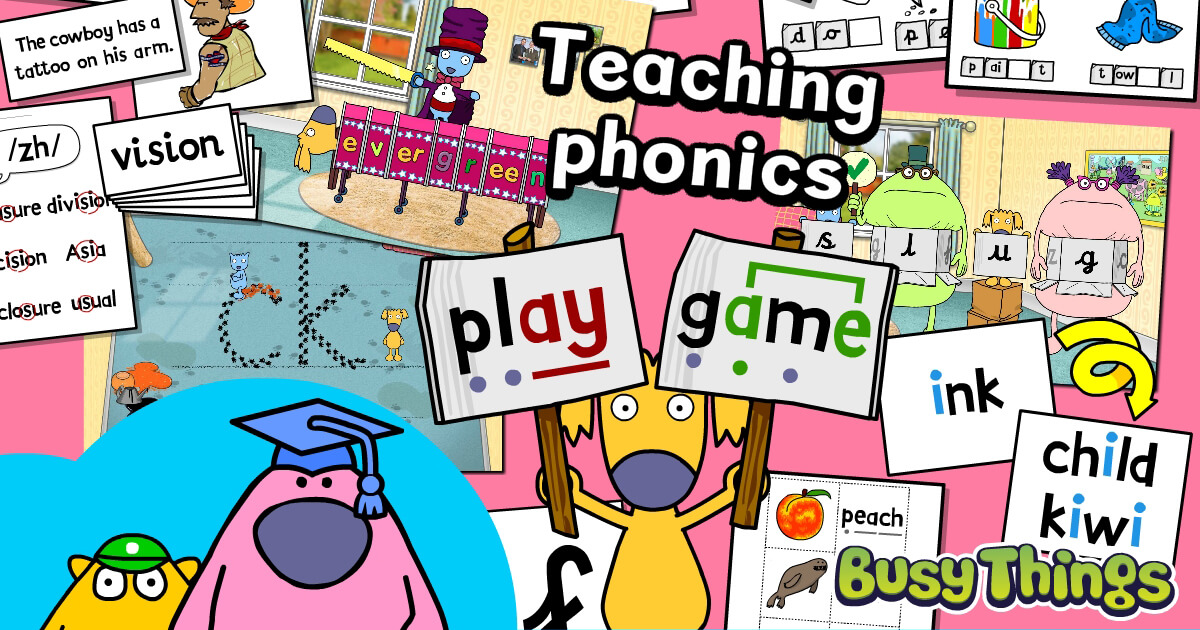 Choosing phonics activities to engage your youngest pupils can seem quite overwhelming when you first start your research. Busy Things, however, keeps things simple. It's true, it does have over 80 phonics activities in its collection but because it's created its very own programme and is supported by tailorable printables via its Resource Maker, it really couldn't be easier.
What does Busy Things' Phonics programme include?
Phase 1 – Phase 5 phonemes and graphemes
Busy Things' Phonics activities can support your phonics teaching from Phase 1 all the way through to Phase 5. The programme is fully flexible and supports all the major systemic synthetic phonic schemes including Jolly Phonics and Read Write Inc. (labelled m a s d…), as well as the still widely used Letters and Sounds scheme. (You can move from one to the other with a simple setting switch.) You can also select your preferred dialect, as we recognise there are significant differences between the sounds of the English spoken in the North and the South of the UK.
At the early stages of the programme, the phonics activities include sound discrimination games that teach children to listen to the subtle differences between sounds. The children then move on to focus on rhyming words and alliteration before learning the full range of sounds (phonemes) along with their graphemes (letters, digraphs and trigraphs).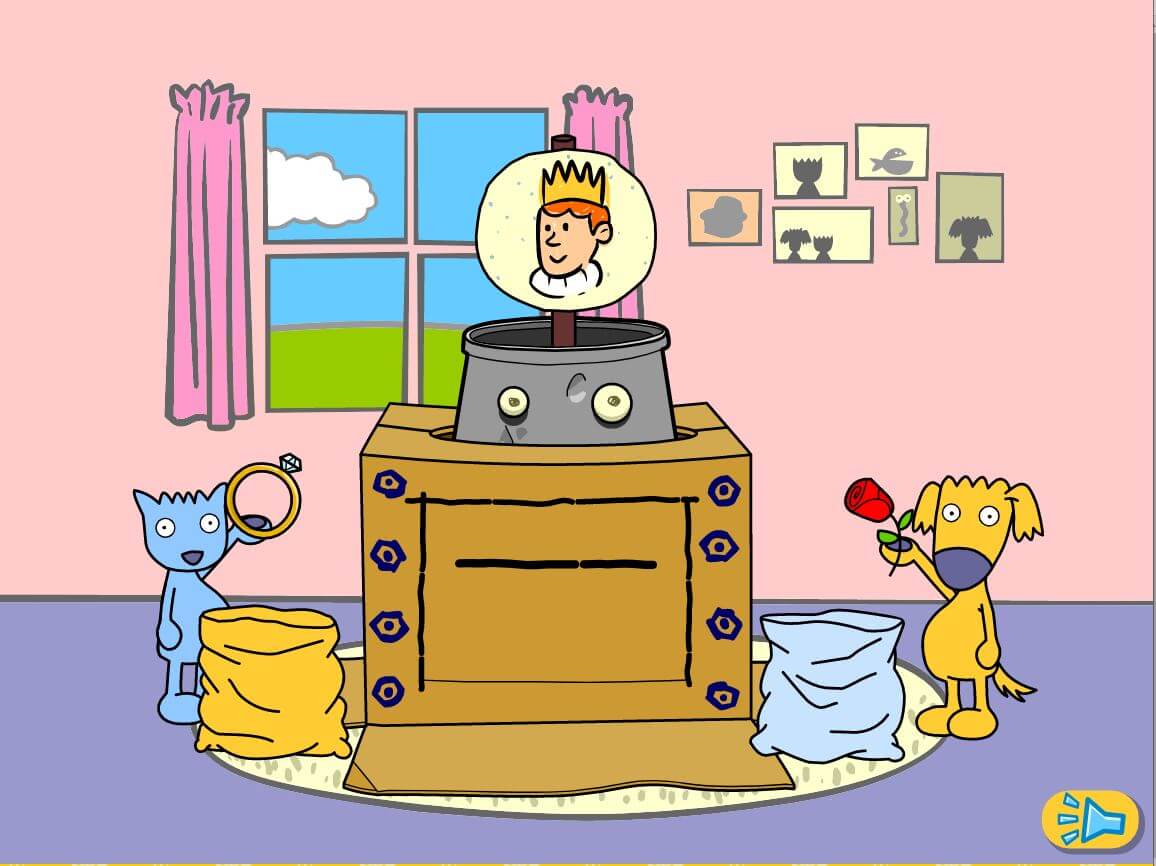 Blending and segmenting
Once the children are familiar with the initial letters and sounds, they can move on to blending and segmenting simple words to build the foundations for reading and writing. They'll also focus on high frequency and tricky words, which don't follow the rules, homophones and compound words. Curtain Call and Cat Splat are great activities to play at this stage.
Control and flexibility
With all our phonics activities, you (as the teacher) control the phonemes and graphemes you target. The general level is dictated by the age you select when choosing the game but you can tweak this in the 'Letters and their sounds settings' area (shown below). When you choose a random mix, you can even prioritise the later Grapheme-Phoneme-Correspondences (GPC) so that you can be sure the children practise the elements that you've just covered in class.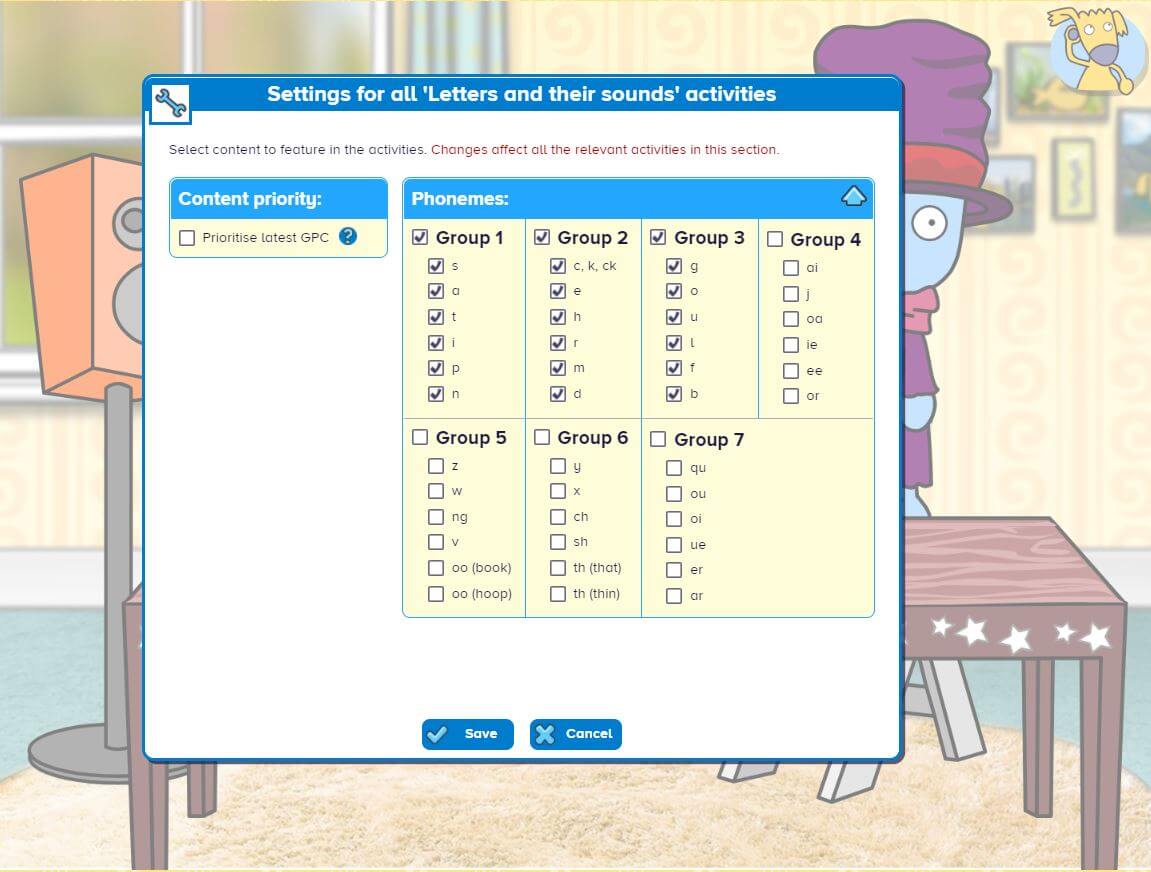 What is the Phonics Resource Maker?
Busy Things' Phonics Resource Maker supports the online phonics activities by allowing you to create phonics materials quickly and easily for use away from the computer. This could be for flashcards to use in plenaries, for displays, or for one-to-one work with individual children.
With the Phonics Resource Maker, you can:
Produce grapheme flashcards using cursive, precursive or print fonts
Print or export images with or without words
Create a 'matching pictures to words' game
Create letter formation worksheets (cursive, precursive or print)
Create real or nonsense word coins
Create missing letter worksheets
Print images with captions or with missing captions for the children to complete
Much more than simple printables, the content is completely adaptable. It's perfect for whole-group plenary activities and also for targeting areas that individual pupils need to address on a one-to-one basis.
As well as printing them out for use today, you can save (and export) them for the future!
The result
Using the Phonics Programme and Phonics Resource Maker together provides teachers with great flexibility. It puts a wealth of fun activities at your disposal to use online and off.
In addition to this, many teachers are really impressed by the speed and ease of creating new materials. Something that would previously have taken them half an hour, can be achieved in just a few clicks with the Phonics Resource Maker!
For the children, the most important element is the fun that Busy Things brings to their learning. That said, they also benefit from the consistent approach it takes, both in terms of how the letters are presented and how the activities structured.
Want to find out more?
The best way to learn more about Busy Things and what it offers is to sign up for a 28-day free trial here. You could also join one of our free Zoom tutorials for a guided tour.
Use our phonics activities already?
Why not share your thoughts about it with us? We'd love to know what you love about it (and what you like less come to that). Let us know using the form below.