New!! Name recognition and name writing activities!
New!! Name recognition and name writing activities!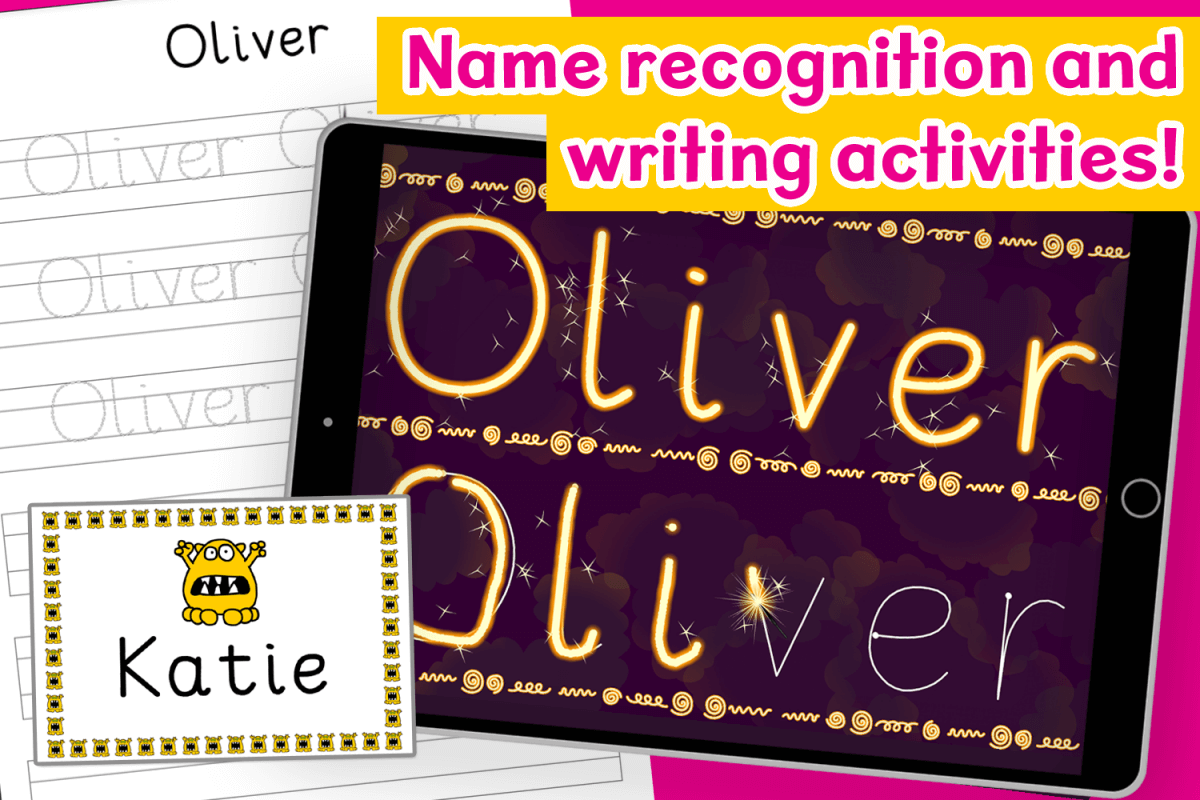 It's important for children to recognise their name when they start school for practical reasons – to find their coat peg, their tray etc. but it's also a wonderful confidence boost for them to be able to read something, especially something as incredibly important as their name!
We've recently added new resources to Busy Things that will help children with name recognition and also support them in developing their handwriting skills. These include:
An interactive name tracing game
Create name tracing worksheets
Make custom name signs
Have a read of our latest blog too; How to help children learn to write their name for lots of ideas to make learning to spell and write their name fun and easy.
You might also be interested in our FREE to play school preparation activities and in reading: Starting Primary School: Skills to Encourage
Fun Name Writing Game:
This interactive name tracing activity reinforces name recognition and supports children to develop their letter formation and handwriting skills.
You can input any name into the game, up to 12 letters long, including options for special characters.
There are various themes to choose from such as rainbows, spaceships or monster trucks and more or the game will randomly pick.
It is important for children to form the letters correctly as soon as possible as it can be hard to correct later on.
There is a demonstration on how the letters are formed and then children can have a go themselves. On each letter there is a dot, this indicates where on the letter they should start.
When playing on a tablet, children can use their finger to trace the word, or a stylus pen if they have one. On the computer they can practise their mouse control skills and get used to the letter formations. Busy Things is also perfect for interactive whiteboards in a classroom setting.
There are 3 name tracing modes:
1) 'Copy name with help' – the cursor graphic never leaves the guide lines so is suitable for children with undeveloped motor skill.
2) 'Copy name' – children can trace over the guide lines without assistance.
3) 'Full screen freestyle – there is a single name that you trace over. You may also write in the space around it. The empty button in the bottom right clears the space so you can try writing without anything to trace over.
Top tip: You could use this activity to practise any word/s, not just names!
This name tracing game is just one of the letter formation games on Busy Things. You can play them all plus 100s more early years activities for free at the moment…
Don't miss out on our FREE Starting School Guest Account giving you free access to ALL our award-winning earl years games and activities this summer!
Name Tracing Worksheets: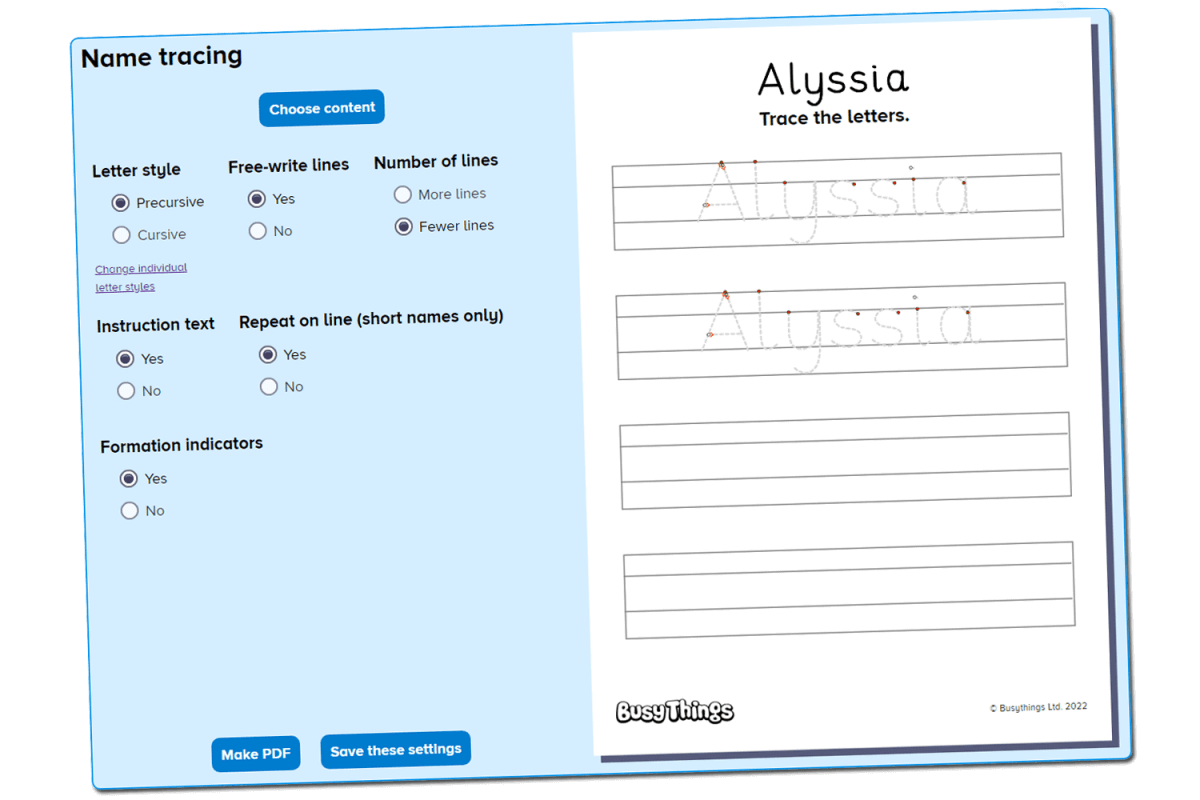 Learning to write your name takes a lot of practice! You can now create your own personalised worksheets to help with that.
It's very quick and easy to make these customised name tracing worksheets – simply enter the name, choose your custom options (if you want to) and press print!
You can choose;
How many lines to include.
Whether or not to include free-write lines for children to try writing their name without tracing.
You can choose whether to include formation indicators – the dots indicating where to start forming the letter.
For older children, you could choose to have the letters in a cursive style.
The Resource Maker can be found on the Busy Things Welcome Screen at the bottom of the Teacher/Parent Tools area. Here you will also find many maths, phonics and cross-curricular printable resources that can be customised too!
Name Recognition; Make Your Own Name Labels: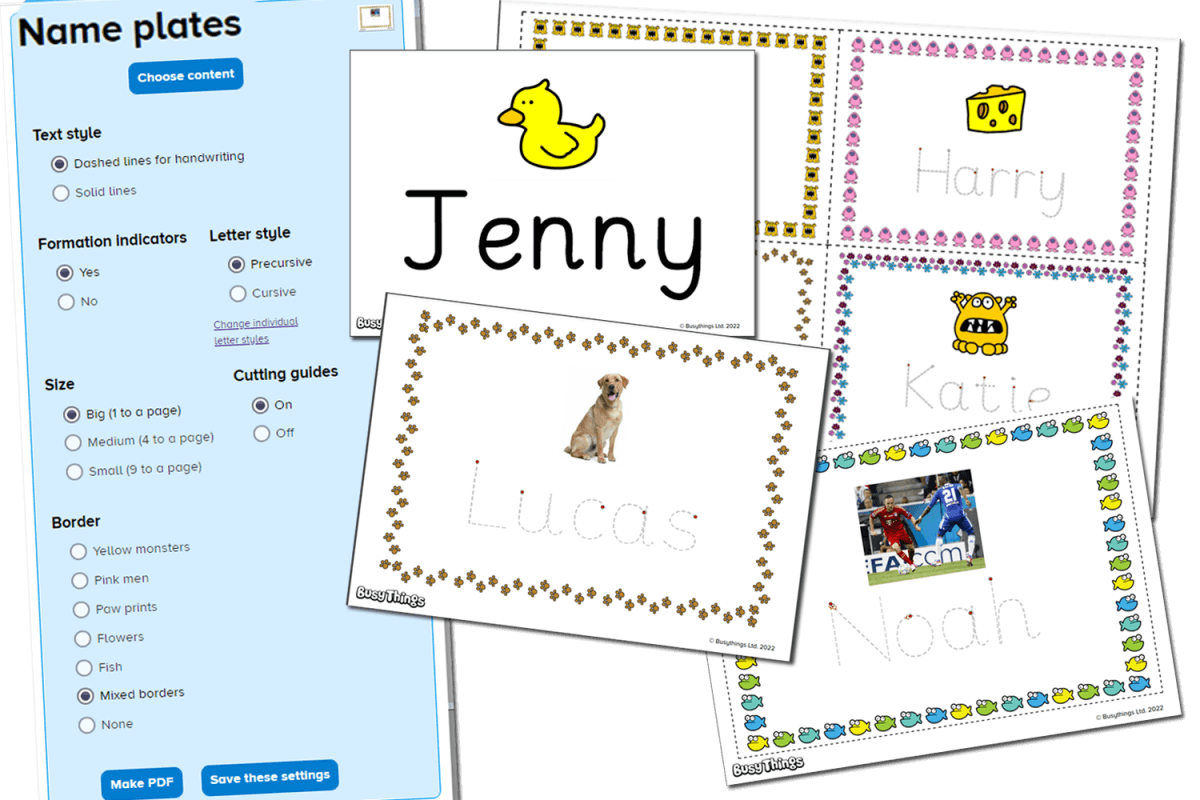 Before children start writing their name, you should help them to recognise it. Increase their exposure to their written name by having it on display everywhere! Label everything, add a sign to their bedroom door, their seat at the table – anywhere!
Our new custom label creator is just perfect for the job! You can create custom labels for children to decorate and personalise them with Busy Things clipart or photos or upload photos of your own.
For other ideas of what to do with your custom name signs, have a read of our latest blog.
As with all of these resources, this resource is multi-purpose; it can be used to create labels for anything and for the practice of recognising or writing ANY word, not just names.
The printables resource maker can be found on the Busy Things Welcome Screen at the bottom of the Teacher/Parent Tools area. You will also find many maths, phonics and cross-curricular printable resources that can be customised too!!
We hope our new name recognition and name writing activities are useful to you! Please do let us know what you think in the comments, we'd love to see how you've used them!…
Starting school this year?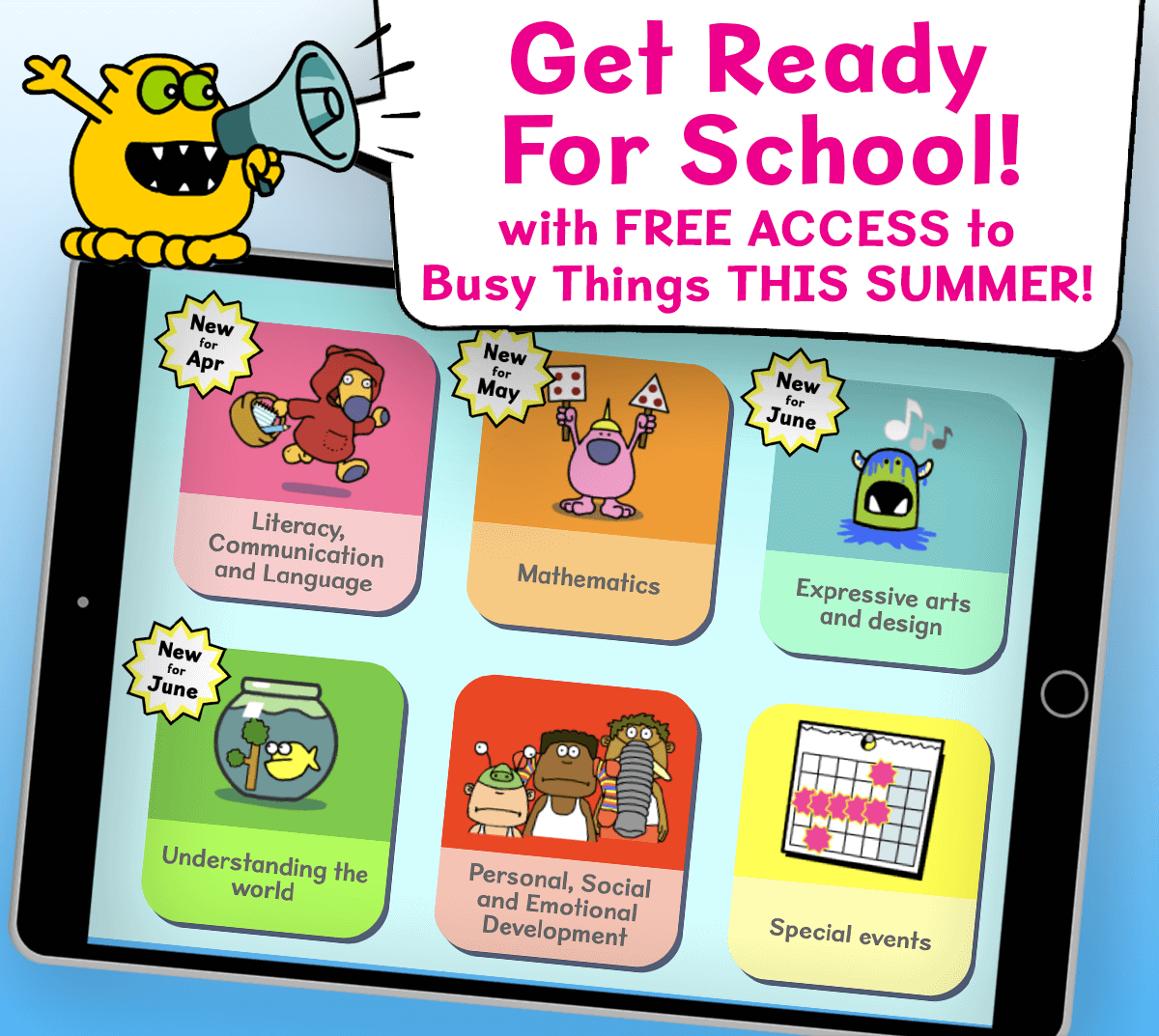 If your child is starting school this year, make sure to take advantage of our FREE Get Ready for school guest account!
We want to help children to have the very best experience starting school! So we're offering FREE access to ALL of our award-winning early years games and activities this summer, to boost their skills and confidence ready for September!