10 Great Classroom Activities for Christmas
10 Great Classroom Activities for Christmas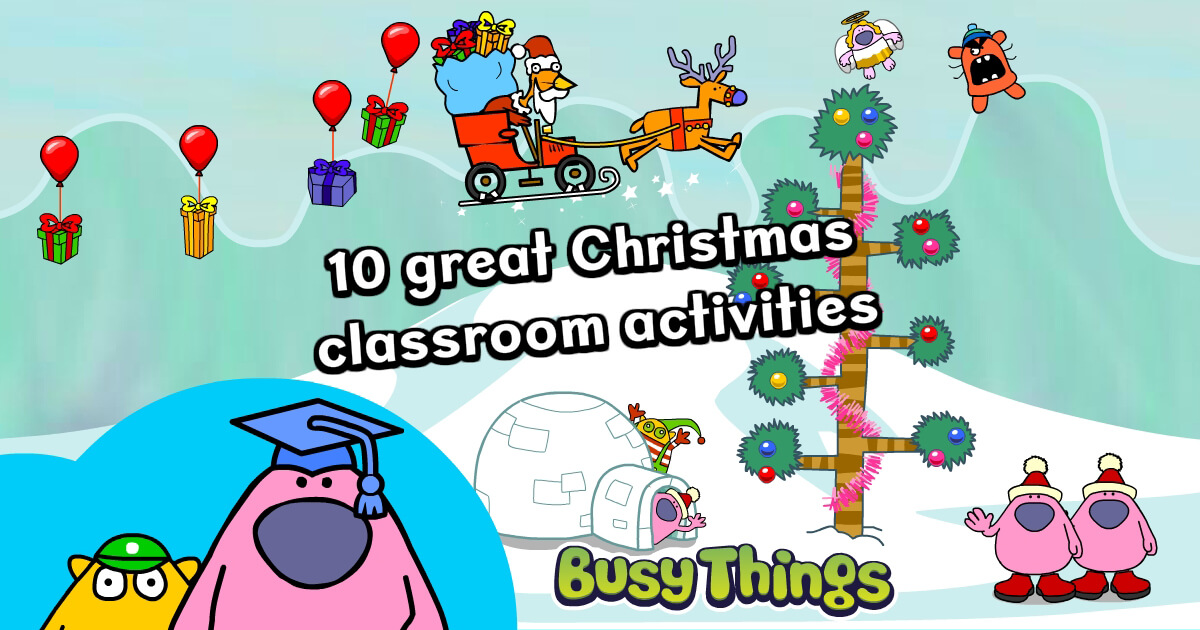 Christmas is a magical time of year in the primary school classroom, and a sprinkling of creative Christmas-themed classroom activities can make it even more fun!
We know you'll have many tried and tested activities in your teaching toolbox but also know you can never have too many ideas. So, to add just a few more to your mix, here are our Top 10, taken from Busy Things and elsewhere. The first five are time-sensitive so you'll need to move fast; the others you can fit in as and when you feel the Christmas cheer!
Time-sensitive Christmas classroom activities
1. Christmas advent calendar
Yes, our Christmas advent calendar (link now not available until December 2022!) is all set for 2021, so open to play today! It provides you with a jigsaw to complete each and every day until the 24th December, with each jigsaw getting incrementally more difficult.
It's there for you to use however you want to. Perhaps it's for children who have completed their work speedily? Perhaps you have a rota each day? No matter how you organise yourself, we'd love to hear if your class has completed each days' puzzle, so do let us know via social media!
2. Kindness advent calendar
On the same theme, we love the idea of a kindness advent calendar for kids. There are lots of examples on the Internet, but we particularly liked this one from Teacher's Pet because of its simplicity.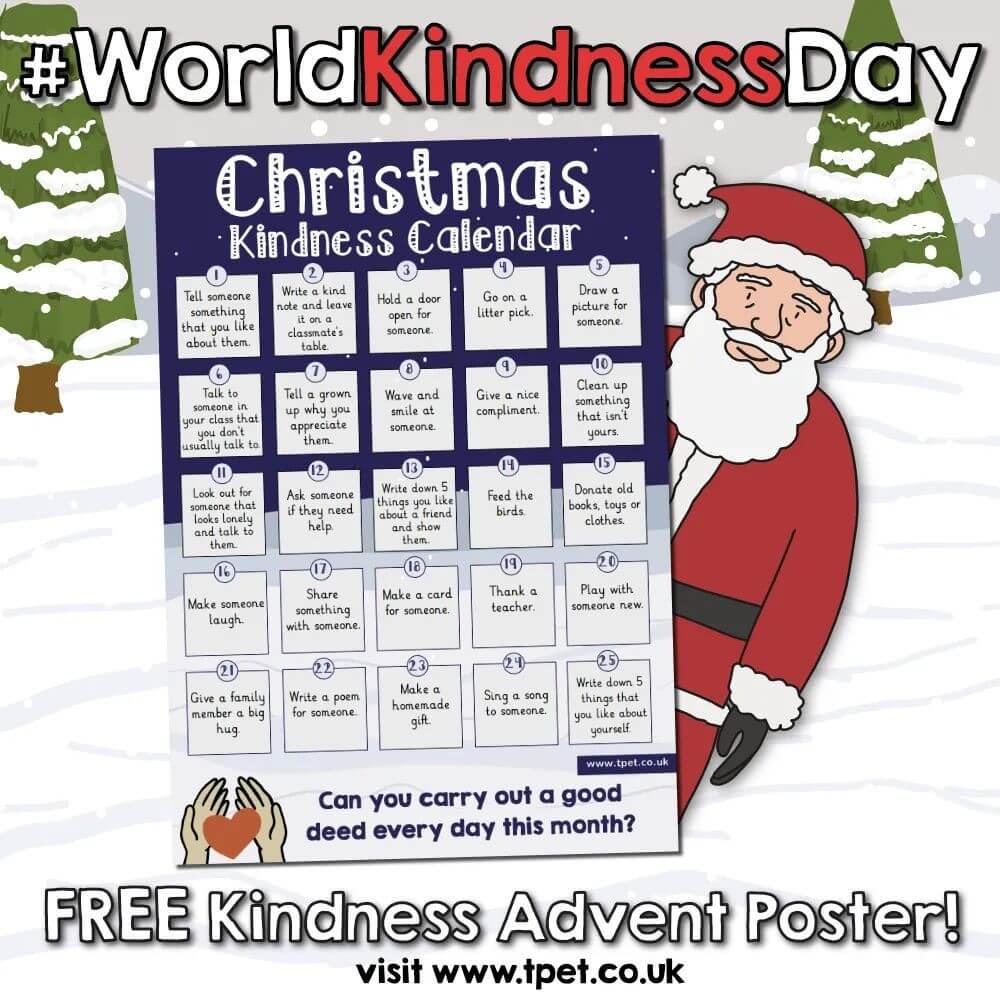 If you're creative – which we know you are – you could even change the tasks to your own so it's really personal to your class! It's a fantastic way to address thorny issues, like disagreements amongst friends or the use of unkind words, all in the spirit of Christmas.
3. Merry Monster Mayhem
Merry Monster Mayhem is 'new for 2021' here at Busy Things, and we're very excited about it. We don't want to reveal too much too soon but it's due to start imminently and will see Yellow Monster getting up to mischief across all our social media platforms. Look out for him and please do join in with your own messages and pictures, remembering to use the hashtag #MerryMonsterMayhem!
4. Bauble hunt
Baubles are an essential part of Christmas. They are small but add so much! And that's what we like to think of Busy Things' Bauble Hunt too. We'll have baubles hidden all around the site with clues to help you find them from 4th December onwards, so be sure to keep a watch out for them!
5. Letters to Santa
Children can let Father Christmas know what presents they'd like this year by writing and decorating a letter using our publishing tool. When it's finished, simply print it out and send it to the North Pole via the Royal Mail and you'll get a reply free-of-charge from Santa himself. The deadline for letters this year is 6th December.
General Christmas classroom activities
6. Christmas activity pack
Want even more Christmas activities for your pupils? Well, you'll just love our Christmas activity pack, which is jam-packed full of festive things for your class to make and do! It's completely free and even provides puzzle answers! Simply click on the hyperlink above to download it.
7. Christmas charities
Christmas is a great time to really appreciate what we have and help those that are less fortunate than ourselves. Talk to your pupils to understand which causes mean most to them, and see what charities are working in your local area.
On a global level, Operation Christmas Child and Christmas Jumper Day are two ever-popular choices for schools, whilst looking nationally, there's also the Salvation Army's Christmas Present Appeal, the Trussel Trust, which via its foodbanks wants to make sure everyone gets a Christmas dinner this year, and the RSPCA's Christmas Rescue for abandoned animals, to name but a few.
8. International Christmas traditions
Christmas also presents a great opportunity to compare traditions and customs from around the world and learn about the ways in which other cultures celebrate.
Whychristmas.com is a great website, which looks at how Christmas is celebrated globally. Did you know, for example, that in Greece as well as Christmas trees, they put up sailing ships? Or that in many European countries, Father Christmas is accompanied by an assistant? If children are on the good list, they get a present; if they're not, the assistant bundles them into a sack and takes them back to Spain with them!
9. Santa's sleigh dash
Santa's sleigh dash is a 'must-do' for any classroom in the run-up to Christmas. We've now four different versions of it for you to enjoy on Busy Things, so whatever you're doing, there's a sleigh dash to support you:
(Clicking on the hyperlink will take you directly to the activity.)
Santa's sleigh dash – Original is great for developing concentration, co-ordination and boosting self-confidence!
Santa's sleigh dash – Words tests your pupils' comprehension of words, as they need to match the presents they collect to the words on the chimneys.
Santa's sleigh dash – Mental maths gives the presents numerical values. Pupils must choose the gifts which solve the equations on the chimneys.
Santa's sleigh dash – Colours and shapes needs pupils to deliver the right presents to the right houses.
Santa's sleigh dash is also available as an app! Find it by searching for 'Busy Things' in your app store and get all four versions for just 99p.
10. 'Santa Says' game
A simple festive twist to the much-loved game, Simon Says or Simple Simon Says, this game rewards good listening. Say "Santa says put your hand on your head" and the class should do it. However, give an instruction without starting with 'Santa says' and the class should just ignore it. It's great for practising instruction following but can also be used in classes like P.E. to increase your class's number of active minutes!
We hope you've enjoyed our Christmas classroom activity suggestions and found at least one new activity to try! We'd love to hear what you think about them, along with ideas we should have included, so please leave a comment below…