Ideas for learning about King Charles III Coronation + FREE Party Pack!
Ideas for learning about King Charles III Coronation + FREE Party Pack!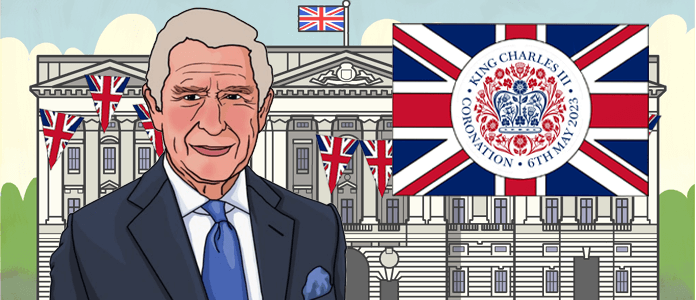 The coronation festivities are upon us! Here are some ideas for learning about Kings Charles III and the Coronation. We'll look at how to help children understand what to expect to from the upcoming Coronation along with the role of the King and the monarchy.
You might also be interested in: King Charles III Coronation: Family Coronation Party Ideas!, Be Our Royal Guest This Weekend! Play FREE Coronation Activities AND don't forget to claim your Free Coronation treasure hunt!
What is a Coronation?
The word "coronation" comes from the Latin word "corona," which means crown.
A coronation is a grand ceremony that takes place when a new monarch is crowned and formally given their regal powers, duties and responsibilities.
During a coronation ceremony, the monarch makes promises to God and to their people, they receive a sacred blessing known as anointing, and they are presented with royal ceremonial regalia, including the crown jewels.
What will happen on Coronation day?
The coronation of King Charles III and the Queen Consort will take place at Westminster Abbey on May 6th, 2023, and will be conducted by the Archbishop of Canterbury. The service will combine traditional and modern elements, reflecting the role of the monarch today and in the future.
Their Majesties will start the day with a procession from Buckingham Palace to Westminster Abbey, known as "The King's Procession." After the coronation service, they will return to Buckingham Palace with a larger ceremonial procession called "The Coronation Procession," joined by other members of the Royal Family.
To conclude the day's celebrations, the King and Queen Consort, accompanied by other members of the Royal Family, will appear on the balcony of Buckingham Palace. This promises to be a memorable day filled with tradition and pageantry!
You can watch Queen Elizabeth II's procession to get an idea of what lies ahead…
What happens during a Coronation ceremony?
For almost a thousand years, the way English monarchs are crowned hasn't changed much, although the objects used during the coronation may have been updated over time. The coronation ceremony for the new King and Queen Consort in May 2023 will be steeped in history and tradition, just like the coronation of monarchs before them.
Based on Queen Elizabeth II's coronation performed on 2nd June 1953, the coronation ceremony will have five main sections.
Beginning with the procession. The sovereign walks from the west end of Westminster Abbey to the Theatre, accompanied by verses from Psalm 122. The Archbishop of Canterbury then presents the Sovereign to the people, who respond with "God save the King/Queen!" The Sovereign then swears an oath or promise.
Next is the Communion service, during which the choir sings an ancient hymn. The Sovereign's robe is removed, and they are seated in the Coronation Chair, which faces the altar. The Archbishop anoints the Sovereign with holy oil made up of oils from oranges, roses, cinnamon, and musk.
The Sovereign is then dressed in robes made of cloth and gold and presented with the coronation Regalia; the Orb, Sceptre, and Rod of the Dove. The St Edward's Crown is then placed upon the King/Queen's head to the sound of trumpet fanfare.
Once crowned, the Sovereign moves to the Throne in the main part of the Theatre, symbolising their taking possession of the kingdom. If there is a Queen Consort, her anointing and crowning follows. Male consorts are not crowned.
Finally, there is the is a Holy Communion for the Sovereign. The new King/Queen will exchange St Edward's Crown for the lighter Imperial State Crown and process through the Abbey wearing a purple velvet robe and holding the Sceptre and Orb.
Learning about the monarchy
We have had a monarch in Britain and England since Saxon times – around 1200 years ago although their role has changed significantly over time.
The first documented coronation at Westminster Abbey was that of William the Conqueror on 25th December 1066. This May, King Charles III will be the 40th reigning monarch to be crowned.
To help children understand this history, you could look back at past Kings and Queens. Find out who they were, how they lived and also what their roles were in society; discuss how this has all changed over time. Perhaps start with the Top 11 monarchs in British history.
Busy Things includes an interactive King's family tree activity, along with lots of new fun activities and ideas for learning about the King's Coronation! You can trial all our Coronation activities for children here for free!
There are many places to visit for children to experience the history of the monarchy. Windsor Castle, the Tower of London, Buckingham Palace, Sandringham and Balmoral, are a few examples. If you aren't able to visit in person, why not take a virtual trip on You Tube!
You could also have a go at putting Buckingham Palace and Westminster abbey together in our London landmarks jigsaws on Busy Things!
Be our guest this weekend! Play free coronation activities along with full access to Busy Things for families this coronation weekend!
King Charles III's role
The King's role as head of state is symbolic and ceremonial. He has many duties and will carry out official engagements representing Great Britain and the Commonwealth. Have a look at the King's life in pictures to learn more about King Charles III's life so far.
You could also have a look at Queen Elizabeth II's life in pictures to see examples of the engagements that might lie ahead for King Charles III and the Queen Consort.
Did you know? The King is King to 14 Commonwealth Realms in addition to the UK – here is a full list of the Commonwealth countries. You could learn about where each of these countries are and about their history and culture.
The King is also the patron of many charities. Children could research some of these charities and perhaps do some fundraising!
Another key part of the King's role is to give speeches; for instance at the opening of parliament and the annual Christmas address.
Coronation Activity Ideas for kids: learning about the King's role and His Coronation
Ask children to pretend that they are the King! For example, ask them to write and give a speech of praise, reflection or encouragement of their people.
Create and send of card of congratulations
Learn the

national anthem

"God Save the King" and get your singing voices in tune for the big day!
Write a diary or news report about a day in the life of the King.
Children could paint a portrait of HM The King, they can create a portrait on Busy Things too
Have a look back at the celebrations for Queen Elizabeth II's Coronation
Pretend you are Queen/King for the day – what would you do?
Make a memory time capsule – make up a box of things representing this time in history.
Download our Coronation activity pack below! Full of coronation activities: Spot coronation vocabulary in a wordsearch, find countries of the commonwealth on a map, create transport fit for a King and prepare party decorations, plus lots more!
Create your own royal event! – Make invites. Plan a menu fit for the King. Who is on the guest list? What would you talk about? What is the royal protocol – what should you / shouldn't you do?

Design transport fit for the King

's coronation procession on Busy Things – just one of our new range of interactive activities to celebrate the Coronation.
Be our royal guest this weekend!

Play all our coronation activities FREE

along with full access to Busy Things for families this coronation weekend!
How to celebrate the Coronation with children
The historic celebrations will take place over 3 days as an extra Bank holiday has been proclaimed in honour of the coronation of His Majesty King Charles III.
Culture Secretary Lucy Frazer says "The Coronation will be a magical moment that brings people together to celebrate the best of Britain over a special weekend in May."
Watch The King's Coronation Saturday 6th May:
Gather together to watch the big day. Children will be able to see the epitome of pomp and ceremony! Big screens are going up in more than 30 UK locations, look here to see if there's one near you. Why not build-up to the main event with our Free coronation treasure hunt!
Attend a Street party on Sunday 7th May:
Celebrate the big event with your local community as part of Coronation Big Lunches!. Download our free coronation activity pack below (lots of decorations included!) and do have a look at our family coronation party ideas blog for some ideas to make your party extra special!
Watch the Coronation Concert on Sunday 7th May:
The BBC live broadcast from Windsor Castle promises a world-class orchestra along with performances from global music icons, entertainers and dancers in celebration of the historic occasion.
Watch out for 'Lighting up the Nation' on Sunday 7th May:
Iconic locations across the United Kingdom are to be lit using projections, lasers, drone displays and illuminations during the Coronation concert. Perhaps there'll be one near you that you can visit live.
Enjoy a range of royal games and activities on Busy Things!
Children can have great fun with a patriotic game of Royal Line Up! They'll be learning about the King's Coronation AND improve their pattern knowledge and sequencing skills at the same time.
We're making all our coronation activities free to play for the coronation weekend! In fact you can play the whole of Busy Things for families free. Get your royal guest log in details here: Be Our Royal Guest This Weekend! FREE Coronation Activities
Get involved in 'The Big Help Out' on Monday 8th May:
The Big Help Out, an initiative organised by The Together Coalition, seeks to honour His Majesty The King's years of dedicated public service by inspiring individuals to volunteer and participate in local community work. The program aims to bring communities together and create a lasting impact from the Coronation Weekend.
King's Coronation learning resources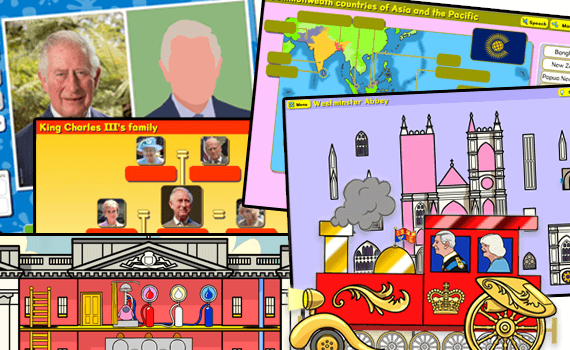 To help children learn about King Charles III and the Coronation we have created a whole host of activities on Busy Things including a fun sequencing game – Royal Line Up. Lots of art activities such as painting the King's portrait and designing transport fit for a King's coronation parade. A royal family tree activity, commonwealth country maps, a Westminster Abbey jigsaw and much more!
If you're a Busy Things subscriber – Log in now!
Not a Busy Things subscriber? Busy Thing is trusted by thousands of schools and families to make learning fun! Get your royal guest log in details here: Be Our Royal Guest This Weekend! FREE Coronation Activities to access all of our Coronation activities plus 100s more games and activities across the curriculum free for the weekend!
If you enjoy using Busy Things over the weekend, do also take advantage of our free Busy Things trial
Claim your FREE Coronation Party Pack!
Now it's time to claim your FREE Coronation activity pack full of fun activities to make and do. Simply click on the button below, download and print out your PDF…
Finally, we hope our ideas for learning about the King's Coronation blog has been useful! We'd love to hear your feedback and if you do any of the activities we have suggested. Please leave a comment below…
You might also be interested in: Coronation family party ideas and Be Our Royal Guest This Weekend! FREE Coronation Activities and FREE Coronation Treasure Hunt!