The Clock Widget – An interactive clock to help children learn to tell the time
The Clock Widget – An interactive clock to help children learn to tell the time
Our interactive clock widget is an exciting teaching tool to help children develop an understanding of the concept of time and to learn to tell the time in analog and digital formats. Perfect for use on an interactive whiteboard.
NEW!! Introducing our first Busy Widget – The Clock Widget!
We're delighted to announce that the first of our Busy Widgets is now live on Busy Things and ready for action! We give you; The Clock Widget, our interactive clock! In this blog we will cover…
The Clock Widget – our interactive clock – What is it and what's it for?
Time to learn – our interactive clock in action! – Some ideas on how to use it and some discussion point ideas
Time to find it! – How to find the widget in Busy Things
FREE clock PDF printable for teaching time-telling
Take a free Busy Things trial – Not a subscriber? You can try our clock widget for free
The Clock widget is one of a range of Busy Widgets, they are all about building confidence through active learning – Learn more about Busy Widgets
The Clock Widget – Our interactive clock:
Telling the time can be a very tricky business, it's a hard concept to grasp – allow us to make it a little bit easier and introduce a bit of Busy Things fun along the way!
Our Clock Widget allows pupils to learn about time through exploration and enables teachers and parents to demonstrate the key concepts needed for mastering time!
The Interactive clock is a great teaching aid for front of class and a perfect tool for parents to reiterate ideas at home, use the widget to:
Demonstrate actions and narrate.
Invite children to ask questions and begin a conversation.
Ask children to make predictions of what will happen before you do something.
Encourage experimentation – let children get it wrong and see what happens.
Experiment with "what ifs" – Check understanding of how results will differ.
Ask the children to make actions with commentary.
Whilst designed to be used in conjunction with a teacher/parent, the Clock Widget can also be valuable for children to explore and experiment with on their own.
Time to learn – our interactive clock in action!
Our Clock widget is a completely opened ended resource so, whether you're just starting out with the general concept of time or if want to drill down to explore a particular objective, you can tailor the features within the Widget to suit.
Turn the hands on the analog clock and you will see the corresponding time on a digital clock and our lovely Busy Things characters will act out the events associated with that time of day.
Tailor the experience by changing the interactive clock face, hiding the hands or locking them to only a clockwise motion.
Use controls to move the time forward or backwards in blocks or set the clock to play.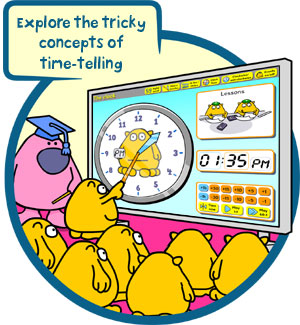 Perfect for explaining theoretical ideas and provide a way to bring concepts to life through demonstration and with a big injection of Busy Things fun and humour!
Here are some discussion point ideas for in the classroom or at home:
Use the Clock widget to encourage children to… 
Explore. Experiment. Predict. Appreciate. Understand.
Discuss routines and daily activities.
What time do you do … ? How long does … last for?
Ask them to move the clock so that it shows certain time.
What will the clock look like in 15 minutes?
What time will this show as on a digital clock?
Stop the clock when it gets to a certain time
Stop the clock after a certain amount of time has passed.
Move the hands clockwise to a certain time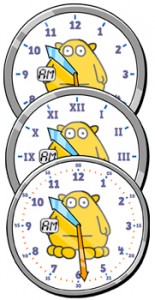 When you've had a look at The Clock Widget, we'd love to hear your ideas for utilising widgets. Please do leave a comment!
Read our blog Teaching Children to tell the time: Hints and Tips if you're looking for more inspiration and advice.
Once you've explored the concept of time with The Clock Widget, move on to practise time-telling skills in our Crunch Time game – learn more about this game in our Crunch Time Blog!
Time to find it!
Follow the steps below to find The Clock Widget or click our Latest Release button after logging in.

If you aren't a Busy Things subscriber yet you can still access our Clock widget, along with hundreds more resources, by taking out a completely free no obligation trial. Simply click here to visit our website and to register.
 Related activities – FREE to try!
Click below to download your free make-a-clock PDF…

Curriculum Links:
Busy Things offers teachers hundreds of learning and teaching resources aligned to the English, Scottish and Australian curricula.
Here are the Clock Widget links to the Early Years Foundation Stage (EYFS) and the Primary National Curriculum.
Early Years Foundation Stage
Mathematics – Shape, space and measure
40-60+ months
Uses everyday language related to time.
Measures short periods of time in simple ways.
Early learning goal
Children use everyday language to talk about size, weight, capacity, position, distance, time and money to compare quantities and objects and to solve problems. They recognise, create and describe patterns. They explore characteristics of everyday objects and shapes and use mathematical language to describe them.
The National Curriculum – Key Stage 1
Mathematics – Measurement
Year 1
measure and begin to record time (hours, minutes, seconds)
tell the time to the hour and half past the hour and draw the hands on a clock face to show these times.
Year 2
compare and sequence intervals of time
tell and write the time to five minutes, including quarter past/to the hour and draw the hands on a clock face to show these times
The National Curriculum – Key Stage 2
Mathematics – Number and place value
Year 4
read Roman numerals to 100 (I to C) and know that over time, the numeral system changed to include the concept of zero and place value
Mathematics – Measurement
Year 3
tell and write the time from an analogue clock, including using Roman numerals from I to XII, and 12-hour and 24-hour clocks
estimate and read time with increasing accuracy to the nearest minute; record and compare time in terms of seconds, minutes and hours; use vocabulary such as o'clock, a.m./p.m., morning, afternoon, noon and midnight
know the number of seconds in a minute and the number of days in each month, year and leap year
compare durations of events [for example to calculate the time taken by particular events or tasks]
Year 4
Convert between different units of measure [for example, kilometre to metre; hour to minute]
read, write and convert time between analogue and digital 12- and 24-hour clocks
Year 4
solve problems involving converting between units of time
Try our new Interactive Clock Widget today – Completely FREE!
You can access all of our activities by taking out a FREE TRIAL! Simply click here to visit our website and register.
Busy Widgets are just the first of many exciting new developments coming this year so watch this space!
What to do think of our clock widget? Any comments, feedback or suggestions are more than welcome so please do get in touch!
Please leave a comment below…